Writing and Illustrating Civil Rights Childhoods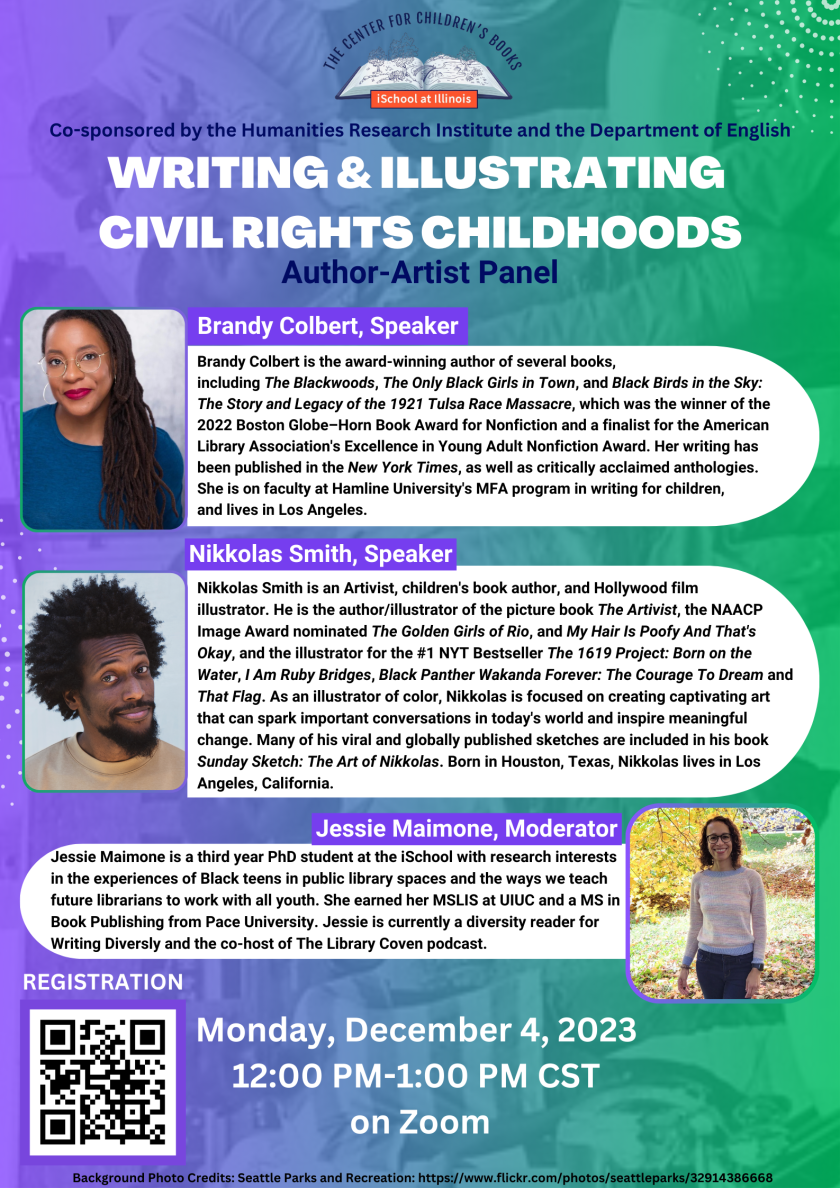 Please join the CCB for our Author-Artist Panel: Writing and Illustrating Civil Rights Childhoods featuring Brandy Colbert and Nikkolas Smith, moderated by Jessie Maimone.
Please contact The Center for Children's Books with any questions.
Brandy Colbert is the award-winning author of several books, including "The Blackwoods," "The Only Black Girls in Town," and "Black Birds in the Sky: The Story and Legacy of the 1921 Tulsa Race Massacre," which was the winner of the 2022 Boston Globe-Horn Book Award for Nonfiction and a finalist for the American Library Association's Excellence in Young Adult Nonfiction Award. Her writing has been published in the New York Times, as well as critically acclaimed anthologies. She is on faculty at Hamline University's MFA program in writing for children, and lives in Los Angeles.

Nikkolas Smith is an Artivist, children's book author, and Hollywood film illustrator. He is the author/illustrator of the picture book "The Artivist," the NAACP Image Award-nominated "The Golden Girls of Rio," and "My Hair is Poofy and That's Okay," "I Am Ruby Bridges," "Black Panther Wakanda Forever: The Courage to Dream," and "That Flag." As an illustrator of color, Nikkolas is focused on creating captivating art that can spark important conversations in today's world and inspire meaningful change. Many of his viral and globally published sketches are included in his book "Sunday Sketch: The Art of Nikkolas." Born in Houston, Texas, Nikkolas lives in Los Angeles, California.

Jessie Maimone is a third-year PhD student at the iSchool with research interests in the experiences of Black teens in public library spaces and the ways we teach future librarians to work with all youth. She earned her MSLIS at UIUC and a M.S. in Book Publishing from Pace University. Jessie is currently a diversity reader for Writing Diversly and the co-host of The Library Coven podcast.
This event is sponsored by Center for Children's Books