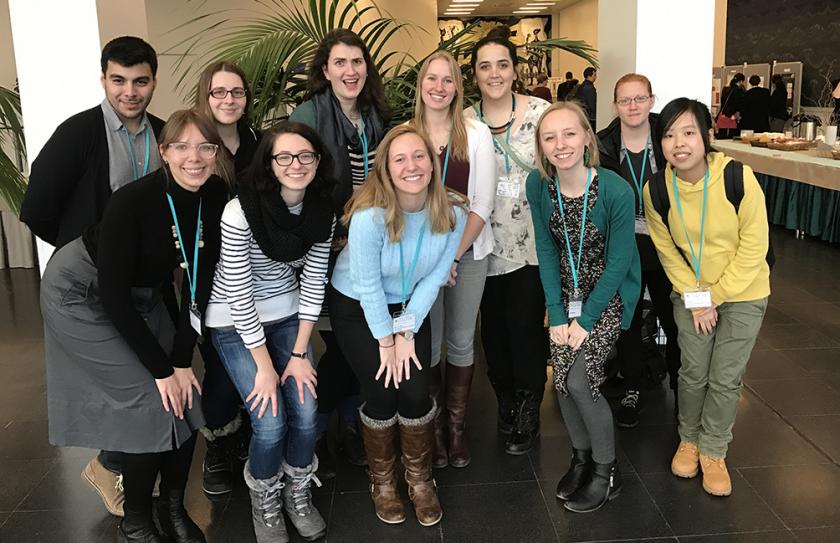 Student organizations enhance the educational experience, providing opportunities to expand your skills and develop relationships. You also get to know yourself better—your strengths, your goals, and your ability to interact in a variety of situations.
In addition to iSchool sponsored groups, there are over 1800 registered student organizations (RSO) at the University of Illinois. The diversity and breadth of options are phenomenal. If you are interested in starting a new group, there are online resources.
Want to make connections, explore your interests, and build new skill sets? Get involved in one or more of the many student and professional organizations available to iSchool students. The benefits include enhancing your leadership and teamwork skills, networking through events, interacting with diverse groups of people, and of course, having fun!
The Association for Computing Machinery's Council for Women in Computing student chapter at the University of Illinois Urbana-Champaign (UIUC ACM-W) was established in October 2019. Our chapter aims to increase awareness and knowledge about the role of women in tech and their great contributions to science, design, development, construction, languages, management, and applications of modern computing.
Membership to UIUC ACM-W is open to any genders, races, ages, sexual orientations, physical or mental abilities, ethnicities, and perspectives of the University of Illinois community. All ACM members and nonmembers are welcome to join us.
Graduate students only
Our ALA student chapter, founded in September 1981, has a long history of bringing notable professionals to campus for guest lectures, organizing field trips and professional activities, and coordinating student travel to ALA conferences.
The ASIS&T student chapter at Illinois has been active since 1977 in sponsoring programs—lectures, field trips, projects—to supplement iSchool coursework. The student chapter was selected in 1987 as the winner of the first Student Chapter-of-the-Year Award, established by ASIST to recognize outstanding student chapters for their participation in, and contributions to, the Society and the advancement of information science. (Not currently active)
The Chinese Student Group works to establish strong communication and interaction between iSchool Chinese students and alumni, other student groups, and library communities regarding study, life, and career. It also serves as a bridge between the iSchool and China in order to contribute to LIS research, practice, and education in a global context.
In this club, students explore data-oriented careers through special projects. It offers a speaker series about cutting-edge research in data science and networking events with top data science companies.
iSchool Ambassadors
iSchool Undergraduate Ambassadors are a group of undergraduate students that are active in recruitment, yield, and ongoing programming that elevate the visibility of the BS in IS degree and its numerous opportunities. These undergraduate students provide critical leadership and guidance to their fellow peers.
iSchool Graduate Ambassadors are a group of masters students dedicated to promoting the mission and vision of the iSchool at Illinois. These students work alongside Recruitment & Admissions and Student Affairs staff, serving as liaisons to prospective and incoming masters students at the iSchool.
Graduate students only
The iSchool Doctoral Students Association (iDSA) advances the academic and social interests of doctoral students in the School of Information Sciences at Illinois. We advocate for all doctoral students and provide a center-point for voicing doctoral student concerns and champion doctoral student participation in iSchool governance.
The iSchool Stitch 'n Bitch group meets once a week to hang out, create, and talk. Neither stitching nor bitching are required for attending weekly events.
Graduate students only
This group is a safe space where iSchool students of color can create, support, and promote a community at the University of Illinois Urbana-Champaign and beyond. Our goals are to develop the professional skills and personal growth of its members and add to the quality of the library and information science community at large.
The PLG promotes the open exchange of radical views on library issues, with members teaming up to support progressive and democratic library activities locally, nationally, and internationally.
Psi Eta Mu (PHM) is a newly created information sciences professional fraternity. This organization strives to foster professional and academic life-long relationships through encouraging growth, internship opportunities, and networking. PHM hopes to create a place for students with similar interests in information sciences or data science to network. Events include workshops, speakers, internship/job discussion, social events and so much more. The organization is open to students of all years and majors; the only requirement is an interest in information sciences, data sciences, or related field.
Through social activities, field trips, and professional development opportunities, QLA explores ways that librarians and archivists can provide better service for their LGBTQ patrons.
This student group promotes archival awareness and interest within the iSchool community through lectures, seminars, convocations, and field trips.
The SLA is an international association for innovative information professionals and their strategic partners in business, government, academic, and other "specialized" settings.