Prepare for a successful career in managing biological information
The explosion of biological information has created a critical demand for professionals who can turn this data into useful knowledge. When you earn an MS in Bioinformatics, you'll be prepared for a promising career in managing biological information and creating systems to optimize its use.
Benefit from an interdisciplinary education
As a professional school specializing in the information sciences, the iSchool is one of four campus units to offer the MS in Bioinformatics. This cutting-edge degree allows you to take interdisciplinary courses across campus and prepares you for work as an analyst or researcher in a variety of specialties, including molecular biology, environmental biology, and biomedicine.
Leverage the iSchool's expertise
As an iSchool student, you'll learn how to use technology to organize and provide access to information as well as how to build and evaluate information systems. You will develop these skills by studying courses in:
Data Stewardship
Data Analytics
Policy and Sociotechnical systems design
What are the core areas of the program?
Your 36 hours of coursework, including an optional thesis, includes electives as well as required courses in:
Information science (three courses)
Biology (one course)
Computer science (one course)
Fundamental bioinformatics (one course)
Partner with distinguished faculty
Our MS in bioinformatics program is taught by our renowned faculty as well as those in biology, statistics, chemistry, computer science, and bioinformatics. You'll work side by side with these distinguished faculty and researchers, and you'll engage with a diverse group of promising graduate students.
Be part of an environment of excellence
The iSchool's programs are consistently ranked by U.S. News & World Report as the very best of its kind. Combine this with the reputation of the University of Illinois, a premier public research university with several leading interdisciplinary centers on campus, and you have access to world-class academics that deliver an exceptional education.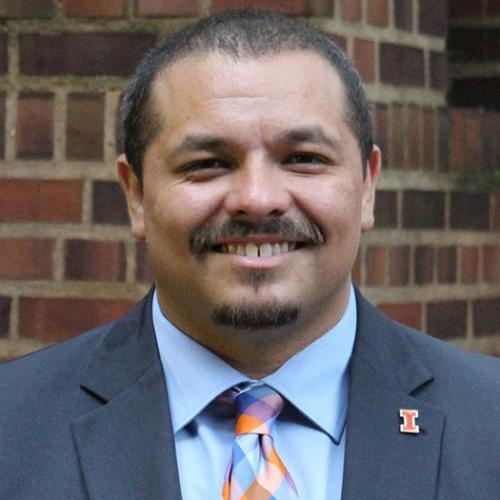 Moises Orozco Villicana,
Director of Enrollment Management