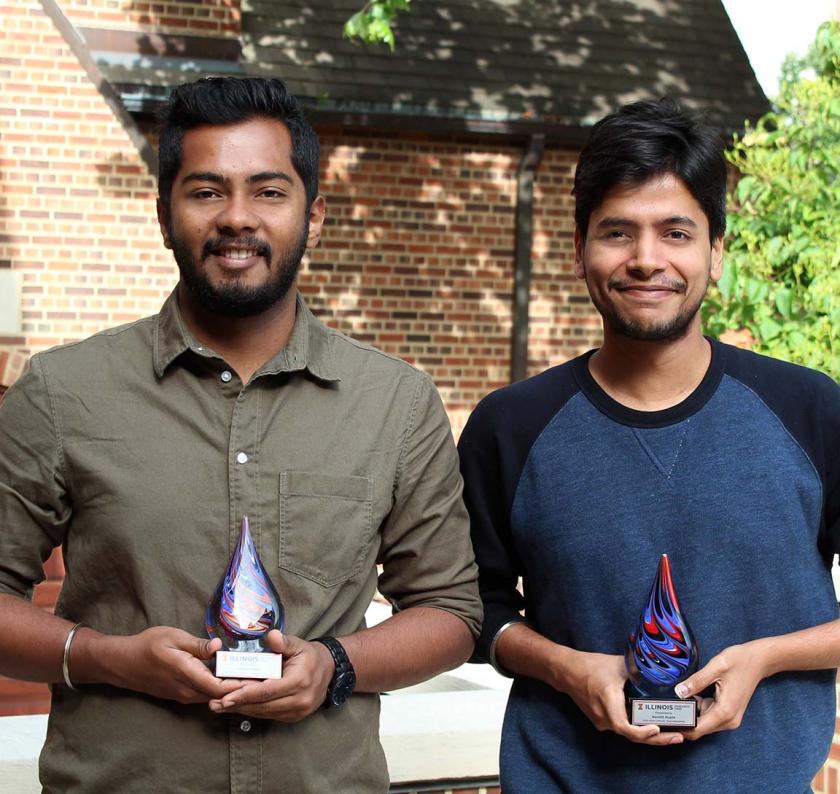 Two students in the MS in information management (MS/IM) program received top honors for their performance as interns at the University's Research Park. Saurav Yadav was named "Most Outstanding Graduate Intern" for his work at the COUNTRY Financial DigitaLab, and Harshit Gupta received the award for "Best Technological Innovation" for his work as a data scientist technology intern at Syngenta.
Yadav worked as a data scientist intern at the DigitaLab in the spring and as a project manager for the data team this summer.
"Through my internship, I not only gained valuable hands-on experience in various machine learning techniques and technologies like Tableau, Docker, and AWS but also polished my leadership, teamwork, and communication skills," he said. "The best part about working at the company was the opportunity to use the latest technologies and the ease of working with Julia Hart, the site director, who has created an environment that focuses on the growth of every individual and constantly encourages innovative and creative ideas from all the interns."
Hart was likewise impressed with Yadav's leadership and technical skills during his time at the company.
"Saurav continually strives to improve processes and encourages collaboration," she said. "He wants the best for the company and has built excellent relationships with other staff members to take project requests from ideas to products."
Gupta's project involved creating a cloud-based data science solution from scratch for the data scientists working at Syngenta.
"What made this a challenging task was the time and budget constraints placed on me, since the company already had a negative experience with a third-party provider for this solution. This made the project exciting as well as rewarding for me," he said.
Gupta enjoyed the startup environment at the Syngenta Digital Innovation Lab.
"The focus at the lab is not only getting things done but also making sure that you are taking an innovative approach toward your work," he said. "I was given complete freedom and the opportunity to do the best work I can do, which I believe added immense value to my overall experience at the company."
According to John Capozzo, Gupta's supervisor and a data scientist on Syngenta's Global Data Science Team, "We wanted a proof of concept in eight weeks with a few bells and whistles, and Harshit ended up giving us a full-blown proof of concept with things we couldn't imagine in four weeks. He exceeded expectations in every way."
Of the 800+ interns working within the Research Park, less than 30 became finalists for the awards, and only 5 individuals and 1 group were awarded the winning prizes. The winners and finalists were determined from a pool of nominees by a team of Research Park professionals. Awards were presented on July 25 (watch the awards ceremony).