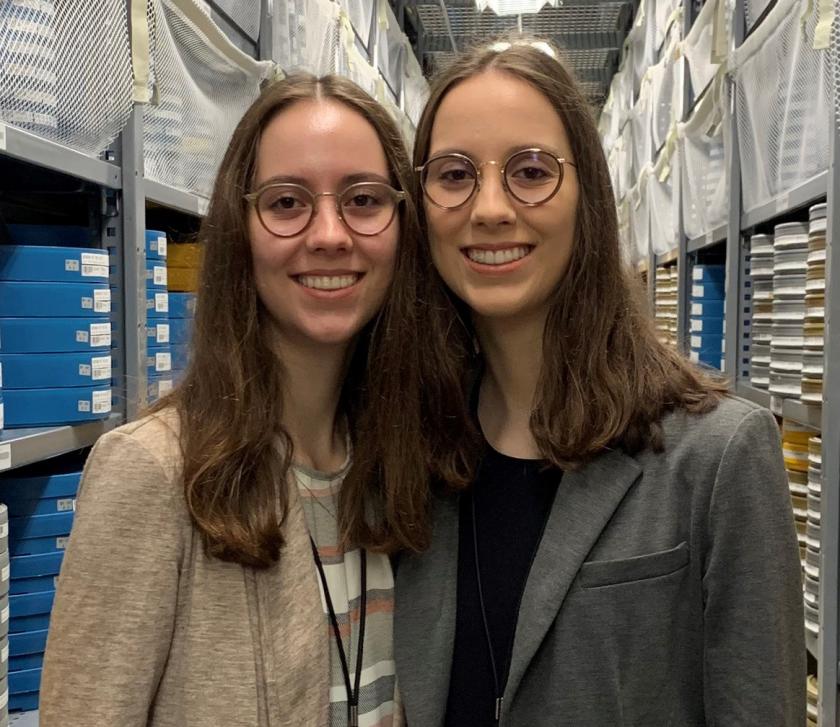 For Mariah and Fernanda Schaefer (both MS '20), having your twin as a study partner when going through graduate school was extremely helpful. Originally from Brazil, the Schaefer sisters received their bachelor's degrees—Mariah in journalism and Fernanda in advertising—and master's degrees from the University of Illinois.
"It was incredibly convenient when we got to work on group projects together," said Fernanda. "As you can imagine, scheduling time to work was super easy!"
Fernanda's decision to pursue her master's in library and information science (LIS) was sparked by her experience as a marketing and communications intern at the Office of Technology Management, where she created sell sheets to market professors' inventions to potential licensees.
"To gather a large portion of the information I needed, I had to use a knowledge management system called Sophia. Sophia was not the most intuitive of interfaces, and I often became frustrated while using it. My frustration turned into a passion for information organization, and I decided to follow this passion by enrolling in the LIS program," she said.
Fernanda worked as an institutional repository management graduate assistant in the Scholarly Communication and Publishing unit of the University Library, where she managed metadata for the IDEALS repository of scholarly works. She was also a data analytics intern at Caterpillar's Research Park office, working on proof of concept projects for internal stakeholders.
"During the summer of 2019, I interned in the cataloging department of the Academy Film Archive of the Academy of Motion Picture Arts and Sciences in Los Angeles. I also concurrently participated in the Academy Gold Program (now called Gold Rising), which is the Academy's internship enhancement program and talent development and inclusion initiative. In my last semester, I completed a digital operations and metadata management practicum at Polyvinyl Records," she said.
Fernanda is now employed as a metadata and content acquisition analyst at NBCUniversal, where she manages, analyzes, and enhances descriptive and administrative metadata used to enable anti-piracy initiatives. She works with the legal team to ensure NBCUniversal has enforcement rights set for their titles and liaises with NBCUniversal brands such as DreamWorks and Peacock to identify priority titles in need of content protection. She also sources and processes the audiovisual files that are fed into the company's anti-piracy workflows.
"I love that I get to work with metadata for a wide variety of content that is watched by millions of people around the world," she said. "NBCUniversal has such a vast library, which makes the metadata even more interesting. One day I'm working on metadata for Jurassic World: Dominion and the next I'm working on metadata for Saturday Night Live. It is rewarding to know that my work helps to protect NBCUniversal's intellectual property."
Mariah's decision to study LIS came after taking the history course, Publishing the Past. "I became fascinated with the intersection of publishing and librarianship and thought it would be cool to learn more about libraries, as I was interested in working in book publishing," she said.
Like her sister, Mariah also secured a graduate assistantship prior to starting the MS program. As a pre-professional graduate assistant at the University's International and Area Studies Library, she planned an author talk with Brazilian-American author Frances de Pontes Peebles. This successful event led to a summer internship at the Macmillan Speakers Bureau.
"I also completed a practicum in editorial management at the University of Illinois Press," she said. "My practicum was one of the most rewarding experiences I had in graduate school, and it made me realize the Press would be a wonderful place to work."
Mariah is now an assistant acquisitions editor at the University of Illinois Press, where she helps guide projects through the publication process and works with books in the subject areas of music, folklore, communication, film and media, sports, and Chicago. In addition to assisting with project management, she maintains records, coordinates peer review, and works with authors to finalize their submissions.
"Working on books with great people is a dream come true! I really like my job, and my favorite part might be dealing with image and text permissions for projects because it's both challenging and fun. I find copyright law very interesting, and I always enjoy looking up a permission issue and reading about the court cases that relate to it," she said.
Mariah and Fernanda's advice to current students would be to take full advantage of the iSchool's flexibility and to customize their degree programs to fit their career goals.
"I wanted to work in book publishing, and Fernanda wanted to work with entertainment metadata; neither of those paths fit a 'traditional' LIS route, but the program prepared us well for our positions," said Mariah.
Fernanda also recommends that students learn about the opportunities available to them with an MS/LIS degree by doing informational interviews, especially with alumni who have jobs that are similar to what they want to do.