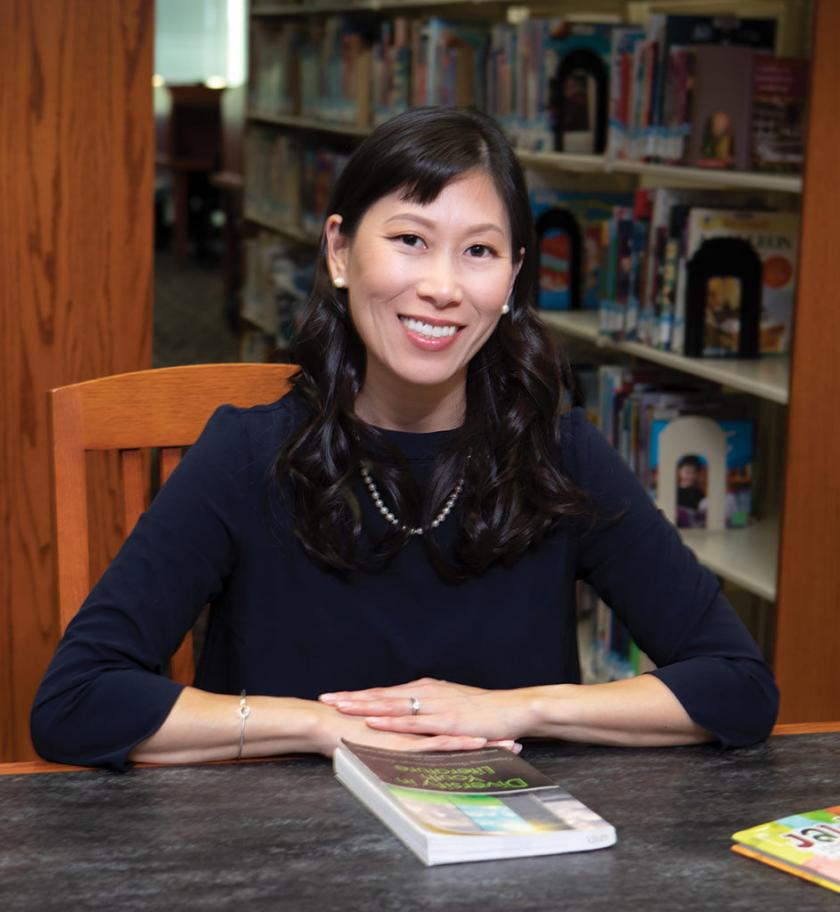 The iSchool is pleased to announce that Sarah Park Dahlen (MS/LIS '09, PhD '09) will join the faculty as an associate professor in August 2021, pending approval by the University of Illinois Board of Trustees. A nationally recognized scholar in children's literature, Dahlen is currently an associate professor of library and information science at St. Catherine University in St. Paul, Minnesota.
Dahlen's research addresses Korean adoption in children's literature, Frank and Frances Carpenter's writings for children, and diversity in children's literature and library education. She is cofounder of the scholarly journal Research on Diversity in Youth Literature, with Gabrielle Atwood Halko; coeditor of Diversity in Youth Literature: Opening Doors Through Reading (2013), with Jamie Campbell Naidoo; and co-creator of the 2015 and 2018 Diversity in Children's Books Infographics, with David Huyck, which are based on data from the Cooperative Children's Book Center at the School of Education, University of Wisconsin-Madison.
"Sarah is at the forefront of current initiatives and explorations regarding diversity in literature for youth, even cofounding a peer-reviewed, open-access journal on the topic," said Dean and Professor Eunice E. Santos. "We are proud of all that she has accomplished since receiving her PhD from our School and look forward to even greater things in the years to come, as a member of the iSchool faculty."
Dahlen's honors include the Leadership Award from the iSchool's Alumni Association (2016), Faculty Teaching and Advising Award from St. Catherine University (2021), and the Mentoring Award from the Children's Literature Association (2021). She has served on several children's book award committees and curates the youth literature programming at the Asian American Literature Festival hosted by the Smithsonian Asian Pacific American Center and the Library of Congress.
"I am thrilled to return to the iSchool to pass forward all that I have learned during and since my time there," said Dahlen. "I'm excited to join a community of scholars whose work I have long admired and am eager to work with them to expand the iSchool's research and curricular offerings, especially in the area of diversity and youth services."