Summer Getaway 2018: Professional Development for School Librarians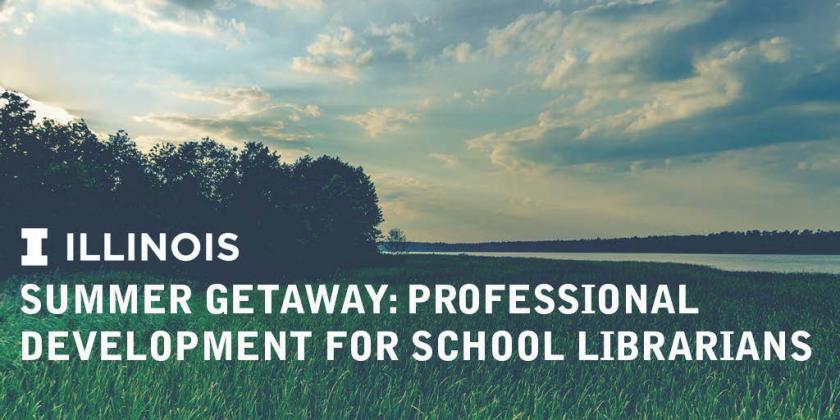 Summer Getaway 2018: Professional Development for School Librarians will be hosted by the iSchool at Illinois on July 12-14, 2018. This unique PD event held on the Urbana-Champaign campus will repeat the well-received format of a daily focus on a single, high-demand topic. Led by school library professionals, each in-depth session will offer a relaxed learning environment where authentic dialogue is encouraged.
Cost is $75 per day; participants may register for 1, 2 or 3 days. This year's conference will place emphasis on the cultivation of community partnerships as a mechanism to support youth literacy and inquiry. School library professionals are encouraged, though not required, to invite a potential community partner/educator to attend.
Please visit our #SG18 conference website to view this year's sessions and to complete the registration process. Register by June 1st to receive the discounted, early bird rate and attend for just $50/day! Brain food (breakfast and lunch) is included in the cost of registration. We encourage current iSchool students to attend Summer Getaway 2018 for a discounted student rate of $10/day. Please have your Campus ID number accessible for registration.
Be prepared to pack your bags; you won't want to miss this Summer Getaway opportunity!
Thursday, July 12:
Attendees select one of two core sessions
Option one: Building Bridges & Buzz Worthy Literary Experiences (6-12)
Jennifer Lara, O'Fallon High School
Option two: Cultivating Community Partnerships for Literacy/Inquiry (K-5)
Megan Freeley, Westbrook School & Sarah Steiger, Lyon School
Keynote: Transforming Your Library into a Learning Playground (K-12)
Brittany Jacobs, Author, Librarian, & current iSchool Student
Friday, July 13:
"Making" Literacy-Rich Experiences for Youth (K-12)
Linda Diekman, Central Elementary School
Keynote: Strategies for Success in Grant Writing (K-12)
Carol Tilley, iSchool Faculty
Saturday, July 14:
Librarians: Architects of Curiosity, Awareness, and Empathy (K-12)
Kristen Mattson, Waubonsie Valley High School & Andrea Trudeau, Shepard Middle School
Keynote: Connecting Literacy with Virtual & Augmented Reality
Andrea Trudeau, Shepard Middle School
Questions? Contact Ann Ohms at annohms2@illinois.edu.
This event is sponsored by iSchool K-12 Program