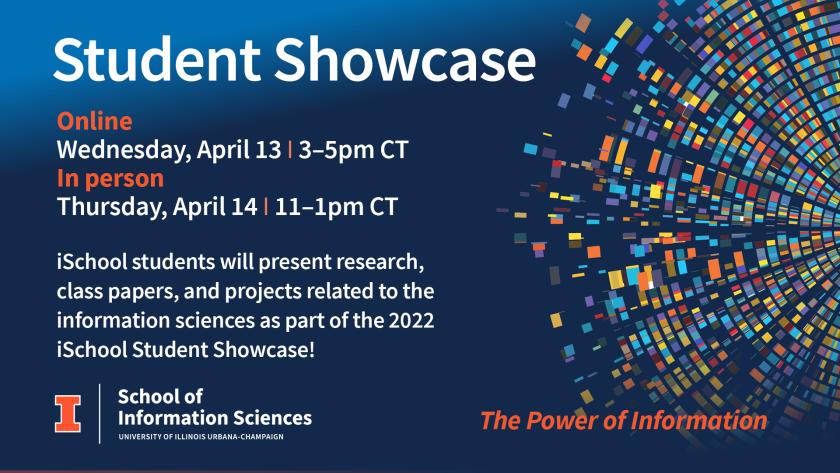 The iSchool Student Showcase will be held online on Wednesday, April 13, from 3-5pm CT and in person on Thursday, April 14, from 11am–1pm CT. These events are free and open to all.
Students will be present to discuss their posters between 11am–1pm, and refreshments will be available at that time. The posters will be on display the entire day if you cannot join us during the live event.
In-person Thursday, April 14

Theme: Bias, Misinformation, & Disinformation
Rebecca Kyser, Facts Creating Fiction: How Credible Sources Can Bolster Misinformation Narratives
Ben Ostermeier, Gendered Dialogue in a Galaxy Far, Far Away
Rohan Salvi, TextProbe: A framework for bias detection and analysis in language models
Hannah Smith, Detecting Voice in News Headlines

Theme: Data & Metadata
Savannah Adams, Something Worth Keeping: Designing a Digital Preservation Plan for the Champaign County Historical Archives
Jamie Coen, Open Access Resources for Archival Studies Courses
Karina Cooper, Jamie Coen, and Mikael Fox, InterMusE: Human Linked Data for Archival Concert Programs
Leah DiCiesare, A Systematic Study of Rare Books in the Mathematics Library
Lan Li, Data Cleaning with Conditional Functional Dependencies: A comparison of Current Approaches
Veer Mehta and Sarthak Joshi, Analysis of University Endowed Chairs

Theme: User Experience & Privacy
Shriya Srikanth, Title IX Privacy and Transparency
Katie Sze, Text Mining of Online Job Posts – Human-centered Data Science in Practice
Emily Zerrenner, A step toward menstrual justice: what is it and what can libraries do?