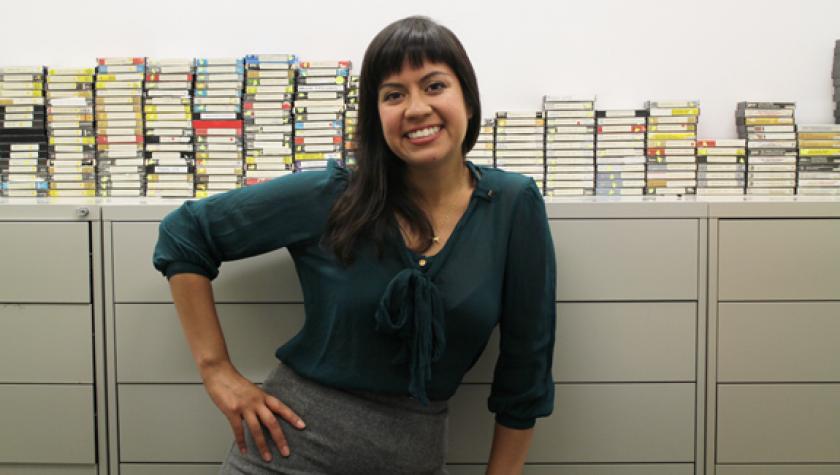 MBMS Spotlight: Ziba Zehdar
"Working in an archive and using my special collections skills and knowledge is like being a detective, investigating the story of a life once lived."
[image1-right]When Ziba Zehdar (MS '12) goes to work at her practicum, every day is a small brush with fame. Combining her lifetime love of libraries with a background in film and media studies, Ziba puts her special collections certificate and GSLIS education to use at the American Film Institute's (AFI) Louis B. Mayer Library in Los Angeles, California.
Ziba, a longtime California resident, has a broad range of interests—she studied biological science, film and media studies, and Chicano Latino studies before entering GSLIS—but her interest in libraries, archives, and even audiovisual materials started at a young age. "I remember the Long Beach Main Public Library as a happy space where I could collect children's books on audiocassette tapes to hear as well as see," Ziba recalls.
After visiting the Huntington Library and Gardens in middle school, Ziba "was amazed by [its] rare books and items," a fascination that eventually influenced her career path. Ziba has been part of the University of California, Irvine (UCI) Libraries staff for over six years, and it was there she decided to combine a career in film and media with a degree from GSLIS. "Watching black and white silent films and other archival footage really inspired me to get into the preservation, conservation, and archiving of films and audio from the past for our future," she said.
Ziba knew she wanted to pursue the special collections certificate during her time as a LEEP student at GSLIS, and she was excited for a practicum that let her gain hands-on experience in an archive.
For her practicum at AFI, Ziba worked on the special collection of classical Hollywood producer Charles K. Feldman, the biggest collection in the archives. What began as a semester-long practicum has turned into a deeper investment: Ziba was so thrilled with the experience and so interested in the archive that she continues to work on the collection as a volunteer. Her weekly activities include creating finding aids, describing items in the print and photo archives, and re-housing collection materials—tasks that regularly lead her to the discovery of items related to Marilyn Monroe, John Wayne, Lauren Bacall, Marlon Brando, and Frank Sinatra.
"Correspondence between film producer to director, talent, or screenwriter all reveal Hollywood film history," she said. "We are there to help researchers find where to begin in the huge archival collections." As for her greatest discovery, Ziba recalls finding "Ronald Reagan's signature on a document from 1947 when he was president of the Screen Actors Guild!"
Ziba has seen items from many famous names, but her real satisfaction comes from maintaining the collection and supporting education in film and media studies. "Anything in the history of this field I can see in person and help organize [as a way to] facilitate access for academic researchers is a very gratifying experience," she said.
Courses at GSLIS prepared Ziba to be an audiovisual archivist, from Audiovisual Materials in Libraries and Archives to Music Librarianship and Bibliography. Ziba credits her GSLIS education for expanding her knowledge of creating, maintaining, and preserving an audiovisual collection, but she also recommends that students spend time in an actual archive. "My advice to students interested in rare books and special collections librarianship is to get some hands-on experience as soon as possible, as a patron and as an intern," she suggests.
While she is not at work in the libraries or at AFI, Ziba can be heard interviewing archivists, artists, directors, and library and information science professionals (including Rae-Anne Montague, GSLIS assistant dean for student affairs) on her weekly radio show, "Our Digital Future," broadcast on the UCI station KUCI 88.9. Ziba created the show in 2000 to feature live music, but she later saw its potential to "spotlight the nonprofit work of libraries, museums, and archives while focusing on film and media as an art worthy of study."
Ziba hopes to work as a full-time archivist with manuscript, photographic, or audiovisual materials, so she can continue to explore the history of people and places. "Working in an archive and using my special collections skills and knowledge is like being a detective, investigating the story of a life once lived."