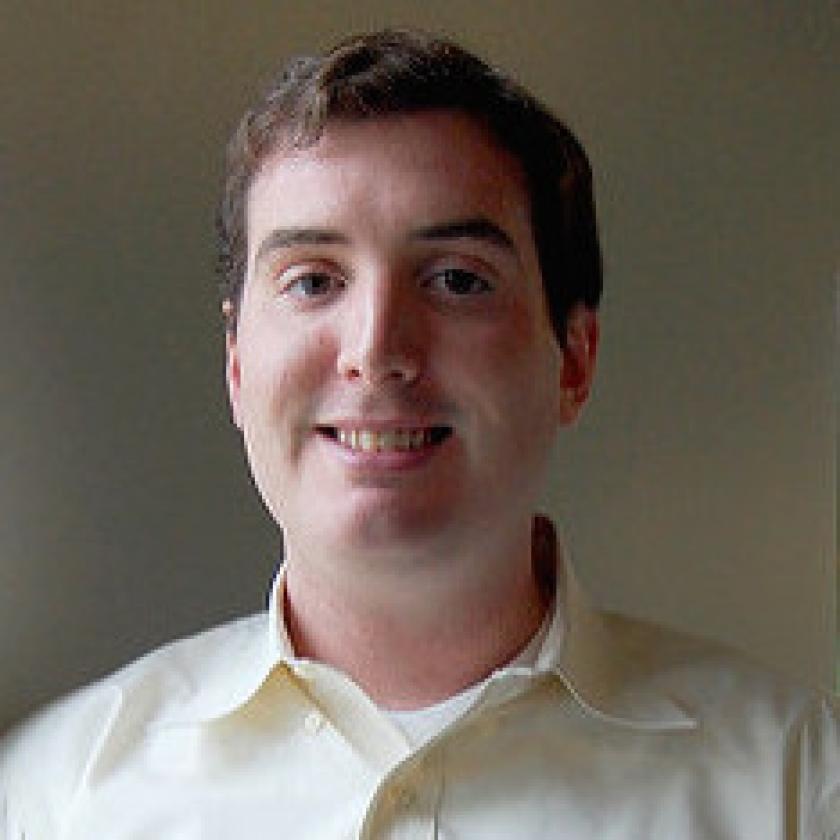 While earning a master's degree, Rob Radtke completed a practicum at Dow AgroSciences, interned with the Boston Consulting Group's Data and Research Services Branch, and worked at the John Deere Technology Innovation Center in Champaign's Research Park. He credits his coursework and real-world experience with preparing him for professional roles in private industry, including his current position.
Where do you work and what is your role?
I work at the John Deere Technology Innovation Center in Champaign. My title is user experience research assistant. Generally, the responsibilities are to assist in developing the user experience for different John Deere solutions. This includes considering how Deere customers interact with different applications, conducting rapid design iteration, and testing and developing applications. Between all of those things, there is never a dull moment.
What do you like best about your job?
What is most enjoyable is that I am able to learn a great deal of practical approaches and skills simply by being involved in the projects I work on. Some of the skills you learn on the job, and others by exposure, but in any case, all of these things allow you to adapt to new challenges that you could face. I have a much better understanding of the user experience considerations people need to take into account before an organization releases a product or solution than I did before. I also think that by being surrounded by similar professionals, you become aware of different resources you can access to enhance your understanding.
What do you see as the most important impact of your work?
Before this role, much of my work in grad school (and the jobs and other practical experiences I had) dealt with competitive intelligence, which usually results in an internal deliverable. It is one thing to send a report that directors and managers can use to make decisions that affect an entire business. It is quite different when a project you assisted with goes to market for customers to use. What I hope is that the customers who use the products I help develop find the solution practical and easy to use, and that it facilitates their work. That would be the best impact my work could make.
How did the School help you get to where you are today?
The iSchool allows students a great degree of freedom to choose what they want to learn. I was able to take the classes that I thought would be practical and interesting. I think that is a major advantage of the program. But it also provided me with opportunities to develop my skills outside of the classroom. I worked at a job, had a practicum, and participated in Alternative Spring Break, working with large multinational companies in each case. Those experiences helped shape me into the information professional I am today, and the School provided me access to those opportunities.
What advice would you like to share with iSchool students?
Experience is more precious than gold. There are many ways you can obtain practical work experience. A job is one obvious way, but it is important to gain experience through many outlets. In addition to jobs, I suggest taking a practicum, doing Alternative Spring Break, and volunteering as well. It is not possible to have too much experience. Further, your classes can and should inform these experiences. I was lucky in that my practicum involved me making a thesaurus for a large multinational company, and I just happened to be taking Thesaurus Construction at the same time. It is best to consider what your ultimate goal is (where would you like to work and what would you like to do there), and see what classes and practical experiences you can obtain that will bring you closer to your objective.
What do you enjoy doing in your spare time?
I still study quite a bit, but not through formal classes. I want to learn more about project management, and I've already read a few books on the subject. I think it could help me understand the variables that make projects succeed. What's more, I'm also learning two languages simultaneously (Portuguese and Python). To me, it's important to keep learning subjects that are not only practical, but also things I want to know about in great detail.