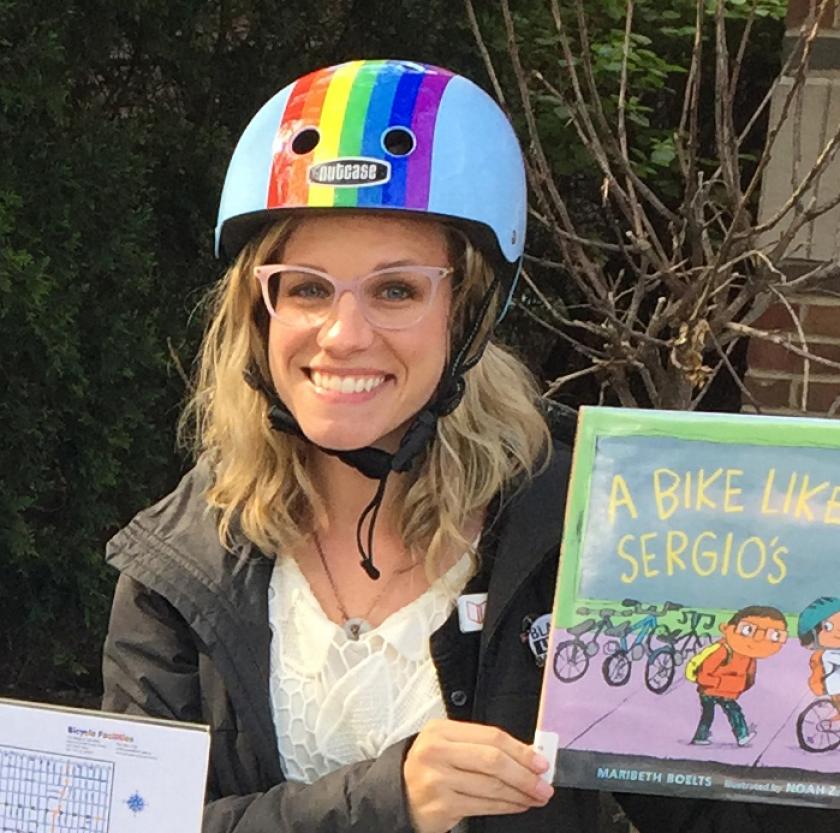 As the neighborhood services librarian for the Oak Park (IL) Public Library, Sarah Yale facilitates community-focused programming and fosters engagement both inside and outside of the library with residents of all ages. From April through October, this engagement occurs through the Book Bike, a program she coordinates for the library.
"The Book Bike is a pedal-powered, mobile library on wheels that allows us the freedom and flexibility to take our library professionals, services, and resources 'to the streets,' increasing our reach and visibility in the community," said Yale.

In addition to checking out library materials, visitors to the Book Bike can also create a new library card account, sign up for the summer reading program, find answers to reference questions, and get suggestions for fiction or nonfiction titles they might enjoy based on their interests. The Bike is stocked with a unique collection of materials for each visit, with library staff pulling books, DVDs, audiobooks, and other items based on the location and audience of the neighborhoods they will be serving.
"We're always looking for new ways to break down barriers to access and provide a diverse, inclusive experience for all kinds of learners and readers. This means stocking the Bike with materials representing different themes and interests, but also diverse characters, authors, and languages," explained Yale.
It wasn't immediately evident to Yale that being a librarian was her dream job. After working as an elementary school teacher in Boston, Tanzania, and South Africa, she wasn't convinced that a classroom setting was right for her. She then joined the AmeriCorps for a career in nonprofit-based youth development and restorative justice programming in the Chicago Public Schools. Still something was missing.
"In all of those positions, my favorite thing was matching the right resource to the right student," said Yale. "That being said, in communities both abroad and local, that favorite thing was also often my biggest challenge—finding books for my students that were not only fun and informational but culturally relevant and in their home language. Few things make me happier than seeing a young person's face light up when you've found a title that either mirrors their experience or provides that window to the outside world they've been craving."
Yale took a few evening Leep courses at the iSchool to explore whether the MS in library and information sciences was a good fit. She found a job as a part-time library assistant at the Oak Park Public Library's Maze Branch and became a part-time student in the Leep online program, from which she graduated in 2015. She has been in her current position as neighborhood services librarian for a little over two years.
In her free time, Yale enjoys exploring.
"Whether it's on foot or bike in local Chicago neighborhoods or by hopping on a plane, I love adventuring to new places and getting out of my comfort zone. Last year, that meant visiting historical temples and trying local cuisine in Thailand and Cambodia. This spring, it meant a road trip and hiking through some of our national parks like the Petrified Forest and Bryce Canyon in the beautiful southwest," she said.
Follow the Book Bike online at #OPBookBike