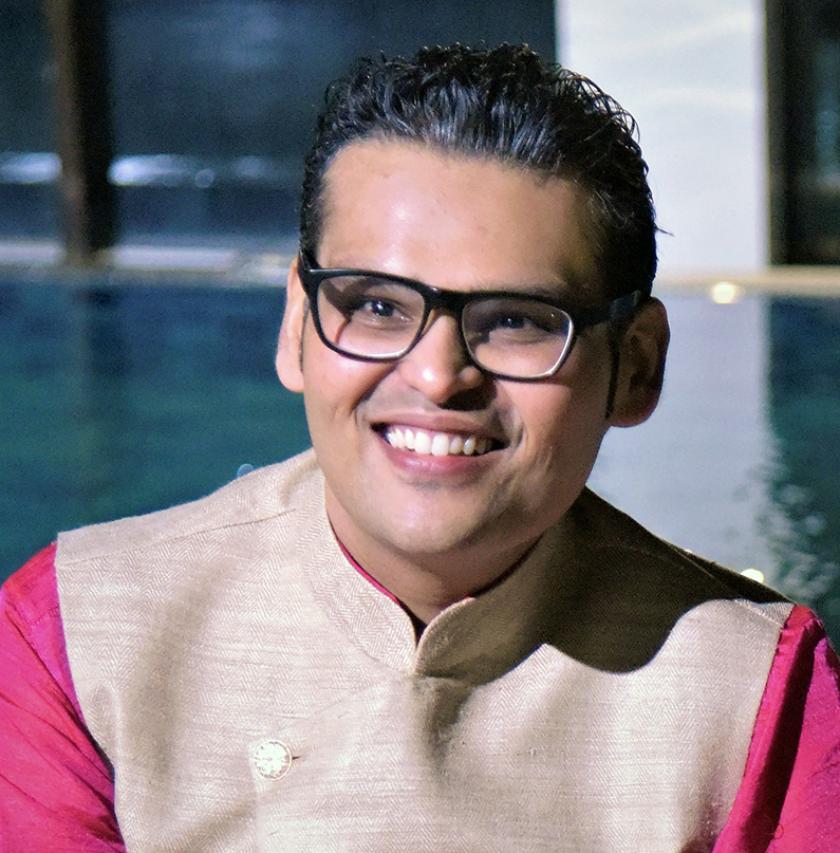 Nishant Shah will deliver the fourth lecture in the Design Dialogues Speakers Series on Friday, October 27, from 11:00 a.m. to 12:00 p.m. in the auditorium of the National Center for Supercomputing Applications (NCSA), 1205 W. Clark Street, Urbana. A breakfast reception will be held at 10:15 a.m.
Shah is the dean of research at ArtEZ (Arnhem, Enschede in Zwolle) in the Netherlands. He is also cofounder and board member of the Centre for Internet & Society in Bangalore, India, and a professor at the Institute of Culture and Aesthetics of Digital Media at Leuphana University in Germany, where he teaches in areas such as digital humanities, computer-human interaction, and information and communication technologies for development. Shah's work explores technology, identity, and social and political movements and is focused on the question of how we can remain human in a technological environment.
The upcoming lecture, "Of Pagans, Pirates, and Perverts: An arbitrary history of the computed," will present a different history of computation and propose a way for the arts and humanities to engage with the material, coded, and technological black box of computing.
The Design Dialogues Speakers Series was developed by a multidisciplinary team of scholars engaged in joint research through the Illinois Program for Research in the Humanities (IPRH). "Prairie Futures" is coordinated by Anita Say Chan, associate professor in the Department of Media and Cinema Studies and Institute of Communications Research, and Emily Knox, assistant professor in the iSchool. In total, the Prairie Futures team includes more than twenty faculty from eight campus units and three external design sites.
The overarching lecture themes emphasize innovation, inclusivity, collaboration, and interdisciplinary knowledge creation:
At Illinois, thinking about design, talking about design, and doing design is a central part of what we do. It is in our history. The University of Illinois was established 150 years ago, under a land-grant mission that transformed education, and today, we continue to develop new initiatives that push for more inclusive, interdisciplinary design. This speaker series contributes to this exciting set of activities by highlighting a number of aspects of the design process that may sometimes be marginalized or overlooked. Our invited speakers will help us all—designers, users, and the broader campus community alike—think about how to make the design process more inclusive in terms of its products, process, and practice. Inclusive design is not achieved by simply saying "we are inclusive"; explicit design interventions are required. As the University of Illinois's own investments in design enter into an expanded phase to foster a new generation of multi-disciplinary twenty-first century design thinkers, this speakers series invites cross-campus engagements and dialogues to think through the potential for designing distinctly, inclusively, and purposefully.
The Design Dialogues Speakers Series is funded by the Recovering Prairie Futures Research Cluster, Office of the Provost, College of Engineering, College of Media, School of Information Sciences, Illinois Program for Research in the Humanities, NCSA, and the Beckman Institute for Advanced Science and Technology. Other co-sponsors include:
College of Agricultural, Consumer and Environmental Sciences
College of Education
College of Fine and Applied Arts
College of Liberal Arts and Sciences
Critical Technologies Lab
School of Social Work
Center for Advanced Study
Center for Digital Inclusion
Center for Global Studies
Center for Innovation in Teaching and Learning
Center for Latin American and Caribbean Studies
Center for People and Infrastructures
Center for South Asian and Middle Eastern Studies
Disability Resources and Educational Services
Gender & Women's Studies
Human and Dynamics Laboratory
Illinois Informatics Institute
Illinois Public Media
Institute of Communications Research
Product Design Laboratory, Industrial & Enterprise Systems Engineering Department
Social Innovation at Illinois
Spurlock Museum
Subsistence Marketplaces Initiative, College of Business
African American Studies
Anthropology
Asian American Studies
Comparative and World Literature
History
Latino/a Studies
Media and Cinema Studies
Sociology
Allen Hall/Unit One LLC
Critical Technologies Lab
Innovation LLC
Unit for Criticism and Interpretive Theory
Office of Diversity, Equity, and Access
Office of Undergraduate Research
Office of the Vice Chancellor for Research
University Library
Makerspace Urbana