Assistant Director of Information Services and Archives Alisun DeKock (MS '07) is the "solo librarian and lone arranger" for Shedd Aquarium in Chicago. She enjoys the variety of her work as a librarian and archivist as well as being around some "seriously fascinating" creatures.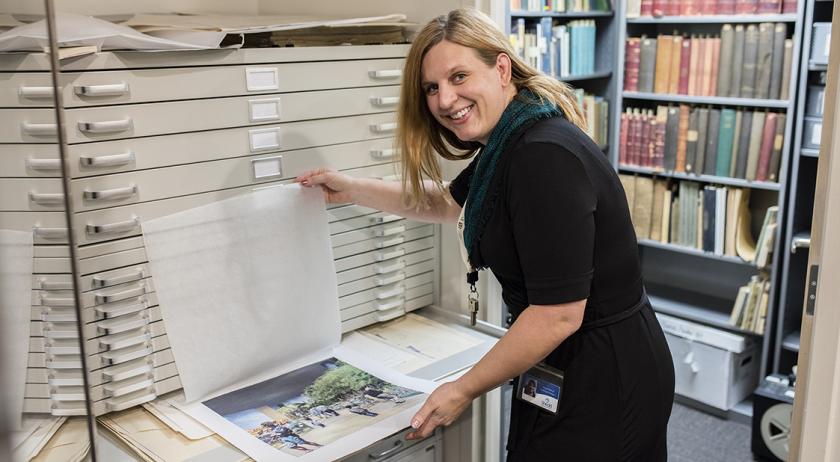 Where do you work, and what is your role?
At the aquarium, I oversee the entire program including budgets, purchasing, collection development, research and reference, circulation, cataloging, library moves, marketing, web presence, and anything else you can imagine. I also manage the archive, which when I arrived was a collection of 100 unprocessed boxes covered in plastic with no funding and little awareness of its existence. It is now a proper archive of more than 200 boxes (nearly 80 percent processed) with its own room and budget, and it is regularly used by our staff. Finally, I am part of a team tasked with writing and managing the electronic fish ID system that runs in many of our public areas.
What do you like best about your job?
I do such a wide variety of things that every day can be different. That's the life of a solo librarian, but working at Shedd means reference questions are always something new and sometimes unfamiliar. Since staff don't always have the time to research the details, I can step in and allow them to focus on what they do best—caring for our animals. Of course, like most people who work in a cultural institution, the ability to be in this building every day leads to some wild opportunities. I've hand-fed rays, starfish, and sea turtles, and had belugas spit on me and penguins poop on me. I've experienced the joy that comes with watching children's faces light up when they spy our sea turtle or see a garden eel pop up from the sand.
Why did you decide to pursue a degree in LIS?
I have a long history with libraries. I volunteered at my local library as a teenager and worked in my college library for two years. When I finished undergrad, I moved to Chicago without a job and not quite sure how to put my education to use. Because I had library experience, I landed an entry-level position working for law libraries and became a supervisor within a year. While I enjoyed library work, after five years I wasn't sure that I wanted to stay in the field. I needed to explore other options. I had been volunteering for a few years at the Adler Planetarium when a position opened up for a volunteer manager. At the Adler, I discovered a deep appreciation of the museum environment and the amazing people who work in cultural institutions, but I realized I missed libraries. I was thrilled to get into the Leep program at the iSchool because it meant I could keep my full-time job and attend an excellent school without moving. Just as I was finishing my MS degree, my current position opened up at Shedd. This job allows me to work in a field that I love while supporting education and conservation efforts and working with fascinating co-workers—both human and nonhuman!
How did the iSchool help you get to where you are today?
Not knowing I would become a solo librarian means I've used many of the classes I wasn't sure I'd need. I took cataloging on a whim during my last semester. It turned out that I not only loved the class, but I needed it. Understanding the process and logic used in cataloging has been extremely important . . . . The fundamentals are vital to learn and provide the base with which to build a career. The Leep program was much better than those offered at other schools I considered; synchronous classes were crucial for the procrastinator in me, but many schools didn't offer that capability.
What advice would you like to share with iSchool students?
Take classes you are interested in, not just those you think you should take. Classes you love will provide guidance toward your career path. Make connections with your fellow students—networking and "who you know" is still the best way to land an interview. School is the easiest and most comfortable place to start that network. Find nice librarians in the field you want to be in, take them out for coffee, and then mercilessly grill them on everything you want to know about what they do and how they got there.
What do you enjoy doing in your spare time?
It's hard to get to nature from Chicago, but cycling our great network of bike paths in the area is a favorite as well as hiking and backpacking when I can really get away. My husband and I are always planning the next travel adventure. This summer we are taking a road trip to Yellowstone and the Badlands (first visits for both of us!). And—defying all cat-loving librarian stereotypes—reading with my dog curled up in my lap will always top the list of Sunday afternoon favorites.