A degree from the iSchool has become somewhat of a family tradition for the Hahns. Four members of the family are alumni, two are current students at the School, and their family connections to the field run deep.
The library was an important part of the Hahn siblings' childhood. Their grandmother, Joan Hahn, was a tutor at the library in their hometown of Arlington Heights, Illinois. In addition, their uncle and aunt, James and Lynn Hahn, have been prolific writers of young adult nonfiction. It's not surprising that one or more of the Hahn siblings would wind up studying library and information science (LIS).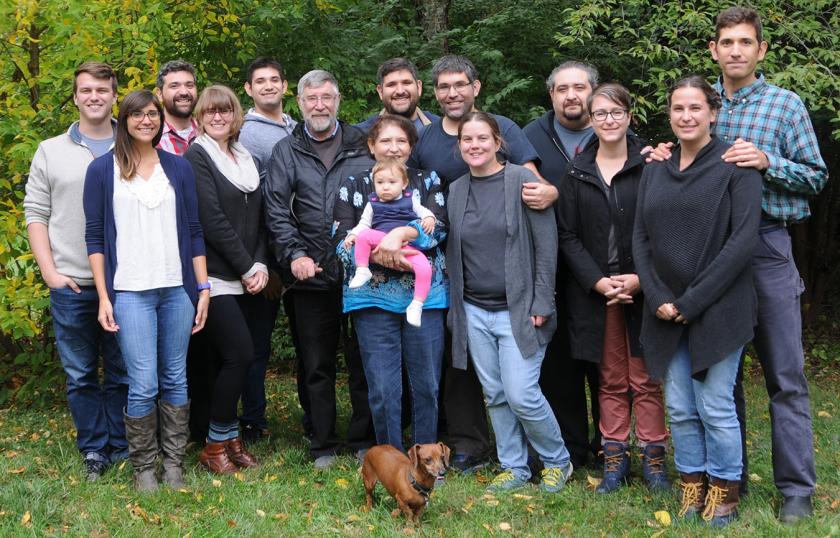 The first Hahn to enroll in the iSchool was Jim (MS '07, CAS '11). While earning his bachelor's degree in history at Illinois, Jim worked in the University's History/Philosophy Library. After graduating in 2003, he found a job at the Harper College Library in the Chicago suburbs.
"Around the time I was thinking of applying to graduate school, I remember reading a Library Journal article that mentioned how librarians are also involved in instruction in academic libraries. That article really motivated me to pursue a graduate degree in LIS," Jim said. "I was thinking of either becoming a writer, a teacher, or a librarian. It is very strange how life works out, since my current job allows me to be all three!"
Now a tenured librarian in the Undergraduate Library at Illinois, Jim develops and evaluates technologies that enable undergraduates to discover library resources and services, coordinates orientation programs at the library for first-year and transfer students, and assists with instruction/information literacy programs.
"When I was young, I enjoyed finding drawing books and computer books in our hometown library. Memorizing the sections of the Arlington Heights Library was an experience that definitely echoes to this day as I research and develop wayfinding services for academic libraries," he said.
The next family member to come to the iSchool was Dan (MS '11).
"One early memory I have of the magic of libraries is my brother Jim dialing into the library catalog on our MS DOS-based computer. To this day I'm still astonished by this," Dan said.
Dan worked part time in two public libraries in the Chicago area after receiving a bachelor's degree in English from Northern Illinois University. He decided to earn an MS/LIS degree to become better qualified for a full-time library position.
"It wasn't until after I had received my bachelor's degree that I really came to rely on the public library as a resource, not only for peace and quiet from a rowdy household but also to pursue my interests and start my career," Dan explained.
As an eLearning professional at Illinois, Dan supports the campus in using centrally supported software for online learning. He credits his experience as a graduate assistant for the iSchool's Help Desk and Instructional Technology and Design Office as playing a significant role in preparing him for the environment in which he works today.
Dan met his wife Melissa (current PhD student) in 2013, when she began her doctoral studies at the iSchool. They married in March 2016. Melissa received her BFA in photography from Ohio State and her MAT in art education from Tufts University in collaboration with the Museum of Fine Arts, Boston. She came to Illinois for graduate study in art education but made the switch to LIS after taking Christine Jenkins' class, History of Children's Literature.
"My experience in Christine Jenkins' class as well as my interactions with Kate McDowell and Carol Tilley made me feel that switching to LIS made sense, and I was excited for the change," she said. "In the field of LIS, I am especially interested in children's literature, picture books, and visual literary."
Melissa is a teaching assistant at the iSchool. She and her husband Dan are the proud parents of nearly two-year-old daughter Josefina.
Tony (MS '14) served in Americorps with Rebuilding Together New Orleans after receiving his bachelor's degree in philosophy from Knox College in 2008. After his stint with Americorps ended, he wanted to find something that involved public service and technology, which led him to LIS.
"The program at the iSchool was highly recommended by my brothers Jim and Dan," he said. "They both found employment after getting their degrees, and the curriculum offered exactly the type of applied computer science I was looking for."
At the time he applied to the School, Tony held a part-time job in IT at Arlington Heights Memorial Library and also worked at the three Naperville Public Library branches.
He is now the web services manager at the Des Plaines Public Library, where he helps manage the library's web presence—website, catalog, blog, social media, and podcast—and handles emerging technology projects and training for patrons and staff.
"I am thankful for the foundation of tech classes I took," Tony said. "The exposure to databases and Python, for example, keep me from feeling too intimidated when I have to dive into new projects. I also enjoyed the management and business classes, because they branched into other areas of LIS."
Tony's wife, Allison (current MS student in the Leep program), works as a teen/adult programmer and patron assistant for the South Branch of the Mount Prospect Public Library.
"The branch is a tiny storefront location, where we pack in a collection of about 8,000 items. At least half of our collection is in Spanish, and I order print materials for teens and adults in English and Spanish, trying to keep a balance of new, popular, and older favorite options for patrons. I also coordinate and schedule over 140 programs per year for the branch, leading about one-fourth myself."
The flexibility of the Leep program has allowed Allison to keep working while taking classes online, directly applying what she learns. Plus, she said, "I have heard such glowing reviews from the rest of the Hahn family that [earning an MS/LIS] feels like common sense."
It was her brothers' recommendations that brought Tina (MS '17) to the iSchool as well.
Tina earned her bachelor's degree in psychology and education from Carleton College in 2012. Like her brother Tony, she worked in the Des Plaines Public Library, and she also worked in business research before enrolling in the master's program.
"There aren't many fields that lend themselves to these two very different settings, but I truly enjoyed my work in both, so I figured the underlying piece was knowing how to persevere in finding answers even when others stop," she explained of her decision to study LIS.
Tina is currently working in marketing and sales development at McMaster-Carr, where she does research on companies and industries that present opportunities to grow business. She credits the School with helping to refine her research skills as well as her written and verbal communication skills.
"We're now four for seven on receiving MS/LIS degrees from the iSchool," she said of herself and her siblings. "Our local library was a big part of our upbringing—it was on the same street as our house, just over the railroad tracks. On Sundays, we created our own small parade of bikes, trikes, and the Little Flyer red wagon and ventured to the library and then to my grandparents' house. It's great that we're able to continue to this shared family connection as adults and contribute to the field in a meaningful way."