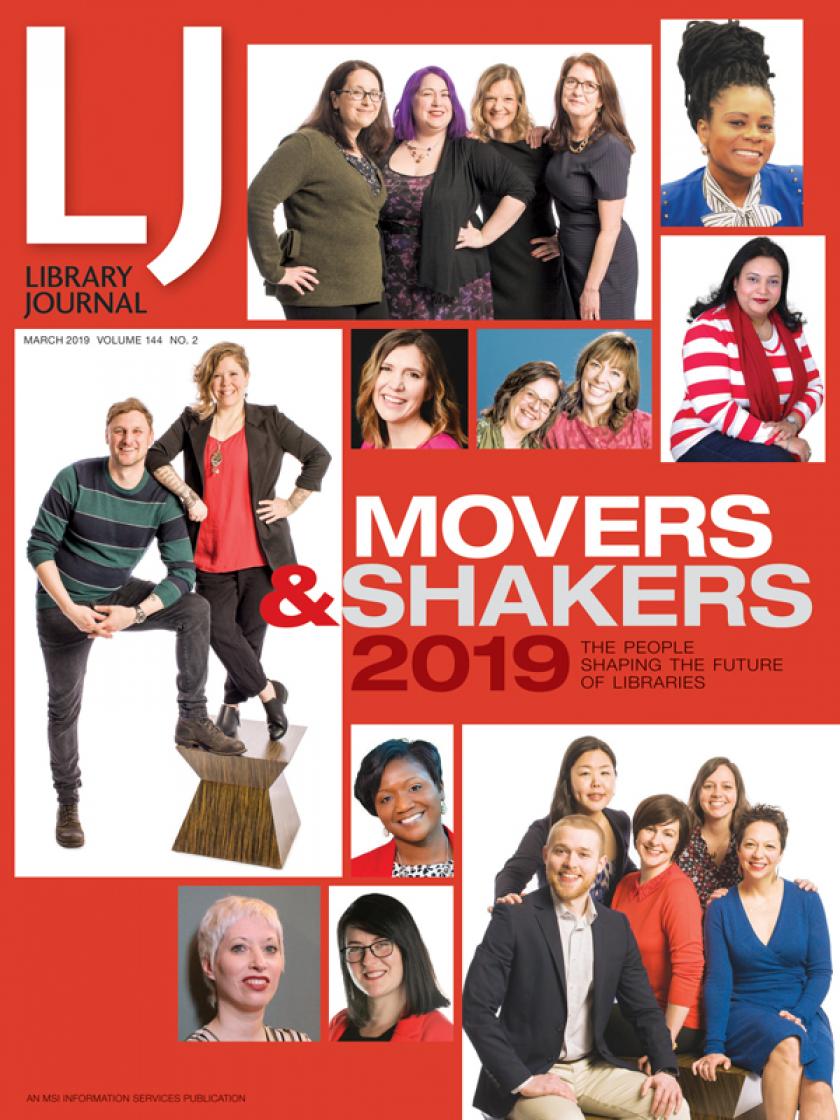 Four iSchool alumni are included in Library Journal's 2019 class of Movers & Shakers, an annual list that recognizes fifty professionals who are transforming what it means to be a librarian. Jarrett Dapier (MS '15) and Gwen Evans (MS '02) were honored in the Change Agents category; Heather Thompson (MS '13) was honored in the Educators category; and Anton Chuppin (MS '99) was honored in the Digital Developers category.
Dapier is a young adult librarian at the Skokie (IL) Public Library. His interest in social justice and theater has led him to produce both his own original work and adaptations starring local teens, who are recruited for roles and crew positions in the library's teen volunteer program. He is currently producing a stage adaptation of Andrea Davis Pinkney's poetic tribute to Martin Luther King's life and death. His theatrical adaptation of Chris Crutcher's YA novel, The Sledding Hill, is available for free download through the ALA's Office of Intellectual Freedom.
Evans is executive director of the 118-member academic library consortium OhioLINK. She and her deputy director, Amy Pawlowski, negotiated statewide electronic textbook pricing agreements with six publishers that resulted in an estimated $39.7 million annual savings for students attending higher education institutions in Ohio. Evans devised the overall strategy, reached out to major campus stakeholders, and led marketing and implementation efforts.
Thompson is a youth services programming librarian at the Kenosha (WI) Public Library. She and Heather Beverley, children's services assistant manager for the Cook Memorial Public Library District in Libertyville (IL) created a blog, STEMinlibraries.com, which provides librarians worldwide with turnkey STEAM (science, technology, engineering, arts, mathematics) programming. Each post contains information on how to run the program, experiments and the science behind them, supply lists, and suggestions on how to adjust activities to make them age-appropriate.
Chuppin is manager of IT interfaces at the Calgary Public Library (CPL) in Canada. He led the development of a staff web interface to integrate and simplify all library, staff, and user transactions and interactions. Chuppin and his design team met with staff across 20 library branches throughout Calgary to understand their needs and practices. According to Roberta Kuzyk-Burton, learning and development specialist at CPL, with the new interface, "Staff are spending less time using the technology and can concentrate more on providing higher level customer service and delivering more programming and outreach."