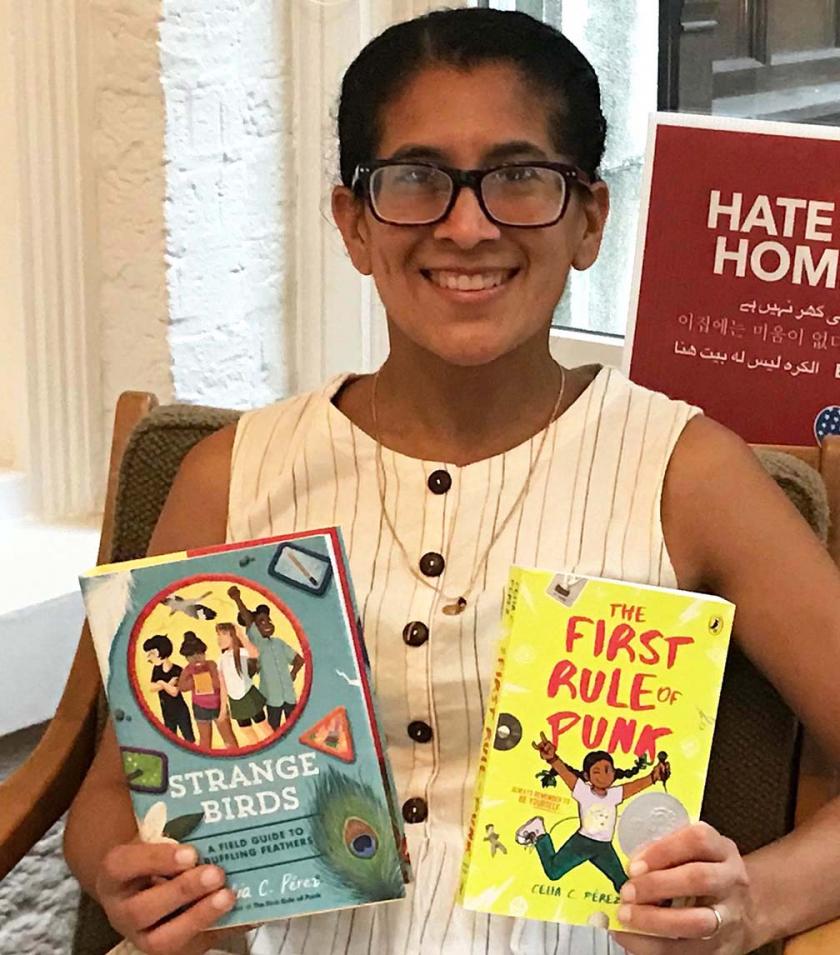 Celia C. Pérez (CAS '12) credits her experience as a student in the Certificate of Advanced Study (CAS) program with her decision to become a children's book author. Her debut children's book, The First Rule of Punk, published by Viking Books for Young Readers in 2017, was a hit. In addition to receiving several honors, including the 2018 Tomás Rivera Mexican American Children's Book Award, the Children's Theatre Company in Minneapolis is currently adapting the book into a musical.
Pérez, who holds master's degrees in secondary English education and library and information science, works as a librarian for one of the City Colleges of Chicago, a seven-campus community college system in the city. She enrolled in the iSchool's CAS program with the intent of transitioning into youth services as either a children's librarian in a public library or as a school librarian. For her CAS project, she explored the role of social media as a nontraditional professional development tool.
"Having a young child made me think about what was still missing in children's books, and the desire to explore that led to this project," Pérez said. "My blog, All Brown All Around, focused on books for children by and about Latinos because I wanted to create a space in which I could write reviews and address issues related to these specific books and their place in the larger world of children's books and, hopefully, spark some conversations or at least expose others to the issues and the books."
Pérez has been writing for as long as she can remember, keeping journals and writing stories as a child and making zines as a young adult. It was during her time as an iSchool student that the "lightbulb moment" happened, and she decided to try writing for kids.
"The First Rule of Punk was, first and foremost, a story about a kid navigating identity and what that means when you live in between worlds," she said. "This was my story growing up an American-born child of immigrants from different countries. I always felt like an outsider—not Cuban enough, not Mexican enough, not white in a world that often equated 'American' as whiteness."
Like the book's main character, twelve-year-old Malú, Pérez was always curious about musical genres that weren't especially popular in her community, made zines, and tried to figure out how to fit her personal interests with her cultural heritage. The First Rule of Punk resonated with readers, and the book made many best book lists including those by NPR, The New York Public Library, The Seattle Public Library, and Chicago Public Library.
"Even as I was working on the book after it had been acquired, I occasionally asked myself who would read a story about a little brown punk? I'm so grateful for how this book has been embraced by readers of all ages. One of the things I try to do is write about Latinos in ways that haven't historically been represented in books for kids," Pérez said.
Her second middle grade novel, Strange Birds, is now available from Kokila, an imprint of Penguin Young Readers.
Pérez completed her CAS as an online student, a situation that was perfect for her with her full-time job in Chicago and family commitments.
"It was really convenient to be able to do the bulk of my school work from home and make a trip to campus once a semester," she said. "While I ended up not going into youth services after all, I enjoyed the opportunity, and it was this experience that led me to writing for children!"