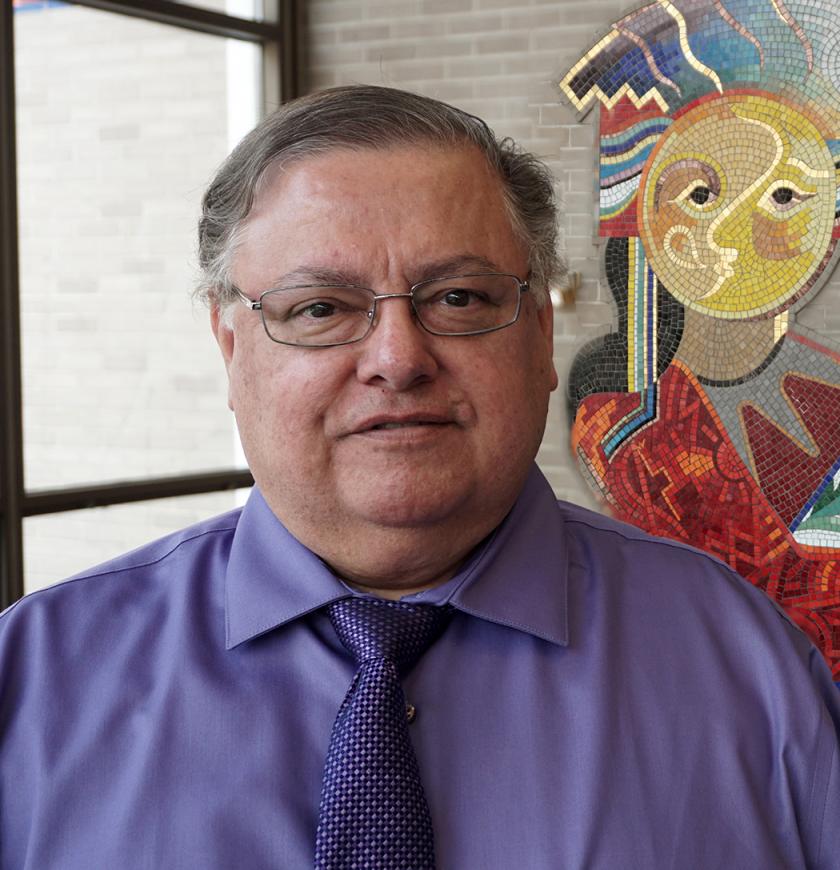 Héctor Hernández (MS '78) retired in September after 40 years with the Chicago Public Library, having served the past 30 years as branch manager of CPL's Rudy Lozano Branch. Located in the Pilsen neighborhood of Chicago, the Rudy Lozano Branch is the largest Hispanic public library in the Midwest. Hernández was drawn to the field of librarianship because he never saw any Hispanic librarians when he was growing up. Over the course of his lengthy career at CPL, he became a role model for Hispanic youth in his community.
As branch manager, he was responsible for the library's overall daily operations.
"Half of my duties were administrative, and half were public service—a combination that I really liked," Hernández said. "Meeting the needs of a large Spanish-speaking population can be challenging. Libraries must provide a welcoming environment, adequate and relevant collections for Spanish-speaking community residents, and information services in Spanish. Being bilingual and bi-cultural, I was able to meet that challenge."
During his time at the Rudy Lozano Branch, Hernández hosted well-known writers and dignitaries from Mexico. He provided a meeting space for artists, musicians, activists, and teachers to share ideas and promote the arts, literature, language, and traditions of Mexico and Latin America. He also offered a bilingual community chess club, the Knight Moves Chess Club, which has met every week for 30 years. This nationally known chess program provides youth with an opportunity to improve their self-esteem, develop analytical skills, and meet players from Illinois and Mexico.
"Chess, like education, is a great equalizer. It puts everyone on equal footing," said Hernández, who is also in his tenth year as head coach of the St. Ignatius College Prep chess team.
Hernández has received many awards for his service to the community. In addition to being named the 1995 Librarian of the Year by REFORMA (The National Association to Promote Library Services to the Spanish Speaking), he has been honored by the Chicago Library System, Hispanic Literacy Council, Pilsen Alliance, Pilsen Chamber of Commerce, Casa Aztlán, and Illinois Chess Association. He was recently presented with a resolution from the Cook County Board of Commissioners, "Honoring 40 Years of Héctor Hernández's Commitment to the Chicago Public Library and the Rudy Lozano Branch Library."
While Hernández appreciates the accolades he has received throughout his career, he counts "making a positive impact on people's lives" as one of his greatest accomplishments.
"The iSchool gave me the tools to be successful in my profession," he said. "It provided me with the technical skills and the know-how, and helped me to formulate a humanistic approach to library services."
His advice to current students is to "believe in yourself, stay focused, don't lose sight of your goals, and work for the common good."
In addition to his MS/LIS degree, Hernández holds an MA in Latin American Literature, also from Illinois.