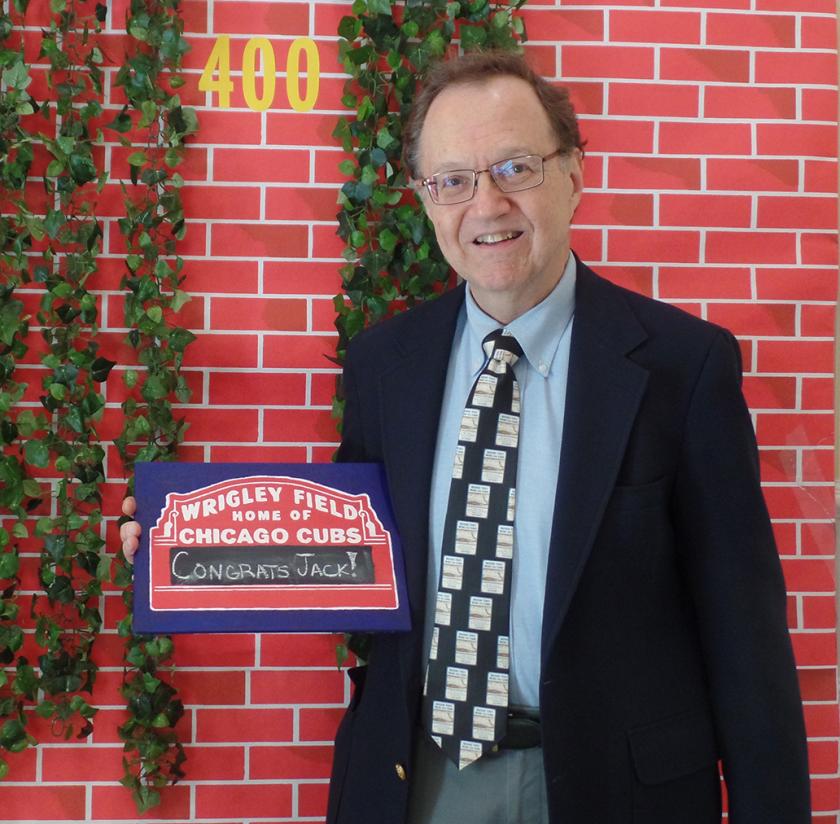 As baseball teams gear up for spring training this month, Jack Bales (MS '74) will begin another season of following—and researching—the Chicago Cubs, a team whose history he knows well. Bales, a reference and humanities librarian, combined his expert research skills and interest in the Cubs to author a book on the team's early history. His book, Before They Were Cubs: The Early Years of Chicago's First Professional Team, was published last spring by McFarland & Company.
"It took years of research and writing (I have a full-time job), and since some of the newspapers I needed to consult are not available online, I spent several years going through microfilm page by page and year by year," Bales said. "I would spend every Christmas vacation camped out by the library's microfilm reader-printers. One of my colleagues still remembers how she came in one day when I wasn't there and noticed my CD player, sweater, water bottle, snacks—and even my bedroom slippers—all neatly arranged beside reels of microfilm."
He estimates around two thousand primary sources were used and cited in his book.
In 2017, Bales received the McFarland-SABR Baseball Research Award from the Society for American Baseball Research for his article, "The Show Girl and the Shortstop: The Strange Saga of Violet Popovich and Her Shooting of Cub Billy Jurges," which he is now expanding into a small book. The award "honors the best articles on baseball history or biography completed or published during the preceding calendar year."
He will have more time to work on his next book after July 24, when he will retire from the University of Mary Washington after forty years as a reference and humanities librarian. According to Bales, his proudest accomplishment as a librarian is the impact he has made on students, instilling in them a love of research and writing.
"A few months ago, a student came by my office and said, 'My father knew you when he was a student here,' and she told me his name. I immediately replied, 'Not only do I remember your father, but I remember that he wrote a major history paper on President Gerald Ford.' I think that surprised her! A few days later, her father came in to talk to me and reminisce a bit," Bales said.
Bales realized he had a talent for research and writing as early as junior high school, when he wrote his first term paper. Working on that paper also piqued his interest in the field of library and information science. Later on, as an undergraduate English major at Illinois College, he worked in the college library.
After earning his MS/LIS degree from the University of Illinois, he worked briefly in the libraries at Eureka College and Illinois College before settling into the University of Mary Washington. He considers himself fortunate to be surrounded by "marvelous, wonderful colleagues," doing a job he loves.
In addition to working on his book, Bales plans to spend retirement visiting and traveling with his two grown children. For years, he and his family have enjoyed hiking together, especially in the Blue Ridge Mountains in Shenandoah National Park, a place where they plan to spend more time.
His advice to current students is to "find your passion—some overriding interest that gets you up in the morning, eager to face the day."
"It's been a great 40 years! I've always liked the research end of library work, so assisting students and faculty was tailor-made for me," he said.
When asked which he would enjoy more, watching the Cubs play or doing research on the team, Bales has to give it some thought.
"That's a tough question, as I really like doing my research. I suppose, though, I would have to come down on the side of watching them play," he said.