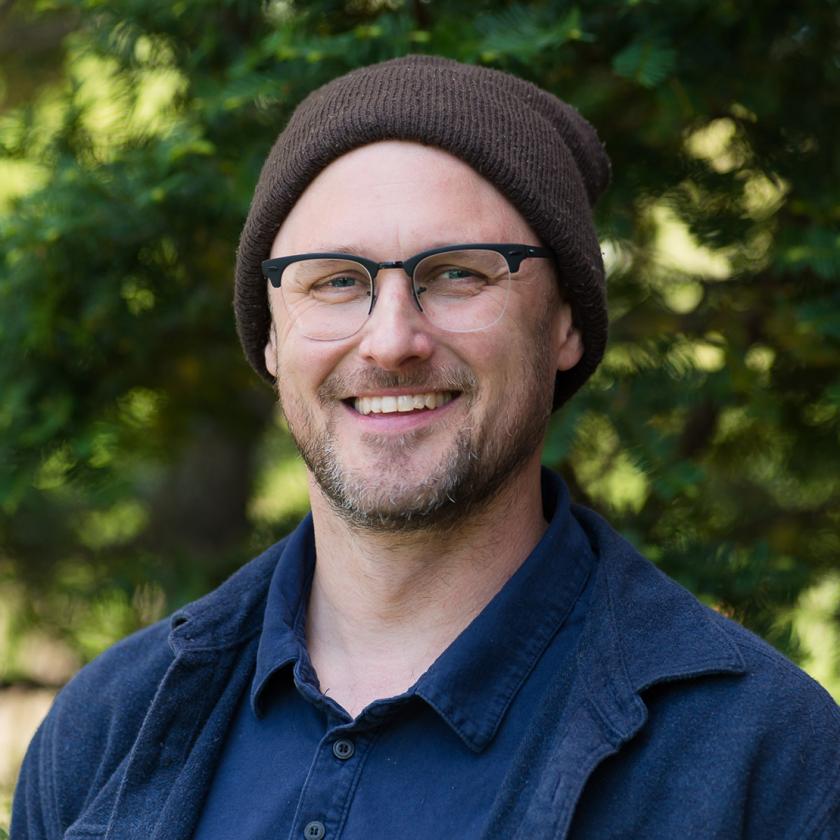 Like the character in his latest book, Mr. Watson's Chickens, Jarrett Dapier (MS/LIS '15) has three chickens. Dapier, a librarian-turned-author, writes at his home in Evanston, Illinois, where he lives with his wife, two children, and pets (including a dog and two cats as well as the chickens). Mr. Watson's Chickens, illustrated by Andrea Tsurumi, received a starred review in Publishers Weekly and was chosen by NPR and BookPage as one of the best books of 2021.
"Mr. Watson's Chickens was born when I dreamed one night that I read it to a class of first-graders," said Dapier. "In the dream, I read aloud the part of the book in which Mr. Watson loses all his chickens, and they are repeatedly discovered by different people who are irritated to find hens in their midst. In the dream, as in the final book, the people that find the chickens bellowed, 'Whose chickens are these?!' and Mr. Watson responded, 'That'll be me!' And, then there was the refrain, which remains in the book, 'Said Mr. Watson with a 1-2-3!' In the dream, the children enjoyed the book, and I greatly enjoyed reading it to them."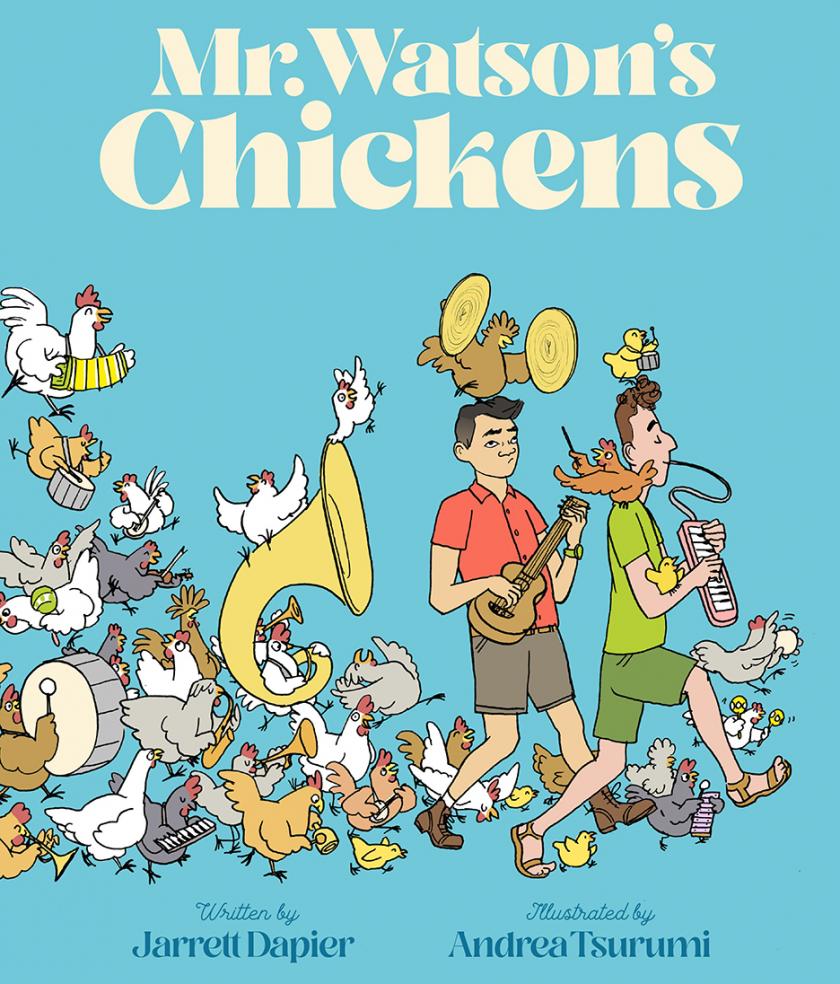 When Dapier startled awake from his dream, he had the good sense to write it down, which led to his award-winning picture book. Dapier has written six books so far, of which four have found homes with publishers. Jazz for Lunch! and Mr. Watson's Chickens, were published last fall by Atheneum/Caitlyn Dlouhy Books and Chronicle Books, respectively. His next picture book, The Most Haunted House in America, is scheduled to be published by Abrams Kids in August 2022. Dapier's fourth book is a young adult graphic novel slated to be released in 2023 by Chronicle Books. The other two are awaiting homes with publishers.
"The Most Haunted House in America is a story told in rhythm and rhyme about three skeleton drummers that get invited by the First Lady to play their drums at a special Halloween celebration at the White House. It's partially inspired by my own experience playing the drums dressed as a skeleton at the Obamas' White House Halloween celebration in 2009," said Dapier, a lifelong drummer whose love of music has also shaped his writing.
Dapier admits that over the years he has read "an irrational number" of books aloud to his own children, now aged 11 and 15, which helped him become very well acquainted with the world of picture books. His experience with picture books also includes a stint teaching reading enrichment classes to four- to seven-year-olds after he completed his bachelor's degree in rhetoric and creative writing from the U of I. Before enrolling in the iSchool's MS/LIS program, Dapier served as a teen librarian at the Evanston (IL) Public Library, and most recently, he worked as a young adult librarian at the Skokie (IL) Public Library. These experiences helped him realize that children's librarians are a valuable resource for aspiring writers—"always bursting with recommendations."
Dapier's decision to write for youth was also influenced by iSchool coursework, such as Literacy, Reading, and Readers (IS 571 LR), taught by Associate Professor Emerita Christine Jenkins.
"Her course really urged us to think deeply about how reading is acquired, consider what is going on in the brain as literacy develops, and analyze how pictures and words intertwine to create in the minds of young readers the images, sounds, voices, and comprehension skills needed to enjoy and understand books. This education naturally led me back into thinking about writing for kids, something that I'd always wanted to do," he said.
In Jenkins' class, Dapier wrote a research paper on the attempt by the Chicago Public Schools (CPS) to ban the graphic novel Persepolis in 2013. His research uncovered some information that CPS had originally suppressed, which led to Dapier receiving the 2016 John Phillip Immroth Memorial Award from the Intellectual Freedom Round Table of the American Library Association. In Associate Professor Carol Tilley's Comics: Advising Readers (IS 563 CR) class, he came up with the idea of turning his Persepolis paper into a graphic novel about the censorship of a graphic novel. Following graduation, Dapier started writing the graphic novel, which will be released in 2023.
"The iSchool faculty, their expertise in both research and teaching, their encouragement, and the work they required all set me on a path to writing for children and teens today," he said.
While the storyline for Mr. Watson's Chickens came to Dapier in a dream, it was his son who gave him the push he needed to finish the book.
"I told a version of the story to him on one of our walks to school when he was in the first grade, and at the end of the walk, he said, 'Can you get me that book at the library while I'm at school?' I said, 'No, it doesn't exist. I have to write it first.' He was a little confused. It was a nice moment where I imagined I could see him connecting the dots between stories and the authors that write them. He was quiet, but then right before he walked through the door into school, he turned around and commanded me: 'Go home and write that book right now!' I obeyed," said Dapier.