Zines—small-scale, self-published works about anything and everything—have made their way from homes to libraries over the years. As libraries' zine collections grow, librarians must address the acquisition and circulation of these unique publications and develop new ways to promote the creation of future zines. iSchool alumni Ann "A'misa" Matsushima Chiu (MS/LIS '15), Ziba Pérez (MS/LIS '12), and Josh Lupkin (MS/LIS '08) recently penned chapters on this topic for Zines in Libraries: Selecting, Purchasing and Processing (ALA Editions/CORE, 2022).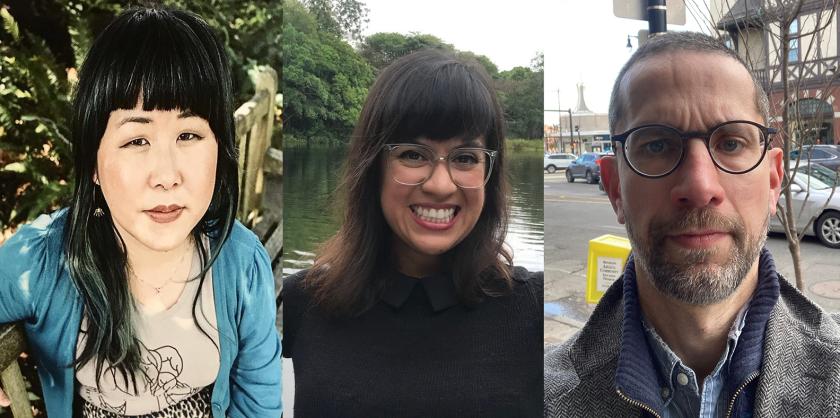 Chiu, social sciences librarian at Reed College, a small liberal arts college in Portland, Oregon, also serves as librarian of the Reed Zine Library, which has a circulating collection of about 700+ zines. According to Chiu, zines have helped diversify the library's collection by inserting primary source material from authors from marginalized and minoritized identities.
"The zines at Reed are primarily by people of color, LGBTQIA+ folks, Portlanders, and Reedies, and on the topics of social justice, activism, mutual aid, body positivity, immigration, and anti-capitalism," said Chiu. "I often collaborate with student organizations to help them create zines as tools for community organizing and activism. Recently, we've had students bring in their own zines for the library, and a few faculty members are now using zines as alternative final paper formats."
The Reed Zine Library hosts workshops every semester, including "Zine-in-a-Hurry" events where participants start and finish a collaborative collage zine in an hour. It also brings in special guest artists and writers, which helps attract new users to the library, especially during student orientation.
At the Los Angeles Public Library, where Ziba Pérez (MS/LIS '12) serves as a young adult librarian, zines started circulating five years ago, and patrons can check them out with their library cards. The library's website features a special zine section, which advertises upcoming zine workshops and fests.
"Holding zine programming is important in bringing new voices to the collections and in connecting the collections to the community," said Pérez. "I just did a zine workshop at a local high school and showed the students how to make zines. I brought zines from our branch library collection to the school library to share as examples and for students to borrow on the spot with their library cards."
Josh Lupkin (MS/LIS '08), Charles Warren Librarian for American History at Harvard University's Widener Library, developed an interest in underground periodicals, comics, and graphic culture when he worked at Tulane University. He appreciates the underrepresented voices and formats of zines and understands the difficulties in adding them to library collections.
"Even at a comparatively well-resourced research library, zines present real logistical issues across the lifecycle that become even more acute when you try to acquire them in a responsible and ethical way from communities outside of North America," he said. "Many professionals in GLAM (Galleries, Libraries, Archives, and Museums) fields have been talking about methodologies of community archives, and I consider these discussions when thinking about zines. Just as bringing zines into library collections requires careful collaboration with stakeholders, so does the process of helping/persuading faculty to take a chance on incorporating them into curricula."
The librarians agree that it is hard to pick a favorite zine from their collections.
"My favorite zines are the zines in Spanish," said Pérez. "They are great because they were purchased during my trips to Mexico City, and they are an example of how universal zines are worldwide!"