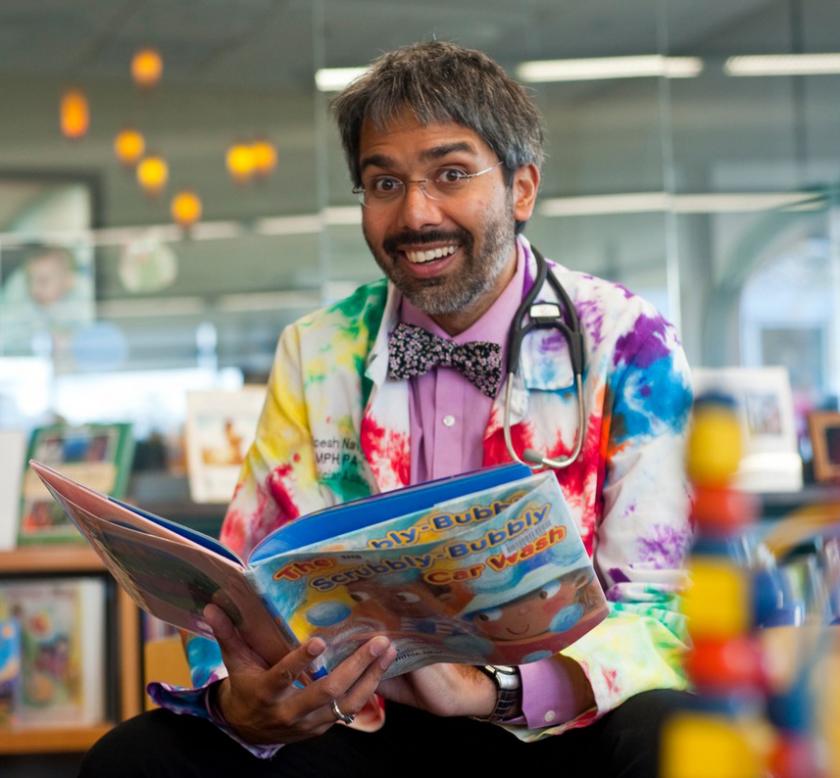 Not too many medical students would take a year off from their studies to learn more about an area that interests them. Of course, Dipesh Navsaria (MS/LIS '04) was not your average medical student. He entered the University of Illinois College of Medicine at Urbana with three degrees—a BA in biology and English and a master's in public health from Boston University and a master's in physician assistant (PA) studies, from George Washington University.
"I had been exposed to the Reach Out and Read pediatric early literacy program in my prior training and through my work as a PA," said Navsaria. "I realized that I knew a fair amount about why shared reading was important, but I didn't know that much about children's literature itself."
He decided to do something about that, and after searching the internet, he discovered the Center for Children's Books in the iSchool, formerly the Graduate School of Library and Information Science (GSLIS). In his second year of medical school at the U of I, he took an evening class at the iSchool upon the advice of then Assistant Dean Curt McKay. He enjoyed the class so much that he decided to take a year off and pursue his MS/LIS in the area of children's literature.
Navsaria completed his MD and now serves as associate professor of pediatrics and clinical associate professor of human development and family studies at the University of Wisconsin-Madison.
"What I love about pediatrics is that it is a field that focuses so much on prevention and trying to make a difference early on rather than fix a problem later, when it's much more difficult and expensive. It's also very much a field that thinks about advocacy and the environment around children. Pediatricians are much more likely to recognize that health exists more broadly outside the walls of households and clinics, so whatever we can do to influence that makes a difference," he said.
Navsaria is the founding medical director of Reach Out and Read Wisconsin and is the chair of the Board of Directors of Reach Out and Read National. The nonprofit works directly with pediatric care providers to share the lifelong benefits that result from families reading aloud to their children every day.
"The more that children are exposed to books and shared reading as a daily reality, the more likely they are to become fluent readers, and that feeds directly into a higher likelihood of being successful in school. Then, of course, that affects their life, life course, health, and well-being in so many ways," he explained. "If parents themselves weren't read to or read to frequently, they may not know how to do reading with a young squirming toddler. We need to do that intentional skill building and support with those parents. Whatever we can do to help and build those strong bonds, that is where we are going to see the best outcomes."
Navsaria was recently appointed by President Biden to serve on the National Museum and Library Services Board. He admits the board is "not the sort of thing a physician usually ends up on," but he is thrilled to serve and share his experience as a pediatrician, public health practitioner, and early literacy advocate.
His advice to students who are interested in pursuing an MS/LIS is that the degree can be a route to thinking about the world in different ways.
"I remember a moment when I was hearing about reference interview in one of my foundational LIS classes, and I thought to myself, 'Wait a minute: open-ended questions, closed-ended questions, etc. This is exactly how we do medical interviewing.' That led me to the conclusion that on some level, if you set aside procedures and prescriptions, medicine is ultimately a really specialized form of librarianship," said Navsaria. "People are coming to us wanting information and guidance on how to interpret the information. You can apply an LIS degree to so much of what's out there in the world and really enrich those other fields of study in so many ways."