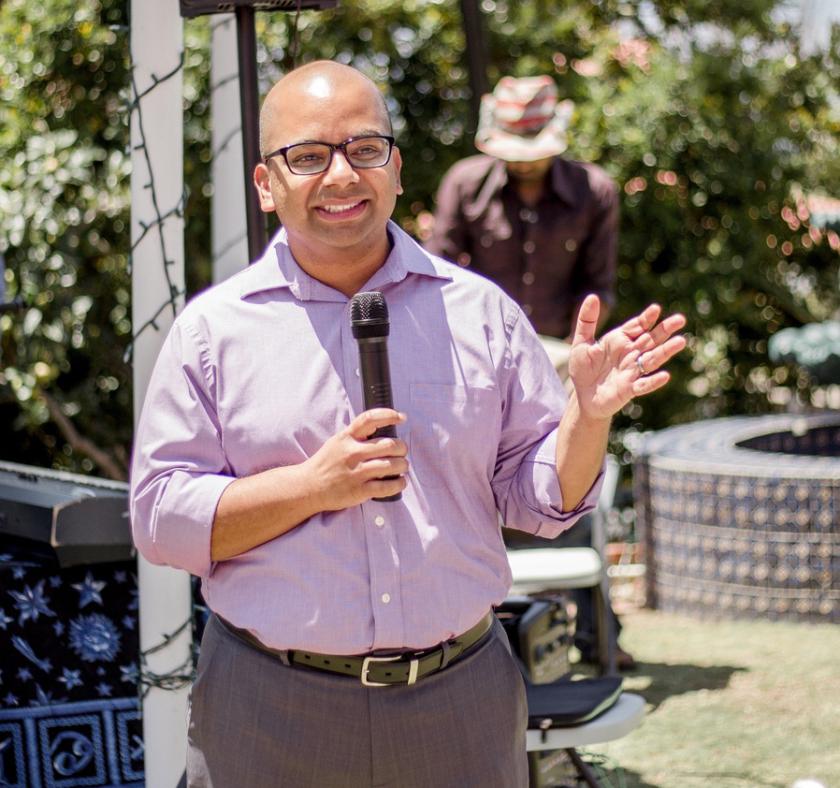 Samip Mallick (MSLIS '11) is the executive director and co-founder of SAADA, the South Asian American Digital Archive. He is proud of how his organization's work creates a place of belonging for the South Asian American community.
Where do you work and what is your role?
I work at SAADA, the South Asian American Digital Archive. SAADA is an organization I helped to found almost fifteen years ago. I have served as its full-time executive director for the past ten. I'm based in Philadelphia, which is also the location of SAADA's headquarters.
What do you like best about your job?
I love so many things about my job that it's hard to pick one. Most importantly, I'm fortunate to know that the work I do everyday matters to a huge number of people. I get to work alongside a dedicated and caring staff with support from our board of directors, volunteers, and thousands of others across the country. And I'm constantly being challenged and learning new things, which keeps me deeply motivated.
What do you see as the most important impact of your work?
SAADA uses the power of stories to create a place of belonging for more than 5.4 million South Asian Americans. I am part of this community, which despite our long, rich, and diverse history in this country, has not often seen itself reflected in the American story. Through SAADA's work—our archive, storytelling projects, artistic partnerships, walking tours, lesson plans, films, and books—I know that young South Asian Americans, such as my six-year-old-daughter, will feel a real sense of belonging that so many of my generation did not have. I know that the work I am doing is creating a better future for her and so many others.
How did the iSchool at Illinois help you get to where you are today?
The iSchool gave me confidence in my skills as an archival practitioner. I graduated from the program knowing that I could handle the technical challenges of SAADA's archival work.
What advice would you like to share with iSchool students?
I was fortunate to have helped to found SAADA before I started at the iSchool. I basically wrote all of my papers and completed all of my projects on topics that would help me with SAADA. For an experiential learner like me, there was nothing better than having a real-world project on which I could apply the knowledge I was gaining in my classes.
What do you enjoy doing in your spare time?
I love going for walks, listening to music (especially NPR Tiny Desk concerts!), and spending time with my family.