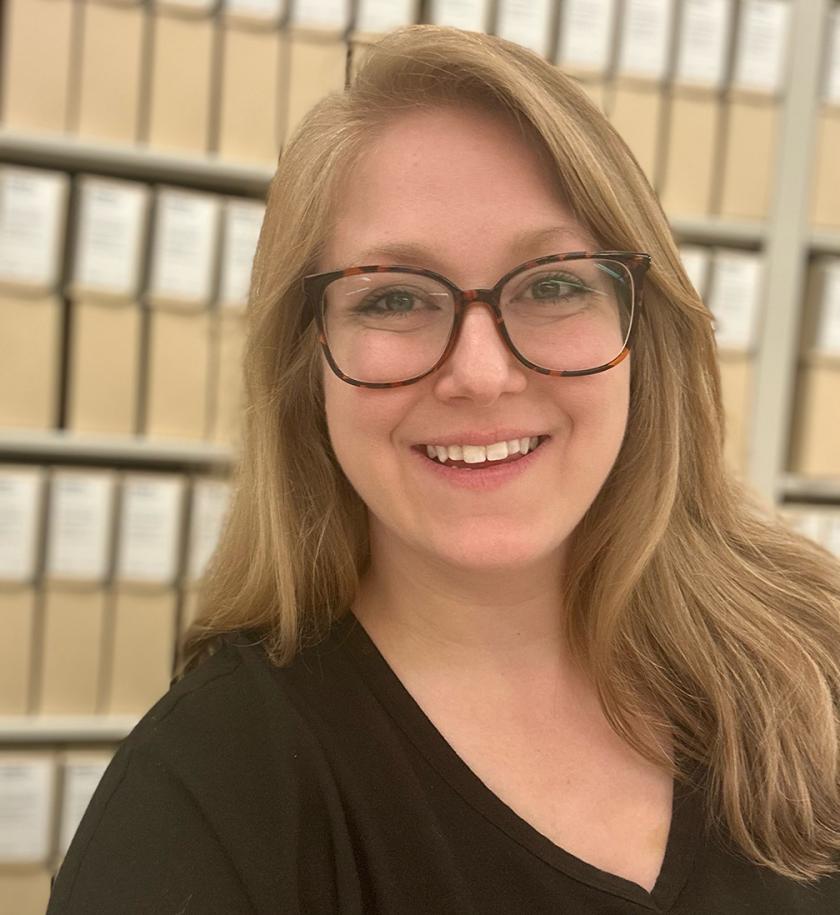 When Kelly Schulz (MSLIS '18) visited the National Gallery of Art in the 5th grade, she immediately knew that she wanted to work there. "At that time, I had no idea what the job would be, but I just knew that I wanted to do it here," she recalled. As fate would have it, Schulz's dream came true, and she is now an archivist at the National Gallery of Art in Washington, D.C.
Where do you work and what is your role?
As an archivist, I help maintain and preserve the permanent valuable records regarding the history of the National Gallery of Art. Our holdings are vast and include materials related to the museum's architecture, exhibitions, scholarly and educational programs, and activities during World War II, among many other things. My primary focus is assisting with internal and external reference requests and processing collections. When processing, I largely work with our collection of National Gallery publications, which encompasses the wide range of printed material created by the museum. As the newest member of the Gallery Archives team, I also volunteer to help with other projects happening in the department.
What do you like best about your job?
This is my dream job, so I am not sure if I can pick one thing that I like the best! If I had to narrow it down, I would say that this position is a culmination of my professional and personal interests. My undergraduate degree is in historic preservation and art history, and I also briefly went to graduate school for architecture before earning my MSLIS from the iSchool. I love that I get to combine this knowledge with my training as an archivist. It really is the perfect place for me! I also am fortunate to work with a group of wonderful archivists, so I am continuously growing and developing as a professional. And I guess being able to work in a place where I am surrounded by such incredible works of art doesn't hurt!
What do you see as the most important impact of your work?
Definitely, it is making the rich resources of the Gallery Archives available to researchers. I became an archivist because as an undergraduate, I had many positive research experiences with archives and special collections, and I enjoy being able to foster those experiences for others. We have so many amazing resources that tell the history of the National Gallery, and it is rewarding to share that with others.
How did the iSchool at Illinois help you get to where you are today?
The iSchool really laid a great foundation for me to become an archivist. The classes I took and the professors teaching them prepared me for my internships, which only built on what I was learning. I felt confident in my abilities, knowing that when I told people I attended the iSchool, they would recognize the high caliber of education I received. I also took advantage of the career services offered—getting advice on how to navigate internships and job searching post-graduation as well as receiving help with my resume and cover letter.
What advice would you like to share with iSchool students?
Finding a permanent position is competitive, and it can be discouraging at times, but don't give up! Take advantage of any opportunity you can and network with members of your cohort and other professionals. Continue to develop the skills you learn while at the iSchool and don't be afraid to highlight nontraditional experiences that might showcase your abilities. It may take time, and you might not land your dream job immediately, but you will find the perfect position.
What do you enjoy doing in your spare time?
I am an avid reader, so you can usually catch me with either my Kindle or a physical book. I also love to explore with my husband and daughter, which usually involves food! We miss the food in Chicago and are on a quest to find new favorites in the DMV [District of Columbia, Maryland, and Virginia] area.