Pathtracker: A smartphone-based system for mobile infectious disease detection and epidemiology
Total Funding to Date
$1,005,692.00
This project will develop a mobile sensor technology for performing detection and identification of viral and bacterial pathogens. By means of a smartphone-based detection instrument, the results are shared with a cloud-based data management service that will enable physicians to rapidly visualize the geographical and temporal spread of infectious disease. When deployed by a community of medical users (such as veterinarians or point-of-care clinicians), the PathTracker system will enable rapid determination and reporting of instances of infectious disease that can inform treatment and quarantine responses that are currently not possible with tests performed at central laboratory facilities.
Immediate uses for the technology are for diagnosis of viral infection in human patients (Zika, dengue, and Chikungunya) and diagnosis of respiratory infection in equine populations (Equine herpesvirus, Equine influenza, Strangles, Equine adenovirus type 1, and Equine arteritis virus). Further uses include water testing, food safety, and pharmaceutical quality control.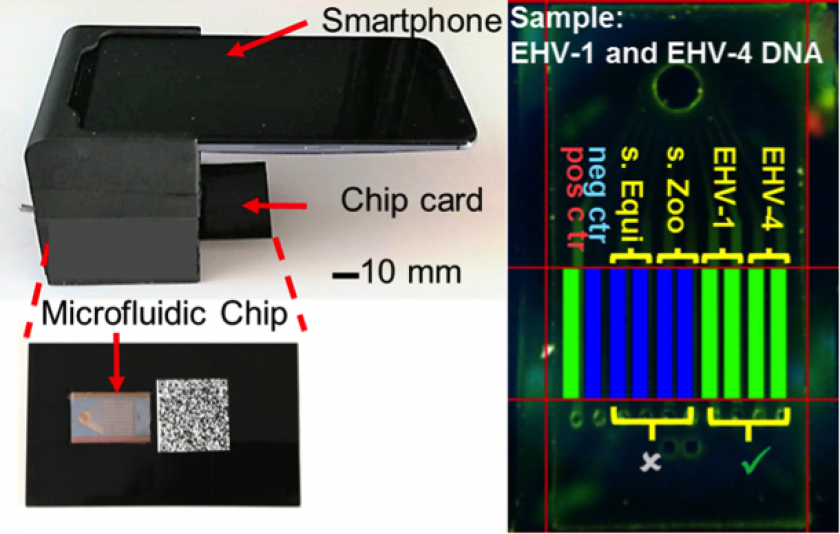 Personnel
Research personnel include Brian Cunningham (PI) and Rashid Bashir (CO-PI) from the University of Illinois and David Hirschberg (CO-PI) from the University of Washington, Tacoma.
Funding Agencies
National Science Foundation – $1,005,692.00