Knowledge Graphs and Semantic Computing Speaker Series: Yousif Hassan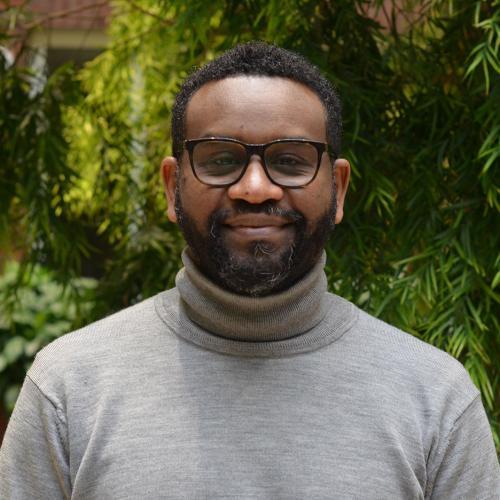 Yousif Hassan, a postdoctoral research associate at the iSchool at Illinois, will present "Fixing development with data: Responsible AI and state building in Africa."
Yousif Hassan is an Illinois Distinguished Fellow and Postdoctoral Research Associate at the School of Information Sciences. He is a Faculty Affiliate with the Center for African Studies at the University of Illinois Urbana-Champaign. His research examines the relation between race, digital technology, and technoscientific capitalism. Dr. Hassan's work is at the intersection of social and racial justice, and technology policy focusing on the social, economic, and political implications of emerging technologies including artificial intelligence (AI) and data. Prior to joining the iSchool, Dr. Hassan was a research fellow at the Harvard Kennedy School. His most recent project investigates the development of AI and its innovation ecosystem across multiple African countries focusing on data governance and the sociotechnical knowledge production practices of the state, scientists, and the tech industry.
Abstract:
The controversies surrounding the integration of artificial intelligence (AI) in modern society have given rise to a growing scholarship in the field of AI ethics in recent years. These efforts, in both industry and academia, seem to be adopting universalist approaches based on Western understanding of ethics and epistemologies. Moreover, most of these frameworks put forward normative claims about the benefits and risks of AI and lack the understanding of how AI technology is perceived and understood by the globally marginalized epistemic communities in the Majority World. Looking through the analytical lens of science and technology studies (STS) and contemporary African studies on the relation between coloniality, modernity, and technology, this talk explores what it means to do AI from the margins and what the implications are for an AI ethics approach from below.
In this talk, I examine how AI is (re)configuring the debate about development and modernization in Africa and the contested visions of AI futures to address Africa's long-standing economic and social issues. I ask who should govern AI and to what political imaginaries the ethical questions underpinning AI knowledge production are articulated? How should responsible AI innovation be approached and what does it mean to decolonize AI in the African context? I argue that one way of comprehending AI in the continent that can help us refine our understanding of its social and economic implications is to look at AI development as a state building experiment in postcolonial Africa.
Selected Readings:
Adams, R. (2021). Can artificial intelligence be decolonized? Interdisciplinary Science Reviews, 46(1–2), 176–197. https://doi.org/10.1080/03080188.2020.1840225
Hassan, Y. (2022). Governing algorithms from the South: A case study of AI development in Africa. AI & SOCIETY. https://doi.org/10.1007/s00146-022-01527-7
Mohamed, S., Png, M.-T., & Isaac, W. (2020). Decolonial AI: Decolonial Theory as Sociotechnical Foresight in Artificial Intelligence. Philosophy & Technology, 33(4), 659–684. https://doi.org/10.1007/s13347-020-00405-8
We continue the CIRSS speaker series in Fall 2023 with a focus on "Knowledge Graphs and Semantic Computing". We will meet on Fridays, 9-10am Central Time, on Zoom. To join a session, go to the current week's session and click the "access" link, which will lead you to a calendar entry. There, click the "PARTICIPATE online" button to join a session. Recordings of past talks can be found next to "access" if available. The event is open to the public, and everyone is welcome to attend! This series is hosted by the Center for Informatics Research in Science and Scholarship (CIRSS). If you have any questions, please contact Jana Diesner and Halil Kilicoglu.
If you are interested in this speaker series, please subscribe to our speaker series calendar: Google Calendar or Outlook Calendar.
This event is sponsored by Center for Informatics Research in Science and Scholarship