Yousif Hassan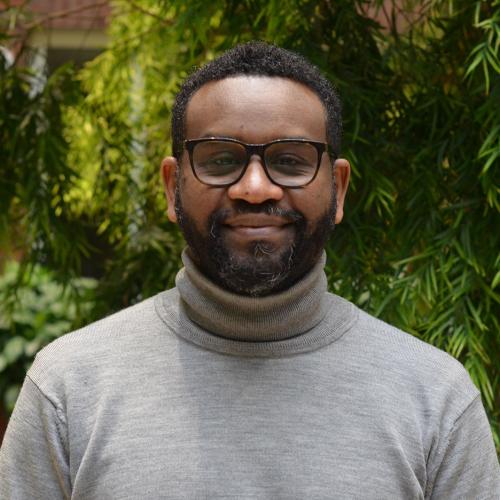 Postdoctoral Research Associate
PhD, Science and Technology Studies, York University
MEng, Engineering Entrepreneurship and Innovation, McMaster University
MA, Science and Technology Studies, York University
BSc, Electrical and Electronic Engineering, University of Khartoum
Other professional appointments
Faculty Affiliate, Center for African Studies
Research focus
AI for development (AI4D), decolonial computing, responsible AI, critical data studies, race and digital technology, responsible innovation, information policy, political economy of technoscience, African and Black studies, post-colonial, decolonial and intersectional science and technology studies.
Honors and Awards
Illinois Distinguished Postdoctoral Fellowship
Provost Dissertation Scholarship
Carswell Scholars Award
Michael Smith Foreign Study (SSHRC)
Joseph-Armand Bombardier Doctoral Scholarship (SSHRC)
Ontario Graduate Scholarship
York Graduate Scholarship
Biography
Prior to joining the iSchool, Dr. Hassan was a research fellow at the Harvard Kennedy School. His work examines the social, economic, and political implications of emerging technologies including artificial intelligence (AI) and data focusing on the relationship between race, digital technology, and technoscientific capitalism. Dr. Hassan's interest is at the intersection of social and racial justice, and technology policy. His most recent project investigates the development of AI and its innovation ecosystem across multiple African countries focusing on data governance and the sociotechnical knowledge production practices of the state, scientists, and the tech industry.
Publications & Papers
Hassan, Y. (2022). Governing algorithms from the South: A case study of AI development in Africa [Special issue]. AI & Society.
Hassan, Y. (2022). The evolution of the Sudanese authoritarian state: The December uprising and the unraveling of a 'persistent' autocracy. In M. Mekouar, O. Topak, & F. Cavatorta (Eds.), New Authoritarian Practices: State Control in the Middle East and North Africa. Edinburgh University Press.
Hassan, Y. (2020). The politics of sharing: Sociotechnical imaginaries of digital platforms [Special issue]. Information Polity, 25(2), 159–176.
Presentations
Hassan, Y. (2022, December 9). Artificial Intelligence for Development: A Case Study of AI4D in Kenya and Ghana. Toward Reunion: Conversations, Criticisms, Reconfigurations of ICTD. 4S 2022 Conference, Cholula, Mexico.
Hassan, Y. (2022, November 17). Digital Futurity and African Urbanity: A case study of AI in regional innovation centers. Cyberspace as/in Urban Space: A perspective from Africa. African Studies Association Annual Conference 2022, Philadelphia, PA.
Hassan, Y. (2022, July 28). Governing Algorithms: AI as a State Building Experiment in Africa. Information States and Citizens. 21st Science and Democracy Network Annual Meeting at Harvard Kennedy School, Cambridge, MA.
Hassan, Y. (2022, June 16). What does it mean to decolonize AI? Symposium on Critical AI Studies in Canada at the Milieux Institute, Concordia University, Montreal, QC.
Hassan, Y. (2021, May 16). Constitutive Visions and Civic Epistemologies in African Futurities of AI. Future Imaginaries and Technology: A Partly Global Perspective. Congress 2022.
Hassan, Y. (2021, October 6). Raciality of Technoscience: AI Development in Africa. Mapping the Conceptual Vocabulary of AI in the Global South. 4S 2021 Conference, Toronto, ON.
Hassan, Y. (2021, June 1). Decolonizing AI: The Sociotechnical Imaginary of AI in Africa. Digital Media Imperialism and the New Technological Colonialism. Congress 2021, Edmonton, Alberta.
Hassan, Y. (2021, February 19). Governing AI and Sustainable Development Goals. Integrating Ethics into AI Decision Making. Embedding AI in Society: The 2021 Rabb Symposium at North Carolina State University, Raleigh, North Carolina.
Hassan, Y. (2020, August 18). The Globalization of AI and The Practice Turn in Africa. Artificial Africa: Seeing Urban Algorithms through Infrastructure, Labour, Justice and Aesthetics. 4S/EASST 2020 Conference, Prague, Czech Republic.