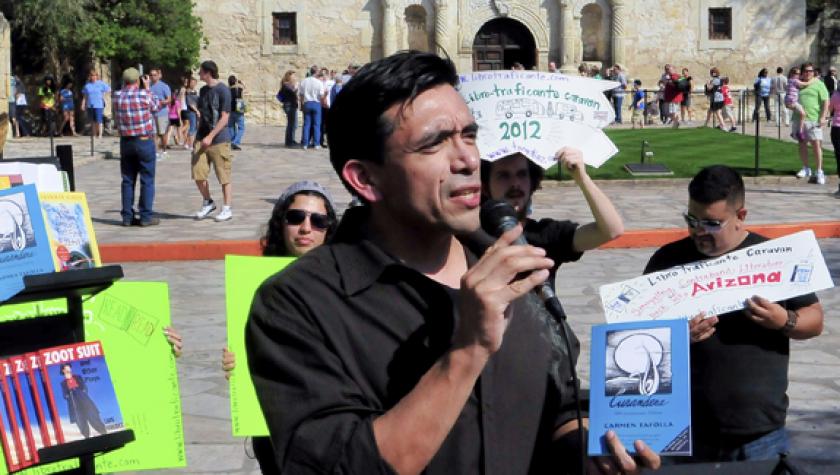 Librotraficante is the 2012 recipient of the Robert B. Downs Intellectual Freedom Award given by the faculty of the Graduate School of Library and Information Science (GSLIS) at the University of Illinois at Urbana-Champaign. Librotraficante, a movement led by Tony Diaz, is being recognized for its efforts to oppose the censorship of ethnic and cultural studies materials in Arizona.
In 2010, Governor Jan Brewer signed Arizona House Bill 2281 to modify the state public education system in regards to the teaching of ethnic studies. By prohibiting courses "designed for pupils of a particular ethnic group" and "advocating ethnic solidarity," this law has been used to eliminate Tucson's popular Mexican American Studies (MAS) program from the public school system. This ban involved the removal of dozens of MAS textbooks and reading list books such as award-winning works A People's History of the United States (Zinn, 1980) and Pedagogy of the Oppressed (Freire, 1970). In response, the American Library Association (ALA) issued a resolution opposing the restriction of these materials.
The Librotraficante (the translation of which means "book smuggler") movement emerged to counter the effects of the ban. In early 2012, with leadership from Diaz, Liana Lopez, Bryan Parras, Lupe Mendez, and Laura Acosta, Librotraficante organized a caravan of educators and activists who facilitated a series of events across the Southwest to raise awareness of the situation and collect books for underground libraries. The caravan reached Tucson on March 17, 2012, with over 1,000 books.
Librotraficante efforts have since extended across the country including the development of a magazine and a freedom of speech event created in conjunction with Hispanic Heritage Month. On September 21, 2012, several groups, including librarians participating in the Joint Conference of Librarians of Color, came together to learn more about the struggles in Tucson and appreciate the important works currently being censored.
A reception to honor Librotraficante will take place during the ALA Midwinter Meeting in Seattle, Washington, on Saturday, January 26, 2013, from 5:30–7:00 p.m. The reception will be held in the Visions Room of the Renaissance Seattle Hotel, 515 Madison Street, Seattle. ABC-CLIO, a publisher of reference, contemporary thought, and professional development resources, provides an honorarium for the recipient and co-sponsors the reception.
The Robert B. Downs Intellectual Freedom Award is given annually to acknowledge individuals or groups who have furthered the cause of intellectual freedom, particularly as it affects libraries and information centers and the dissemination of ideas. Granted to those who have resisted censorship or efforts to abridge the freedom of individuals to read or view materials of their choice, the award may be in recognition of a particular action or long-term interest in, and dedication to, the cause of intellectual freedom. The award was established in 1969 by the GSLIS faculty to honor Robert Downs, a champion of intellectual freedom, on his twenty-fifth anniversary as director of the school.