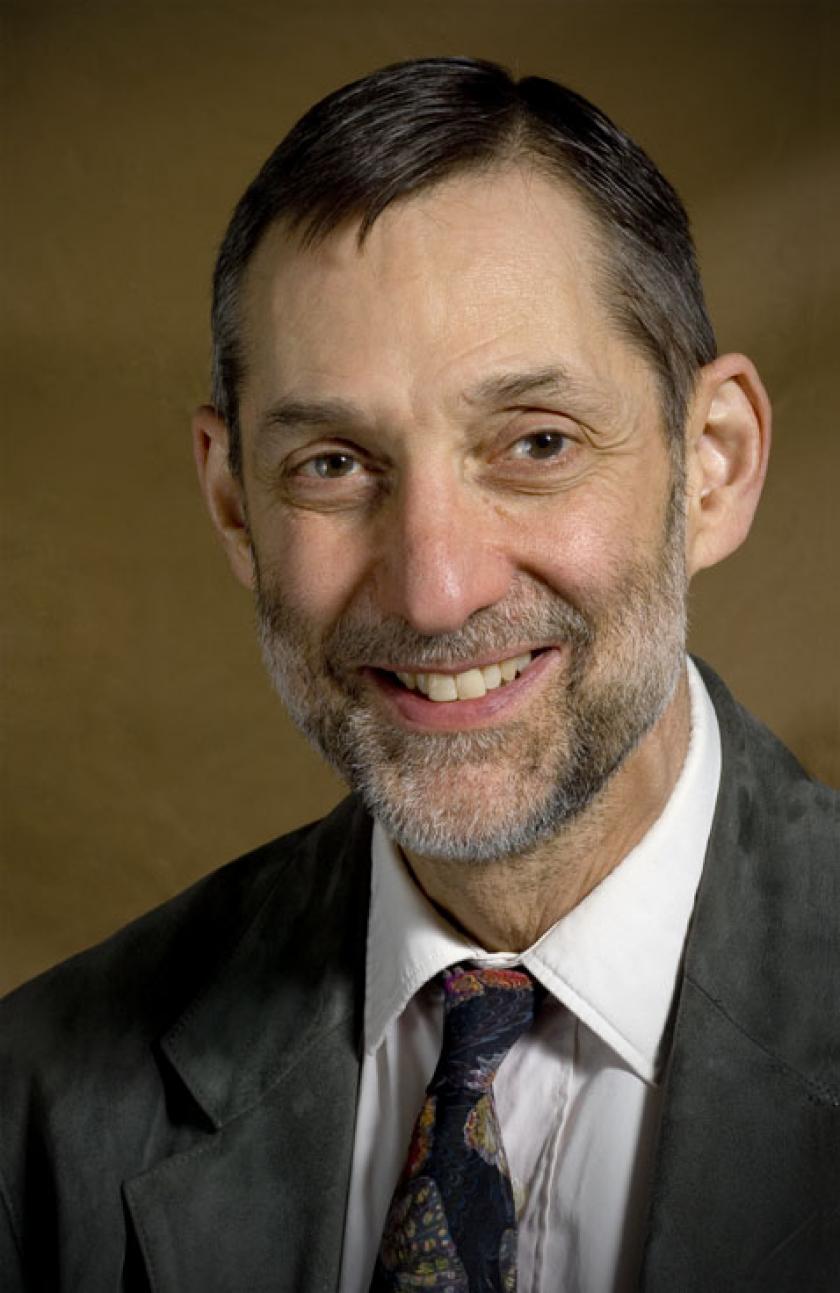 For someone with a background in medieval literature and bibliography, as well as a love of books and paper, pursuing a degree in library and information science seems like a natural choice. In the case of Sidney Berger (MS '87), GSLIS adjunct professor, a degree from GSLIS followed nearly 20 years of working as a professor, author, and rare book expert.
Before becoming any of those things, Berger thought he might have a career in creative writing. When he was a student in the University of Iowa Writers Workshop, he discovered that he had another calling. His love of Medieval literature and bibliography was engendered in some excellent classes he was taking in graduate school at Iowa. "I wasn't a great creative writer," he said, "but I loved the literature." He also connected with bibliographers at the Center for Bibliographic Studies and Research at the University of Iowa and continued to study bibliography throughout graduate school. "It was a real light coming on in my life," he said. He wound up teaching in these two areas for much of his professorial career.
After receiving his PhD from the University of Iowa in 1971 with concentrations in Medieval and Renaissance English literature, bibliographic and textual criticism, and book history, Berger began his teaching career at the University of California, Davis, as an assistant professor of English. After several years at UC Davis and a brief stint teaching English as a Second Language for Japan Air Lines, Berger relocated to Illinois, where he taught at Millikin University and Richland Community College. Berger was living in the Urbana-Champaign area when he decided that it was time to pursue a degree in LIS. "My whole life was centered on libraries: everything I did, all the research I did, all the teaching I did, brought me into libraries all the time. [GSLIS] was the most famous library school in the world, and the best, and I figured that while I was living in this community I might as well get a degree in a field that I really respected and wanted to become part of," Berger said.
His love of books and manuscripts blended well with his foray into librarianship. After completing his master's degree, Berger was a curator of printed books and, later, curator of manuscripts at the American Antiquarian Society, and then was head of special collections and university archivist at the University of California, Riverside. He also was director of the California Center for the Book, a statewide program affiliated with the Library of Congress Center for the Book.
While being a rare book librarian, Berger continued to teach. In 2003, he began teaching courses at GSLIS, including Rare Book and Special Collections Librarianship, History of the Book, The Book as Physical Object, Medieval Codicology, Bibliography, and Paper in the Scholarly World. "I feel a deep gratitude to GSLIS at Illinois for the education that I received, which made it possible for me to teach the subjects that I love for these last eleven years," Berger said.
Since 2007, Berger has been the Ann C. Pingree director of the Phillips Library at the Peabody Essex Museum in Salem, Massachusetts. As director of the library, Berger oversees a collection built from private libraries dating back to the seventeenth century. In November 2011, the library temporarily closed for renovations. The collection of about five-hundred-thousand volumes, more than one million photographs, and countless manuscript pages have been moved to a temporary facility while the original library buildings' renovation gets under way. The library opened to the public in its temporary space on August 1. Berger is working closely with the architects and engineers who are updating and expanding the library's two buildings, which date back to the 1850s, while working with his own staff to continue to manage the collection.
In addition to the physical preparation, Berger and his colleagues have conducted a full inventory and are working to recatalog the entire collection. When this project began, only eight percent of the collection was accessible online; when the project is complete, about ninety-five percent of the collection will be searchable on WorldCat.
On top of all of this, Berger continues to oversee acquisitions, work with potential donors, and serve as a member of the museum's executive leadership team. He has run two successful symposia on art museum librarianship (in 2010 and 2012), and he was the curator of a major exhibition of highlights from the library's collection, the first such show in the museum's 214-year history.
Berger loves teaching and plans to continue teaching his courses at GSLIS as well as those he teaches at Simmons College. He also plans to continue researching, writing, and adding to the extensive collection of decorative paper that he and his wife, Michèle Cloonan (MS '84, PhD '88), have amassed over the years. Their famous collection has been the subject of newspaper and magazine stories and has inspired dozens of articles written by Berger. He also has written five books on paper, as well as books, articles, and bibliographies on fine-press printing, literature, and book history. His current project, Rare Books and Special Collections, will be published by the American Library Association in 2014.