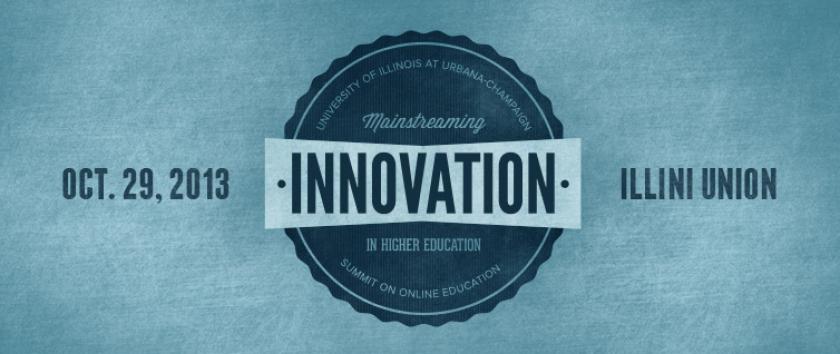 "Mainstreaming Innovation in Online Education" is the theme for this year's campus Summit on Online Education. The event will take place on October 29, 2013 at the Illini Union. Now in its third year, the Summit is designed to provide a forum for educators and learners, on- and off-campus, to meet and discuss topics of interest to them. Dr. Harrison Keller, Vice Provost of Higher Education Policy and Research and the Executive Director of the Center for Teaching and Learning at the University of Texas at Austin, will function as the event's keynote speaker and will talk about his experiences at UT. Campus leaders, including Chancellor Phyllis Wise and Provost Ilesanmi Adesida, will attend as well.
GSLIS Associate Dean and Professor Linda C. Smith is serving on the organizing committee for the event and GSLIS master's student Kelly Trei will participate in the Student Experiences panel.
Expanding innovation in teaching and learning is an important initiative at Illinois. Earlier this fall, a new Center for Innovation in Teaching & Learning was specifically created to enhance excellence in teaching and learning in all its formats. The new unit was formed by bringing together Online & Continuing Education, the Center for Teaching Excellence, Campus Programs in Teaching & Learning, and a couple of staff members from CITES.
The event, which is an interdisciplinary, collaborative effort between several units on campus, is targeted at all faculty, staff and graduate students who are involved in the world of online, blended and technology-enhanced learning. Registration is free and a schedule of events and more details are available on the program's web page. Lunch will be provided. Registration is available online.
This event is sponsored by the Center for Innovation in Teaching & Learning and the Office of the Provost. It has been co-organized by the College of Education, the College of Liberal Arts & Sciences, and GSLIS.