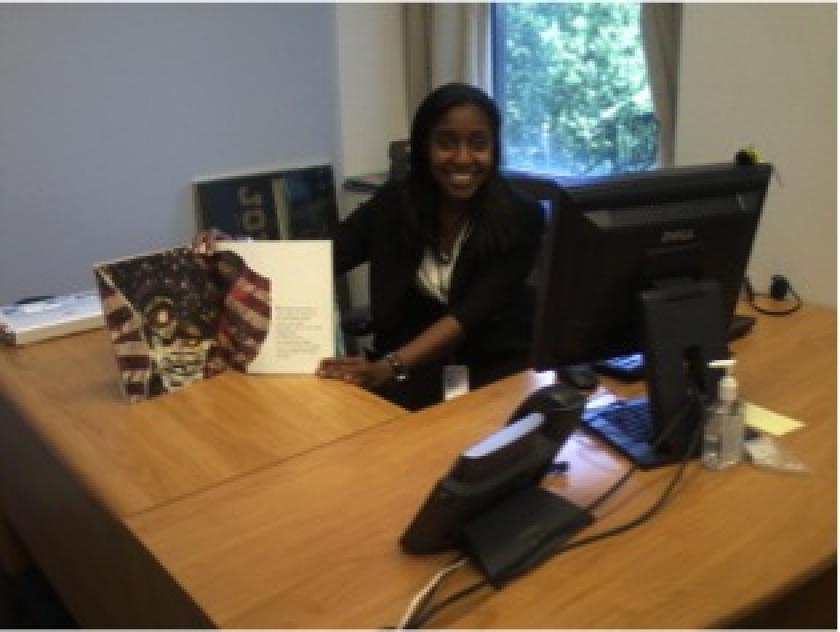 In this essay, master's student Regina Sierra Carter recounts her summer at the Smithsonian Institution, where she worked as a multicultural junior fellow. If you are interested in hosting a GSLIS student for an internship or practicum, please contact Roy Brooks, practicum coordinator.
[image1-right]As a result of the generous support of the Goldman Sachs Group, Inc., I was blessed to serve as a multicultural junior fellow in the Department of Education and Public Programs at the Smithsonian National Museum of American History (NMAH). While at the NMAH, I was responsible for researching the 1964 Freedom Summer Project and for developing curriculum materials for the 2014 National Youth Summit (NYS). Naomi Coquillon, who works as a NMAH education specialist, served as my fellowship supervisor and provided invaluable support as well as contacts to help me flourish in my summer position. For example, as I designed lesson plans, Naomi arranged for us to visit an NMAH archive to view voting rights collection materials and invited me to attend weekly meetings with NMAH staff to brainstorm NYS themes. Naomi also encouraged me to explore affiliate Smithsonian sites and the larger Washington, D.C. area. As such, I took part in a number of activities publicized through the NMAH Personnel Office where I networked and explored D.C. with other Smithsonian interns and fellows. Through these group centered activities, we journeyed to Mount Vernon, took a behind-the-scenes tour of the U.S. Supreme Court Building, ventured through the Library of Congress, and received insight into the life and works of Mary McLeod Bethune at the Mary McLeod Bethune Council House.
There was plenty to do outside of the museum. However, there was much happening in-house at the NMAH as well! For instance, we were granted a humorous gander into where some of the Muppets from Sesame Street slept, peeked at a doll featured in Alex Haley's Roots saga, and gazed at one of Michael Jackson's stage hats. Another perk was receiving an up-close and personal look at collection materials from The Matrix movie and seeing it on the big screen at the NMAH's Warner Brothers Theater. I also sat in on a "meeting of the minds" session where hip-hop pioneers and scholars chewed the fat over how to best tell the story of hip-hop, and was fortunate to gain access to renowned storyteller Roy Underhill's storytelling workshop.
I was also afforded opportunities to engage in Smithsonian-wide professional development workshops pertaining to the art of proposal writing and budgeting to secure external funding. I also took part in a session on obtaining employment within the federal government. It was through these workshops that I discovered publishing opportunities and had a blog post published on the Smithson's Office of Fellowships and Internships website and another on the NMAH's O Say Can You See blog.
Although my summer at the NMAH has come to an end, the relationships that were built and the memories shared will remain with me forever. I am grateful to God for having the honor to work and converse with so many gracious, thoughtful, intellectual, and inspiring individuals. Hence, I whole-heartedly recommend that students (regardless of discipline) apply for a fellowship or internship at the Smithsonian to experience, explore, and embark upon their own journeys of discovery.
Regina Sierra Carter
LAMP Scholar, 2011
Goldman Sachs Multicultural Junior Fellow, NMAH 2013