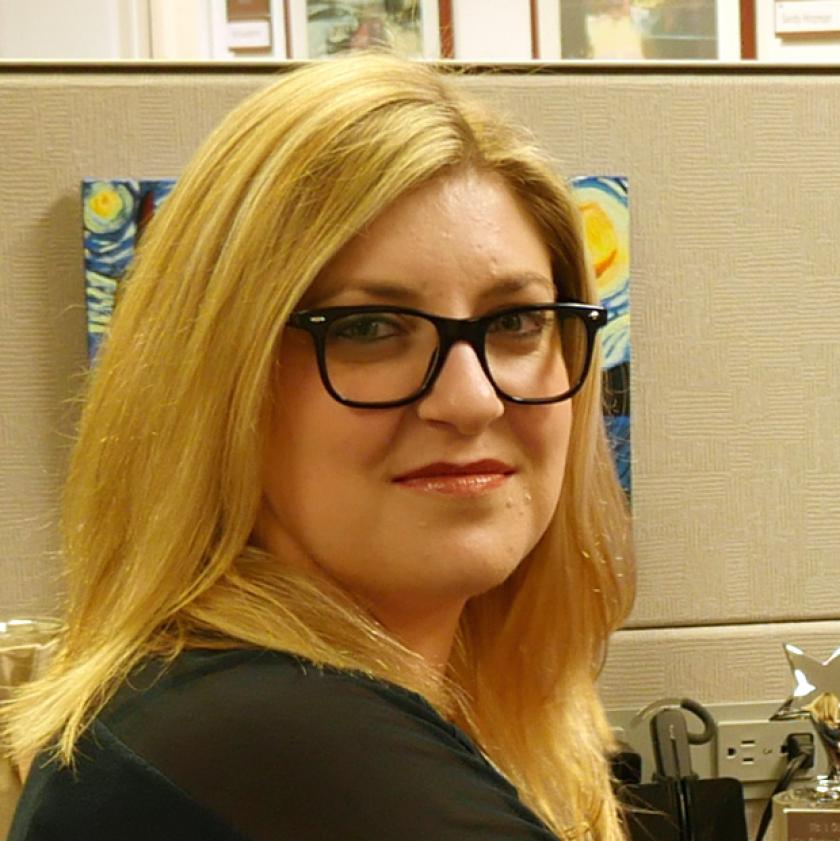 As a GSLIS student, Kirsten Y. Howley focused on government and business information. Now she puts those skills to work daily in a role that facilitates information sharing and more at a large technology company.
Where do you work and what is your role?
I am a senior business analyst with Science Applications International Corporation (SAIC), a technology integrator in technical, intelligence, and enterprise information technology markets, predominately serving customers in the US federal government. I specialize in internal policy development, process improvement, and communications for SAIC's program management community.
What do you like best about your job?
I'm very fortunate to have a manager who recognizes each individual team member's unique talents; he provides each of us the latitude to engage in projects that relate to our interests. There are always opportunities to expand my experience outside of my day-to-day job. For example, earlier this year I was a member of the acquisition management team, helping organize the due diligence analysis for SAIC's $790 million dollar purchase of Scitor. Currently, I'm cochairing a working group to reinstitute a training curriculum for SAIC's program managers. I'm also a member of an executive steering committee to oversee the information architecture for our company intranet.
What do you see as the most important impact of your work?
I engage daily with executive leadership in company-wide efforts to improve everyday workflow and information sharing. I have to be knowledgeable about most facets of the business and the internal workings of the organization, which is a challenge, especially since we have approximately fifteen thousand employees who are affected by our decisions. Because SAIC's program managers need to be well versed in the business, too—systems, business processes, government regulations and auditable requirements—I facilitate access to resources that allow them to assimilate information quickly, so that they can spend time on their primary responsibility—delivering quality technical products and services. This involves developing a holistic approach to knowledge management and communications, both for our department and for the corporation as a whole.
How did GSLIS help you get to where you are today?
My education, both undergraduate and graduate, is not typical for SAIC. I do not have a technical and engineering background that many of my colleagues have, nor do I have an MBA or equivalent sales or contracting experience. That said, I had interned at SAIC while obtaining my undergraduate degree and kept that experience in mind while completing my studies at GSLIS. I focused on government and business information, and wrote papers and completed assignments with SAIC's business infrastructure in mind. I've actually used some of those projects in my job since I returned to the company.
What advice would you like to share with GSLIS students?
When it comes to career choices after graduation, don't necessarily limit yourself to a library. The skills learned obtaining an MS/LIS are applicable across multiple fields.
What do you enjoy doing in your spare time?
I read ferociously. I always have a stack of books on my nightstand. I am usually reading three or four at once from all sorts of genres. Right now it's Founding Brothers by Joseph Ellis, It's Not the Size of the Data—It's How you Use It by Koen Pauwels, and Rebecca by Daphne Du Maurier. I also paint (not as often as I'd like) and design beer labels for my husband's home brew (not as often as he'd like).