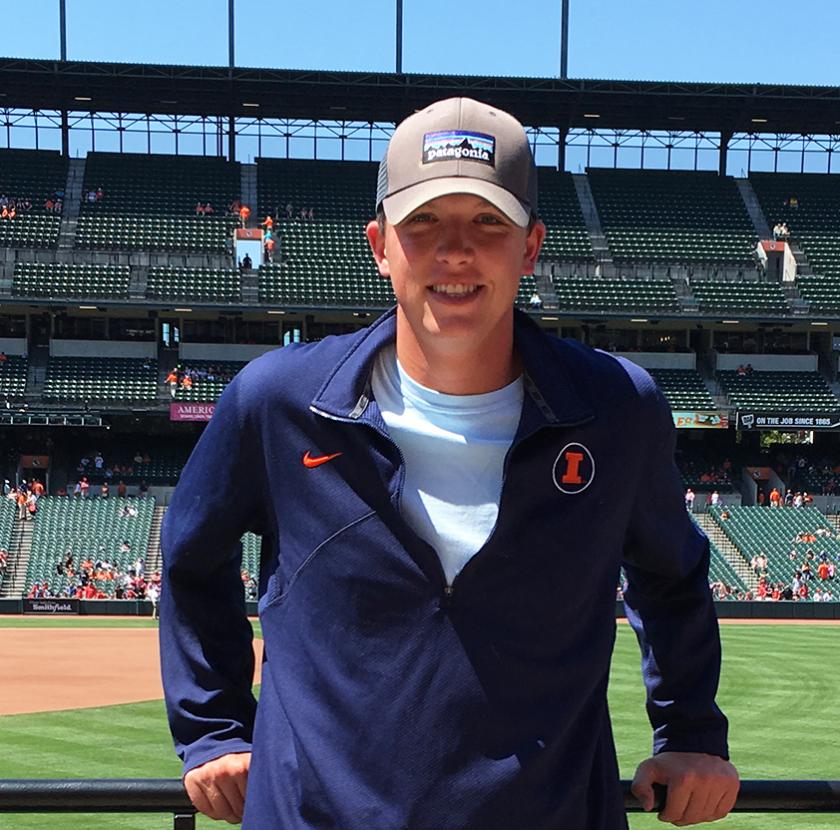 Kameron Wells is combining his love of athletics with his interest in data analytics as a student in the iSchool's MS in information management (MS/IM) program. A Champaign native, Wells graduated in 2017 with his bachelor's degree in computer science from Knox College, where he was a four-time letterwinner and starting catcher on the school's baseball team.
"Sports have been a huge influence in my life," said Wells, whose father played basketball for the University of Illinois. "Growing up, I played basketball and picked up golf in high school, but my true love has always been baseball."
He is still involved in baseball but now as coach. He serves as head coach of the Edison Middle School varsity baseball team in the fall and the Judah Christian High School varsity baseball team in the spring.
According to Wells, his interest in data analytics developed naturally. "I was that kid obsessed with the stats on the back of baseball/basketball/football trading cards." After earning his MS/IM degree, he wants to get into the field of sports analytics, preferably using data driven-decisions to help player and team performance.
"The data analytics concentration in the MS/IM, coupled with the flexibility of the program, allow me to tailor my degree to these goals," he said. "The degree was intriguing to me because it's geared to the twenty-first century. Companies are just starting to figure out that they need people with information management backgrounds, and of course, the University of Illinois was ahead of the curve by creating this degree program."
In addition to being a coach and student, he is a graduate data analyst with the U of I Division of Intercollegiate Athletics Sports Technology Department.
"I'm working with all twenty-one varsity teams, the ticketing department, social media department, and athletic training staff on various projects to enhance Illinois Athletics," said Wells.
His ultimate "end goal" is to be the director of baseball research & development or director of baseball operations for a professional baseball team. Last summer Wells had the opportunity to work with the Baltimore Orioles on a project using data to help drive team decision making and personnel evaluations. He hopes to find a similar internship with a professional team this summer.
In his free time, he enjoys hanging out with friends, playing intramural sports, attending sporting events, spending time outside, watching TV, and reading.
"Since I was a kid, I always envisioned myself attending the University of Illinois," Wells said, "so when the opportunity presented itself, it was something that I couldn't pass up. The iSchool is one of the top schools of its kind in the nation with some of the best faculty a student could ask for. Coming here for my MS/IM degree was really a no brainer."