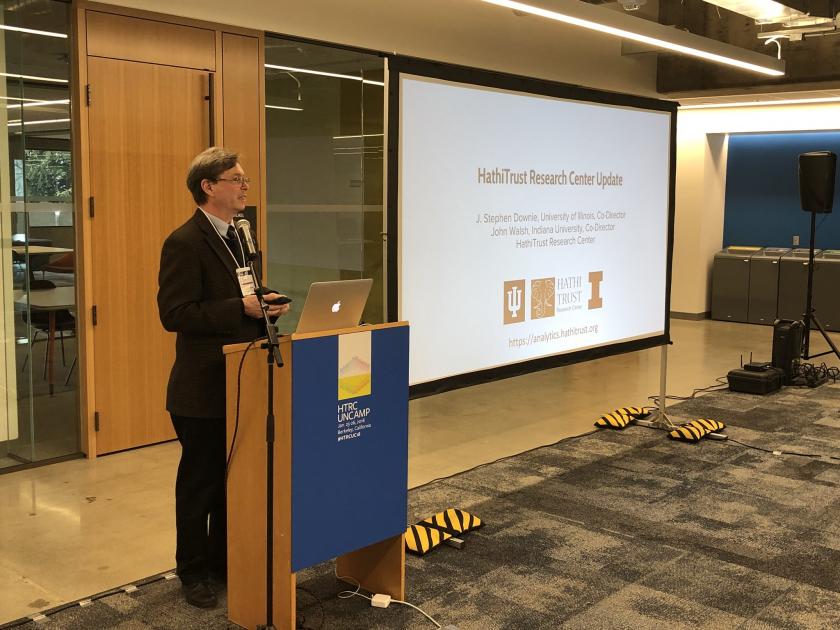 Over 140 people attended the HathiTrust Research Center (HTRC) UnCamp, hosted by the University of California, Berkeley Libraries, on January 25 and 26. In addition to keynotes focused on methodologies of text and data mining, researchers from the fields of information science, digital libraries, literary history, digital pedagogy, and the history of social movements presented their work and its intersection with the HathiTrust Digital Library. Slides and notes from the presentations are available on the Uncamp website.
iSchool-affiliated presentations included:
"Consistency and Confidence in the Million-Book Library"
Keynote presented by iSchool Research Fellow David Mimno, assistant professor of information science at Cornell University
"Mastering Metadata"
Presenters included faculty affiliate Tim Cole, professor at the University Library
"HTRC Crash Course: What is it and what can I do with it?"
Presenters included Eleanor Dickson, visiting HTRC digital humanities specialist, and faculty affiliate Harriett Green, associate professor at the University Library
"HathiTrust Research Center Updates Plenary"
Presenters included Professor J. Stephen Downie, associate dean for research and HTRC co-director
"Curriculum Development"
Presenters included Eleanor Dickson, visiting HTRC digital humanities specialist
"It was impressive to see the breadth and depth of research projects using HathiTrust Research Center resources and the excitement they generated," said Downie.
The HTRC is a collaboration between the University of Illinois, Indiana University, and the HathiTrust to enable advanced computational access to the HathiTrust Digital Library database, a collection of just under 14 million digitized volumes. By developing state-of-the-art software tools and cyberinfrastructure, the HTRC hopes to resolve the technical challenges that occur within massive amounts of digital text, enabling access to the digital growing record of human knowledge.