iSchool master's student Mark McCarthy received the 2018 Alexis Wernsing Innovation Award at this spring's Innovation Celebration, hosted by the Champaign County Economic Development Corporation in partnership with the University of Illinois, Parkland College, and community sponsors. The award recognizes "an individual or team from the University of Illinois that has channeled their experience living with a disability into positive change through the creation of new products, environments, or protocols that enhance quality of life."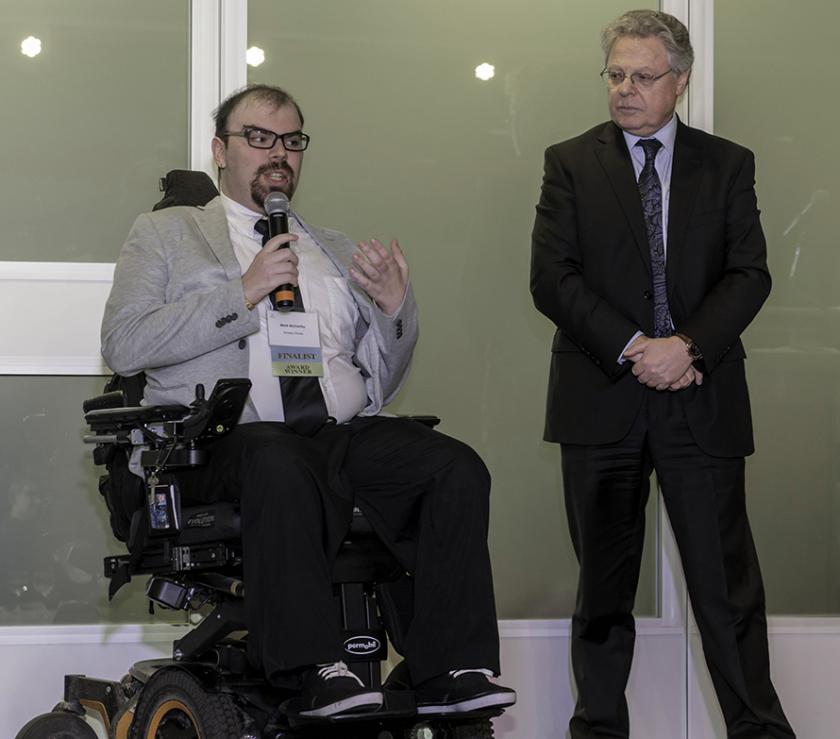 McCarthy was honored for his Access Illinois web app, which integrates existing accessibility maps on campus with Google Maps, allowing individuals to discover walking directions to a destination and the locations of accessible entrances, classrooms, and restrooms. The app earned his team first place at HackCulture, a humanities-focused hackathon held last year at the University Library.
"This award is due in large part to my iSchool professors and other mentors for helping me to achieve things I never thought possible," McCarthy said. "I also want to thank my colleagues and close friends Matt Arensdorf (Computer Science) and Emily Chen (Linguistics) for their hard work on making Access Illinois what it is. Without them, it never would've been done."
"I hope this can serve as an example of the many things that are possible here at the iSchool and the University as a whole. We plan further development still, aiming to add more functionality to the web app."
McCarthy received his bachelor's degree in East Asian Languages and Cultures from the University of Illinois and minored in informatics and Asian American studies. He would like to work in user experience and accessible information architecture after finishing his master's degree in information management.