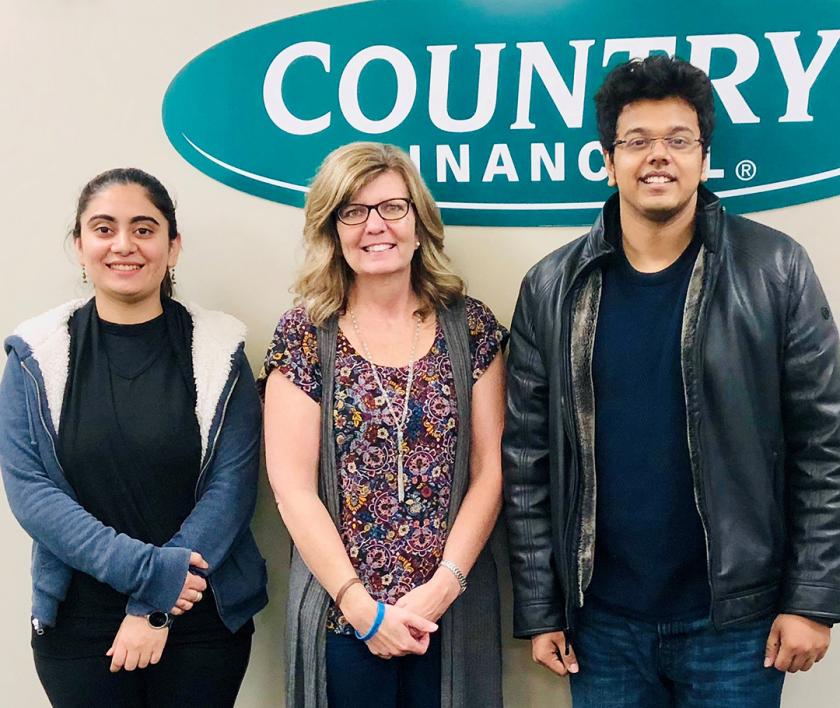 When Julia Hart, site leader for the COUNTRY Financial DigitaLab, is in need of interns, she looks to the iSchool for student talent. Hart's first hire for the DigitaLab, which was launched at the University of Illinois Research Park in October 2017, was MS/IM student Anmol Gandhi. Gandhi still works at the lab as a data analyst, along with fellow MS/IM student Tanvi Malhotra. The students' job duties include predictive modeling, machine learning, text mining, and data visualizations as well as data modeling and research.
Since hiring Gandhi and Malhotra, Hart has not been disappointed, describing their performance as "outstanding." This past summer, Gandhi was nominated for the Research Park's Most Outstanding Graduate Student Intern, and both students were nominated for Most Competent and Collaborative Team awards.
"Anmol has been instrumental in leading the data team, developing processes related to data within the DigitaLab and creating a framework in which a foundation is being built for predictive analytics and machine learning, with a Neural-Net Data Matrix Model," Hart said. "This model has spearheaded conversations related to data governance and provided a basis on which to extend thinking related to data in the insurance industry moving forward."
The DigitaLab has become "like a second home" for Gandhi. He enjoys not only the data-heavy projects in fraud analytics and customer retention modeling but also the opportunity to give back to society and volunteer for different causes.
"Currently I am a lead on several projects, so I talk to business sponsors and stakeholders with respect to project requirements, updates, and timelines," Gandhi said. "It's a great opportunity for me, as I am getting exposure to project management early in my career."
Malhotra, who started at the DigitaLab this past summer, found her internship to be the right balance between building machine learning models and associating a business value with them. Although her knowledge of the insurance industry was limited at the start, she came to realize how the models she was helping to build could save the company money, time, and effort.
"My iSchool classes equipped me to not only build the machine learning models but also to query data and apply [SQL] joins to create relevant data sets, clean messy data, translate a model into graphs and visualizations, and document the results," Malhotra said. "I learned about a confusion matrix in class, but the business value associated to each term in the matrix was something new I learned at the lab, and we had teams from the home office coming in every week to get us acquainted with that concept."
Hart, who is also an adjunct lecturer at the iSchool, has recruited from the School for the majority of her lab's data team.
"I have worked with the iSchool for a number of years in the past and am aware of the quality of the programs, the types of coursework, and the talent of the students," Hart said. "The skills that I was looking for in our interns included both technical and nontechnical—focusing on communication, initiative, and teamwork as well as programming skills and a good understanding of data science. I believe this is why the COUNTRY Financial DigitaLab has had great success with students from the iSchool."