Four Illinois professors are creating the Innovation Illinois Community Laboratory + Interactive Exhibit with $150,000 in funding from the University of Illinois System, as part of an investment in the arts and humanities. This project will involve a yearlong course that welcomes undergraduate students from all disciplines, who will spend the year imagining, researching, and prototyping social innovation projects that will become part of a traveling exhibit.
The course itself—Innovation Illinois: From Accessible Design to Supercomputing Cultures—is scheduled to launch in the fall of 2019. It will focus on an exploration of the rich legacy of interdisciplinary innovations piloted by the University of Illinois, which grew with investments from diverse Illinois communities.
The new course will be taught by a multidisciplinary team of faculty collaborators on this project coordinated by Anita Say Chan, associate professor in the iSchool and the College of Media's Department of Media and Cinema Studies. Core faculty in the initiative also include Ben Grosser, iSchool affiliated faculty member and assistant professor of new media in the College of Fine and Applied Arts; Karrie Karahalios, iSchool affiliated faculty member and professor of computer science in the College of Engineering; and Karen Rodriguez'G, director of the Office of Undergraduate Research. All four are 2019-2020 Fiddler Innovation Faculty Fellows.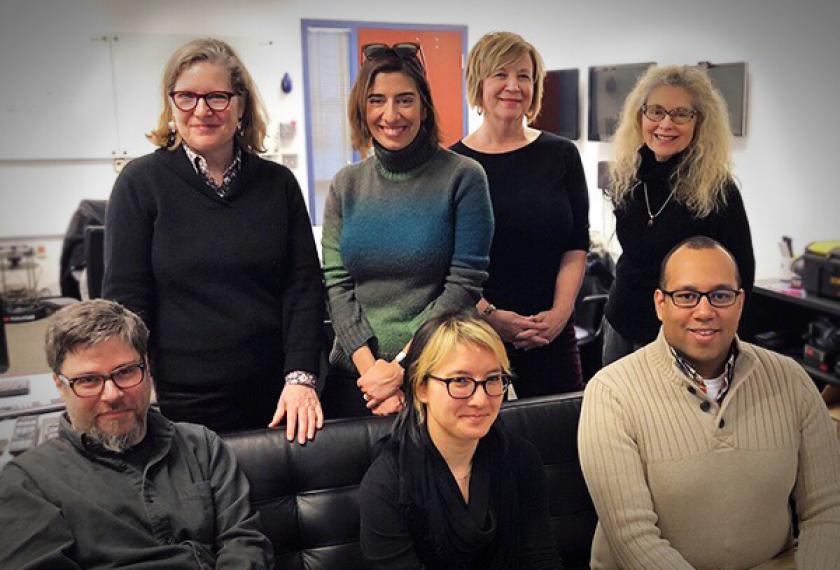 Rodriguez'G says that this twofold class structure is new to the University system and benefits students in ways traditional one-semester classes don't.
"More than anything, getting students to think differently is the foundation of it," Rodriguez'G said, in addition to the opportunity to implement their ideas.
The first semester of the course will introduce students to Illinois's rich history of world-changing innovations, interdisciplinary research methods, and design thinking. The class will delve into case studies of innovations that brought artists and humanists into collaboration with scientists and engineers. The second semester will allow students to build research teams; the best student projects will be exhibited.
"Some of the world's most transformative innovations are the result of cross-disciplinary collaboration," Grosser said. "Students in the course will get an opportunity to perform this kind of collaborative research, bringing their varied perspectives and methods from across the campus into focused teams to investigate problems of interest for culture and society.
"This means, for example, that art students taking the course will get a chance to bring their focus on making to research teams that include students from engineering fields like computer science, humanities areas such as English or anthropology, and social science fields such as education or psychology," Grosser added. "Thus, all involved will get vital research-based practice with communicating and working across traditional disciplinary boundaries, a skill that is sorely needed yet strongly underrepresented out in the world."
The course supports the philosophy that "every undergraduate who wants a [research] experience should have a research experience," Rodriguez'G said. "So a project like this that rethinks pedagogy and lets them do research at the beginning of their careers as opposed to the end is really important as a model."
Chan explains that a large goal of the course is to teach the idea of innovation, and to help students understand the major social and cultural impacts of innovation.
"Disability Resources & Educational Services (DRES) itself involved the design of new material technologies around accessibility like curb cuts, but it also involved the introduction of new social infrastructures, policies, laws, and programs to enable those material technologies to become standards in everyday environments around the world. Innovation isn't just technological; it's social," Chan said. "All innovations have to have social and cultural impact to be innovative."
The faculty members driving this project will be partnering with the University of Illinois Extension program to explore the breadth of contemporary social innovations developed across the state and by diverse Illinois communities.
"We'll be partnering with them to make sure student teams get to interact with local communities to see firsthand what current examples and rich histories of local innovation manifest around us, but that we can frequently overlook when we are so focused on innovation ecologies that only look like Silicon Valley or high-tech enterprises," Chan said.
Many groundbreaking inventions originated from the U of I, from having the first DRES, to the first computer-composed music composition, to the first widely used internet browser, Mosaic, and even kneeling school buses, with not a lot of people aware of the close-to-home origins of those innovations.
"When I came to U of I it was clear that there were so many different interdisciplinary, world-changing innovations that are celebrated globally that came from U of I's campus, but that weren't recognized in multiple ways, and sometimes had been forgotten altogether," Chan said.
The course will also have a strong focus on the benefit of collaboration and interdisciplinary learning. The professors believe that it will be students' diverse backgrounds and different specialties that will truly bring the course to life and best benefit the students' learning.
In fact, of all the project proposals, this was the one with the highest representation from the most amount of colleges, according to Chan.
"The most grand challenges are best confronted when you can bring multiple disciplines together," Chan said.
The leaders of the project hope to not only have a successful experience in establishing the class, but having it serve as a model for other universities.
At MIT, a program called Terrascope gives undergraduate students an opportunity to become familiar with the concept and process of research and foster learning communities; Rodriguez'G hopes to emulate something like that on the Illinois campus.
"It's useful to see how it will operate on our campus as a model, then hopefully it will be adapted somewhere else. It's always a question of sustainability," Rodriguez'G said.
Overall, they hope that this groundbreaking initiative will lead undergraduate students to be more aware and more involved in their communities.
"Most students don't get enough engagement or interaction with each other outside of their own departments or colleges," Chan said. "It's rare for students to know what the other side of the campus is doing, which is why we need to create space for collaboration. If you can't map diversity on your campus, how can you do it on a larger scale?"