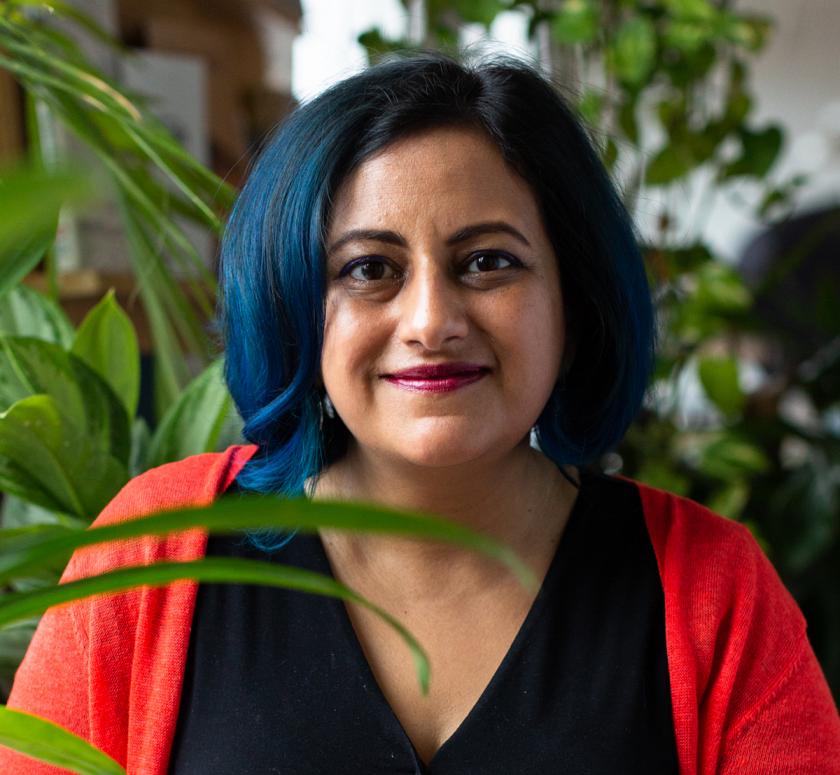 A record seventeen iSchool master's students were named 2020-2021 Spectrum Scholars by the American Library Association (ALA) Office for Diversity, Literacy, and Outreach Services. This "Spectrum Scholar Spotlight" series highlights the School's scholars. MS/LIS student Mimosa Shah holds a BA in English from the University of Illinois at Chicago, and an MA in Humanities from the University of Chicago.
Why did you decide to pursue an LIS degree?
For six and a half years, I co-created and collaborated on public programs with staff and community members at Skokie Public Library. The work of my colleagues ultimately inspired me to consider librarianship as a possible career path. I decided to pursue an LIS degree because I realized that my interests, passions, and values align with many of the core values and functions of librarianship. I value community, creativity, justice, and transformation. I am committed to making the library and information science profession more open and welcoming to all. I hope that by getting my LIS degree, I can help advocate for others from underrepresented groups to join the field and find ways to remain connected, uplifted, and engaged throughout.
Why did you choose the iSchool at Illinois?
I chose to pursue a degree at the iSchool, specifically via the Leep [online] program, because I wanted the opportunity to participate in synchronous learning opportunities while still attending to my other responsibilities. I can connect with instructors and fellow students in real time and get a sense of what it's like to be in a classroom. I can focus on courses that pertain to my professional interests while also exploring new possibilities.
What particular LIS topics interest you the most?
I am interested in ways that misinformation and disinformation interfere with democracy; social justice in libraries, particularly as it relates to the learning and growth of LIS professionals to make their institutions more equitable; instructional design and experiential learning; zine-making, digital photography, and intersections between these practices; the possibilities of decolonization, and what that means now in relation to libraries, archives, and museums; and connecting with communities to help them create or expand upon their own digital heritage.
What do you do outside of class?
I am deeply involved with Museum Computer Network (MCN), a professional community dedicated to digital transformation across the GLAM (Galleries, Libraries, Archives, and Museums) sector. Last year, I collaborated with three fellow conference program co-chairs to develop a slate of virtual discussions, workshops, meetups, and experiential sessions related to the theme "Sustainability: Preserve/Progress." The theme was finalized prior to the start of the pandemic and was especially timely given the various pressures faced by libraries, archives, and museums in the current climate.
I also serve on ALA's Public and Cultural Program Advisory Committee, where I connect with librarians, LIS instructors, and ALA staff to discuss and develop continuing education around trends relevant to programming librarians. More recently, I joined ARLIS/NA (Society of Art Libraries of North America), and assist their Diversity and Inclusion Committee with co-editorship of a blog, The Art of Diversity, a resource for art librarians seeking to incorporate practices of equity and inclusion into their work.
When I'm not working on these projects, I'm a scatter-brained partner, a sleep-deprived parent to two children, an avid dabbler in digital photography, and an aspiring cineaste.
What does being a Spectrum Scholar mean to you?
Being a Spectrum Scholar is a privilege. I feel honored to be able to connect and reflect alongside other library workers from underrepresented backgrounds. I look forward to learning from this community and to supporting future initiatives intended to make the field more accessible and inclusive. I'd like to help others shine in whatever way I can. I am also deeply grateful for the financial support provided through the Spectrum Scholars program and iSchool. I had been unsure of whether I could financially sustain going to school while providing for my family and our home, and this is especially welcome.
What career plans or goals do you have?
I look forward to deepening my knowledge of libraries and the many kinds of librarianship that exist. I am interested in art libraries and archival work. I remain curious about how to better incorporate diverse and broad communities in the process of co-creation and space-making within libraries. I hope that through my work, however I choose to do it, I can continue creating paths for others to find similar joy and sense of purpose by sharing access to information and the pursuit of knowledge.