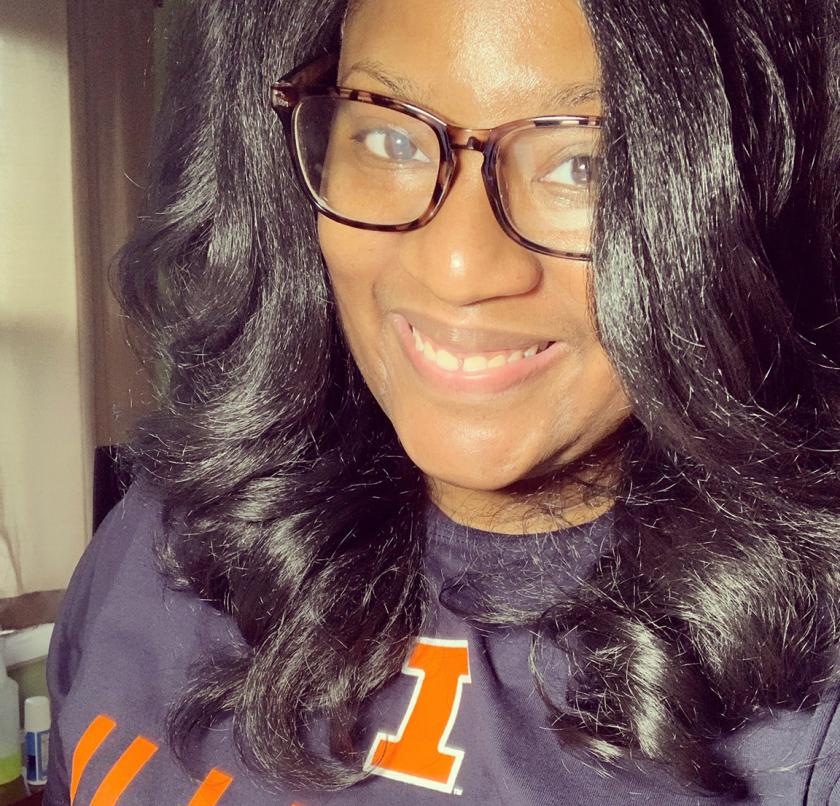 Eight iSchool master's students were named 2021-2022 Spectrum Scholars by the American Library Association (ALA) Office for Diversity, Literacy, and Outreach Services. This "Spectrum Scholar Spotlight" series highlights the School's scholars. MS/LIS student Cordiah Hayes earned her BS degree in communications studies with an emphasis in media studies from Northern Illinois University.
Why did you decide to pursue an LIS degree?
I decided to pursue an LIS degree as I found the profession to be rewarding, expansive, and goal-oriented. In fact, I never intended on becoming a librarian; it happened completely by chance. Immediately after earning my bachelor's degree, I found external work as a CyberNavigator, a computer tutor working at various Chicago Public Library locations. It was there that I realized the social, economic, and cultural impact that libraries have on the community and decided that a career in librarianship was the right choice to make.
Why did you choose the iSchool at Illinois?
I chose the iSchool for various reasons. First, I appreciate that the iSchool welcomes Leep [online] students into the program. Being able to work part time and attend classes virtually allows me flexibility. Second, I chose the iSchool because of its commitment to diversity. As a woman of color, I feel that representation matters, especially in librarianship. In my cohort, I'm able to connect with those who look like me and share my goals and aspirations.
What particular LIS topics interest you the most?
As a YALSA Spectrum Scholar, I would have to say LIS topics that interest me the most would be youth services librarianship, collections development, diversity and inclusion, and social justice in librarianship.
What do you do outside of class?
You can find me at the Chicago Public Library, working as a teen library associate in YOUMedia, a safe space for teens to socialize and utilize a variety of resources such as sewing machines, video game consoles, 3D printers, and a recording studio. In addition to that, I blog for CPL, write for the CPL newsletter, and serve as a member of five teen-based committees ranging from summer planning, STEM-activities, and teen mental health. When I'm not working, I enjoy going to the movies, binge watching classic anime, and practicing self-care in the form of journaling, meditation, reading, and vision boarding.
What does being a Spectrum Scholar mean to you?
For me, being a Spectrum Scholar means more than a scholarship. It opens doors to a community, allowing me to connect with alumni of the Spectrum Scholars program who can mentor me as I navigate through the iSchool, in particular as a student of color. Being a Spectrum Scholar means that I have a support system that will motivate me long after I graduate. With this scholarship, my degree holds extra value, because I know that this prestigious community will serve as a lifelong system that has my professional and personal interests at heart. I am beyond humbled and excited to grow with my cohort, and I would like to thank the American Library Association for honoring me with such a prestigious award.
What career plans or goals do you have?
After earning my MS/LIS degree, I want to become a teen librarian. Young people need guidance more than ever and working in YOUMedia provides them a safe space to seek mentorship, learn new skills, and, most importantly, become the best of who they are. However, it is still my desire to make library spaces diverse, inclusive, and safe while becoming a change agent within my community.