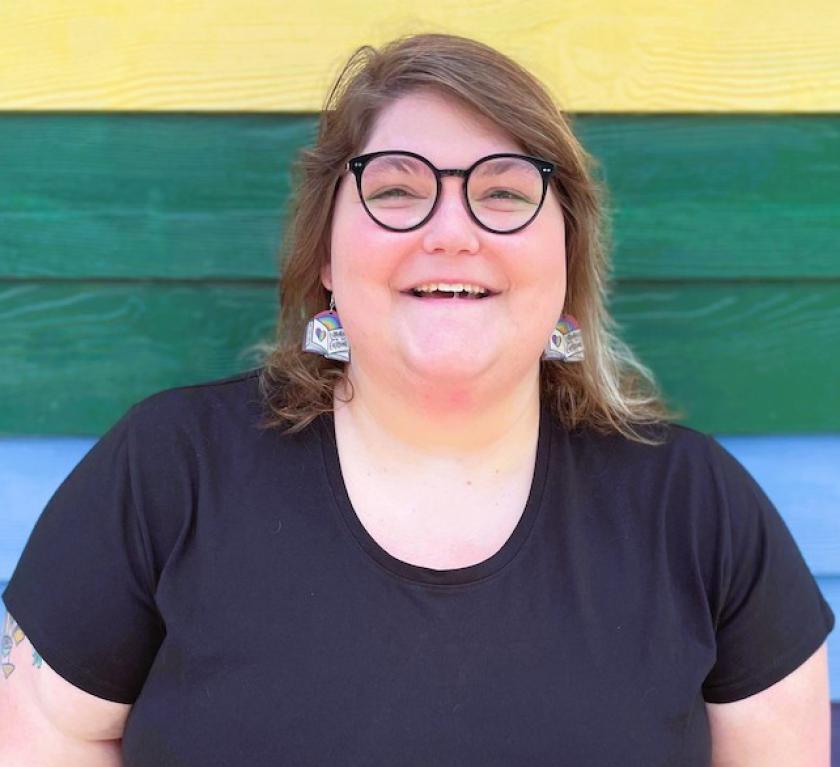 MS/LIS online (Leep) student Jamie Flood has been awarded a 2022 Paul Evan Peters Fellowship from the Coalition for Networked Information (CNI). The fellowship, established in honor of CNI's founding director, recognizes outstanding scholarship and intellectual rigor, a commitment to civic responsibility and democratic values, and imagination. CNI annually provides two awards: one to a doctoral student in the amount of $5,000 per year, and one to a master's student in the amount of $2,500 per year.
Flood is employed as an outreach and information specialist with the Agricultural Law Information Partnership at the USDA National Agricultural Library (NAL), where she contributes data to Wikipedia and organizes edit-a-thons. Her primary focus is adding content related to women and Black, Indigenous, and other people of color (BIPOC) in scientific fields, especially in the areas of property rights, food and nutrition equity, and farmland access.
"Wikipedia is an excellent platform for free, open sharing to a global audience," said Flood. "However, knowledge access is essential, and our catalogs and collections are often not easily accessible. Editing Wikipedia with our unique information is a great way to reach a wider audience, while ensuring greater access to more rich and accurate information."
Flood holds an MS from Auburn University's Department of Agricultural Economics and Rural Sociology and a BA in sociology and women's studies from Eastern Illinois University. She chose the iSchool because of the MS/LIS online option and the "vast experiences and interests" of the iSchool's faculty. Her research interests include information organization and metadata, information access, and archives.
"Viewing these topics through an equity lens, while working to make research and information openly accessible and equitable, and creating more inclusive metadata and descriptions are also vital to me," she said.
After earning her MS/LIS, Flood wants to continue working to connect libraries and Wikipedia and to address topics of equity in agriculture and agricultural law.
Kirstin Nelson, senior law librarian and Diversity and Inclusion Council executive director at NAL, said of Flood, "She intentionally seeks out the stories and images that highlight women and BIPOC people to help give a fuller narrative to science and stories around agriculture and agricultural law. . . . She is brave and speaks up for inclusion and equity even when—especially when—it is hard and may carry consequences."