The Library Awards and Recognition Committee is pleased to announce that MSLIS students Savannah Adams-Clark and Annika Deutsch have been selected as recipients of the 2022-2023 Outstanding Graduate Student Award. This award recognizes graduate student workers for exceptional accomplishments and service to the University Library.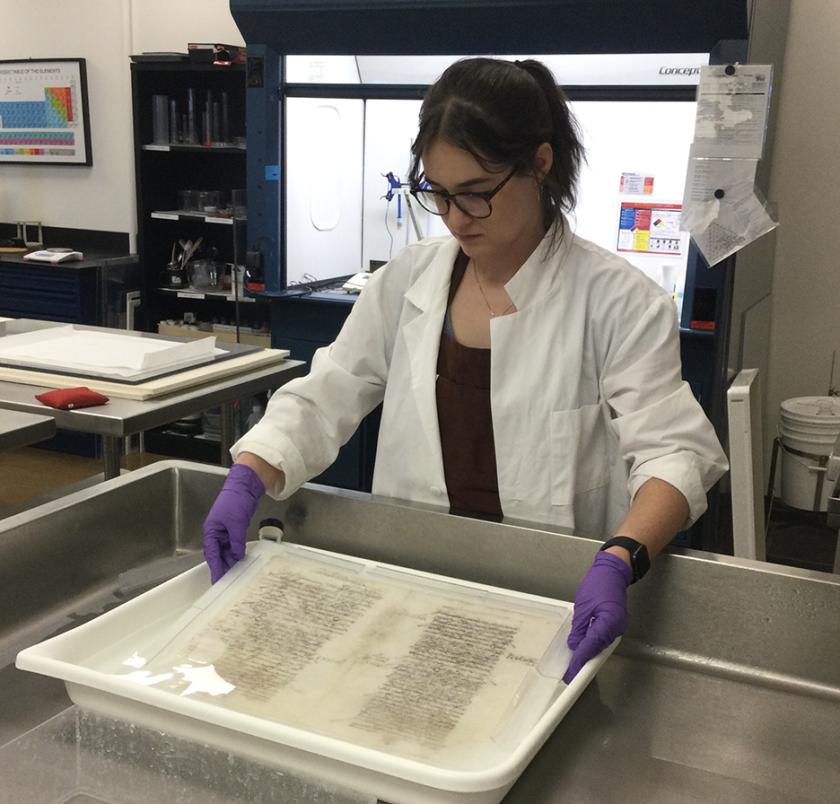 Adams-Clark has had several roles in the Conservation unit, beginning a few years ago as a volunteer repairing materials from the Center for Children's Books. Since becoming a graduate student, she performs binding repairs, adhesive reduction and encapsulation, among other treatments. She also has added a significant research component to her work, including learning and successfully applying one of the most chemically complex treatments in conservation, Calcium Phytate treatment, to stabilize historic documents.
Adams-Clark was nominated by Quinn Ferris, senior conservator for special collections, along with Jody Waitzman, Kara Hagen, and Marco Valladares. Ferris commented, "Savannah holds herself to a high standard in everything she does, including carefully researching and experimenting before executing a complex conservation treatment. She stands out for her drive to understand each new task or procedure in the context of the greater picture—whether that is historical bookbinding or the role of preservation and conservation in an academic library. She is actively engaged in the Society for American Archivists, the Midwest Regional Conservation Guild, as well as our monthly reading group. Every time she learns something new outside the lab, Savannah shares her knowledge, from circulating useful resources to training staff on the use of new equipment. Savannah frequently takes things well beyond what is expected of her, including authoring procedural documents, improving our used photo-documentation, and updating social media workflows—these are integral to our ongoing growth and success of our unit. Savannah has also been indispensable in many of the bigger watershed projects that Conservation has taken on in recent years, such as the Council of Administration records and the Woodward Advertising collection, and recently dedicated many days of analysis and experimentation to perfect a conservation technique that stabilizes Iron Gall ink. This study will have a great impact for our important manuscript collections, for example, the Isaac Newton manuscript."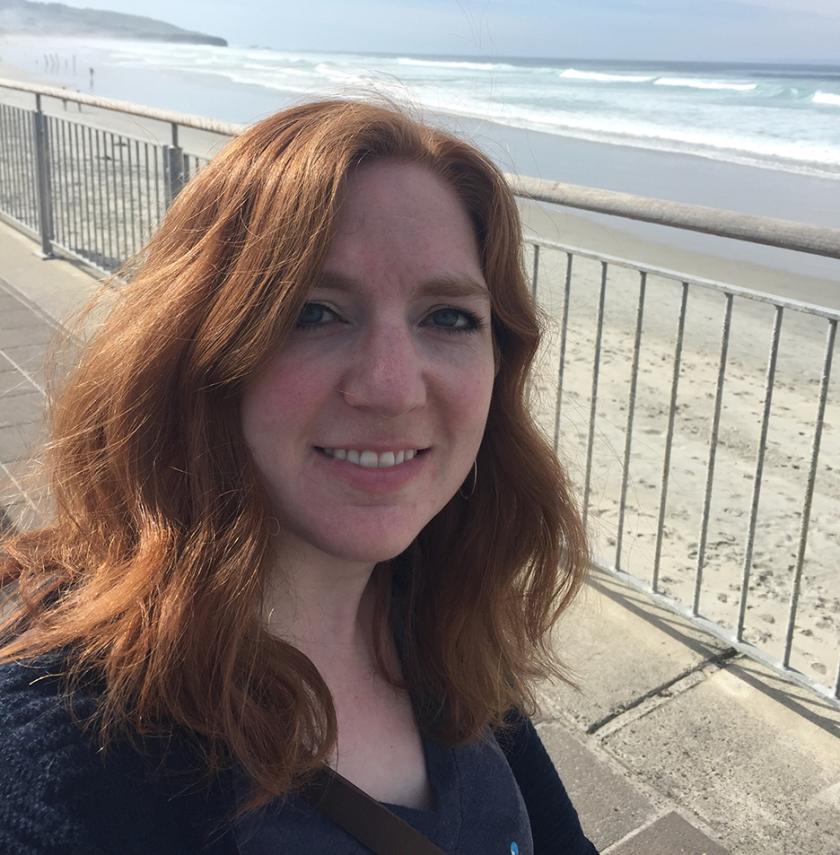 Deutsch is the lead graduate assistant at Grainger Engineering Library Information Center (GELIC) and coordinates the schedules and training of the other nine graduate students on the staff of the Physical Science and Engineering Libraries division. She works in consultation with the unit head to suggest policy for the graduate assistants, write documentation, and coordinate shifts to ensure coverage for the reference desks, among other duties.
Deutsch was nominated by Megan Sapp-Nelson, head of GELIC, along with Alex Cabada, emerging technologies and immersive services librarian. Sapp-Nelson shared, 'Annika has been key to the success of our graduate assistantships through her skillful schedule coordination and advocacy for the needs of GAs while balancing the priorities of the library as a whole. Annika also led multiple large projects to support student employee training, improved workflows, and internal documentation. She created resources that didn't previously exist, including a Teams site that centralizes communication for GELIC GAs. Annika's many contributions were instrumental to Grainger transitioning back to a 24/5 schedule this year. In addition, she contributed to faculty research projects as diverse as Lisa Janicke Hinchliffe's Scholarship of Teaching and Learning project and Bill Mischo's bibliometrics data gathering. Finally, Annika leveraged her stellar communication skills to teach a Savvy Researcher workshop on professional interpersonal communication and currently serves as editor of the Grainger IDEA Lab Newsletter, where she has worked with campus faculty, staff, and students to promote the ecosystem around emerging technologies and entrepreneurship and how it aligns with the library digital scholarship space and services."
The following MSLIS students were also nominated for the award: Jenna Courtade, Digitization Services; Amanda Crego-Emley, Music & Performing Arts Library; Margot Cuddihy, Music & Performing Arts Library; Sam Ehlinger, GELIC; Hannah Jones, Teaching, Learning, and Academic Support; Mary Lawrence, Literatures and Languages Library; Faith McConnon, University Archives; Elizabeth Schwartz, Scholarly Communication and Publishing; and Ethan Walter, Slavic Reference Service.