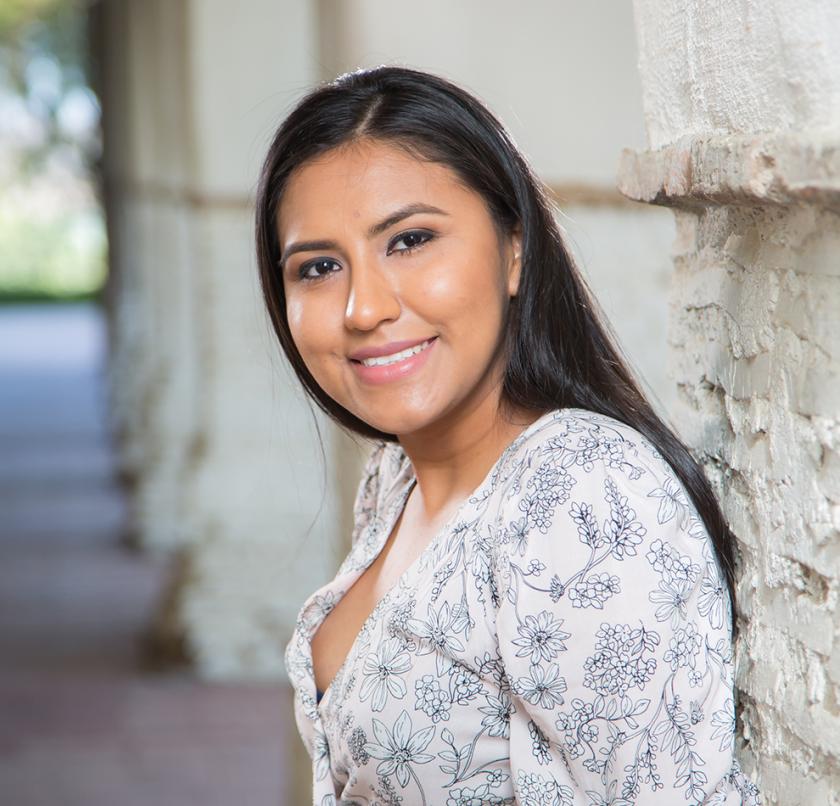 Thirteen iSchool master's students were named 2022-2023 Spectrum Scholars by the American Library Association (ALA) Office for Diversity, Literacy, and Outreach Services. This "Spectrum Scholar Spotlight" series highlights the School's scholars. Rebeca Escamilla earned her bachelor's degree in English with minors in medieval studies and global poverty and practice from the University of California, Berkeley.
Why did you decide to pursue an LIS degree?
I decided to pursue an LIS degree because I am interested in Latin American collections, specifically in indigenous materials and knowledge from Latin America. I want to give back to my community and help in the conservation and preservation of endangered indigenous knowledge—especially ephemeral knowledge such as poetry, songs, and plays. I want to use my MSLIS to highlight indigenous collections and make them accessible to a wider audience. I hope to join the Latin American indigenous discourse and make meaningful contributions.
Why did you choose the iSchool at Illinois?
I chose the iSchool due to the vast graduate and pre-professional opportunities available to students. I would like to gain meaningful experiences before starting my career, and many available assistantships and graduate positions at Illinois aligned with my career goals. I was also attracted to UIUC's Center for Latin American & Caribbean Studies, particularly its indigenous language courses.
What particular LIS topics interest you the most?
Digital preservation, archives, and special collections are the topics that interest me the most. I hope to use my experience in digital preservation in conjunction with special collections. As a patron and researcher, I use digital collections the most and believe that digitization can be used to make special collections more accessible.
What do you do outside of class?
I am currently a curatorial intern at the Krannert Art Museum, where I do research on indigenous featherworks. I also enjoy my graduate hourly positions and the professional relationships I have built.
What does being a Spectrum Scholar mean to you?
Being a Spectrum Scholar means giving back to my community. I want to learn as much as possible from Spectrum mentors and colleagues and apply the knowledge to better serve my community.
What career plans or goals do you have?
I hope to work as a librarian or archivist for special collections. Ultimately, my goal is to improve the dissemination of indigenous knowledge and information. In the near future, I am also interested in publishing my research and contributing to LIS scholarship.