David Charles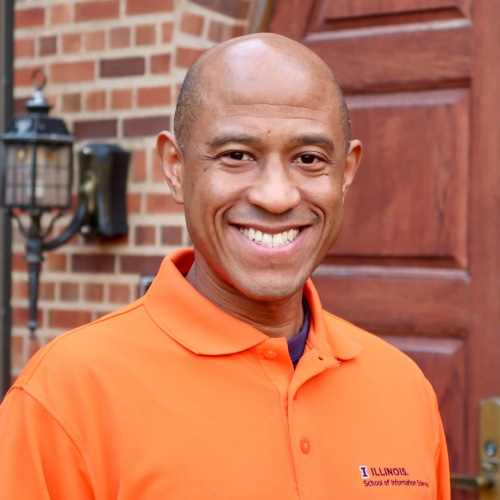 Teaching Assistant Professor
EdD, Organizational Change and Leadership, University of Southern California
Research focus
Future of work for information professionals, strategic change with innovation and technology, innovation culture leadership, business information consulting, and coaching information and technology leaders.
Biography
David Charles is a teaching assistant professor in the School of Information Sciences at the University of Illinois Urbana-Champaign. He holds over fifteen years of industry experience in the areas of digital transformation, innovation culture and strategy, business and people analytics, and change management. Previously, Charles served as chief digital and innovation officer and co-founder of Talinnt Inc., a human-centered HR technology and services firm. Before Talinnt, he held various executive roles at John Deere and CVS Health. From 2013-2020, Charles filled multiple roles within Deere & Company, including program executive, Enterprise Analytics Strategy; director, Workforce Planning and People Analytics; and manager, Data-Driven Innovation at the John Deere Technology Innovation Center in Champaign. Earlier in his career, he was both a strategy and systems integration consultant.
Charles holds an EdD in organizational change and leadership from the University of Southern California, MBA from Tuck School of Business at Dartmouth, and BS in management information systems from the University of Connecticut.
Office hours
By appointment, please contact professor
Publications & Papers
Charles, D. S., & Fox, M. D. (1997, May). Pulse wave velocity for cardiovascular characterization. In Proceedings of the IEEE 23rd Northeast Bioengineering Conference (pp. 77-78). IEEE.
Presentations
Careers in Business Analytics, Grand View University 2022
How People Analytics is Transforming the People Function of the Future, NYC SHRM Annual Conference 2021
Leveraging Technology to Live Your Best Professional Life, Southern University, College of Business 2020
Getting Started with and Exploring the Potential of Social Analytics, The Conference Board Human Capital Analytics Conference 2017
The Value of Business Analytics across the Enterprise, University of Iowa, Tippie College of Business MBA 2015