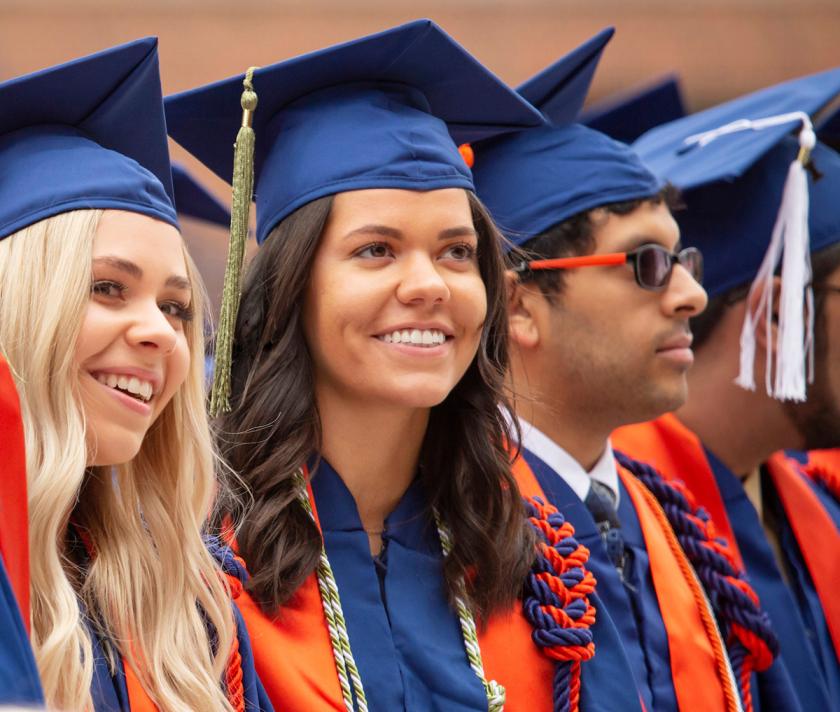 As an honors student, you'll be part of a group that fosters intellectual curiosity, leadership, and change.
Every student is considered for honors programs through the freshman or transfer admission application. Some programs allow students to apply if you are not selected during this initial period, as outlined in the following information for each program. The top students are selected for these programs based on a holistic application review.
College-level programs
Beta Phi Mu (BPM): This library and information studies honor society recognizes and encourages scholastic achievement among library and information studies students.
Campus Honors Program (CHP): CHP allows students to satisfy general education requirements while discovering the interrelations between their own and other disciplines. Approximately 125 students are admitted as first-year students to the CHP each year. High-achieving students may apply for admission at the end of the first semester of their freshman year. Designated as "Chancellor's Scholars," CHP students may be enrolled in any undergraduate curriculum.
James Scholars Honors Program: Every college has its own honors program. Students admitted into these programs are called James Scholars. The iSchool's James Scholar Honors Program recognizes the talents of academically outstanding students, promotes curricular/co-curricular growth, and helps prepare students to stand out in their future endeavors.
National and International Scholarships Program (NIS): This program, often referred to as "Topscholars," administers nationally competitive awards for University of Illinois students and alumni. Opportunities include undergraduate and graduate study, research, and teaching—often in foreign countries. Students obtain advice and feedback throughout the application process to become more competitive for scholarships.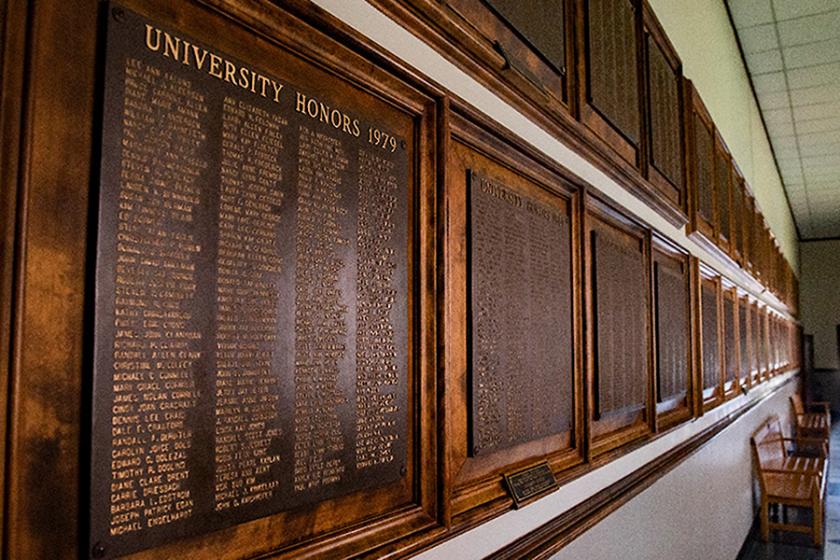 Bronze Tablet Honoree Distinction: The University of Illinois began the tradition of inscribing the Bronze Tablets with the names of students receiving University Honors in 1925. A new tablet is hung in the Main Library each year. Inscription on the Bronze Tablets recognizes sustained academic achievement and is exclusively for the top 3 percent of each college's graduating class.
Dean's List: The Dean's List honors full-time students whose semester grade-point average (GPA) ranks in the upper 20 percent of their college, as described in the Student Code. To be eligible for this recognition, students must complete at least 12 academic semester hours taken for letter grade, with an eligibility provision for students who are registered with the Center for Wounded Veterans (CWV) or with Disability Resources and Educational Services (DRES) who are enrolled in less than 12 but a minimum of 9 graded semester hours. Such students must sign and submit a release indicating their consent for consideration. For more information regarding eligibility, please email bsis-advising@illinois.edu.
Honors Distinction: Each college determines the criteria by which candidates for degrees may be recommended for graduation with honors in recognition of sustained intellectual achievement. These distinctions are noted on the student's baccalaureate diploma, permanent University record, and official transcript. The iSchool awards honors to the top 10 percent of the undergraduate graduating class each semester.