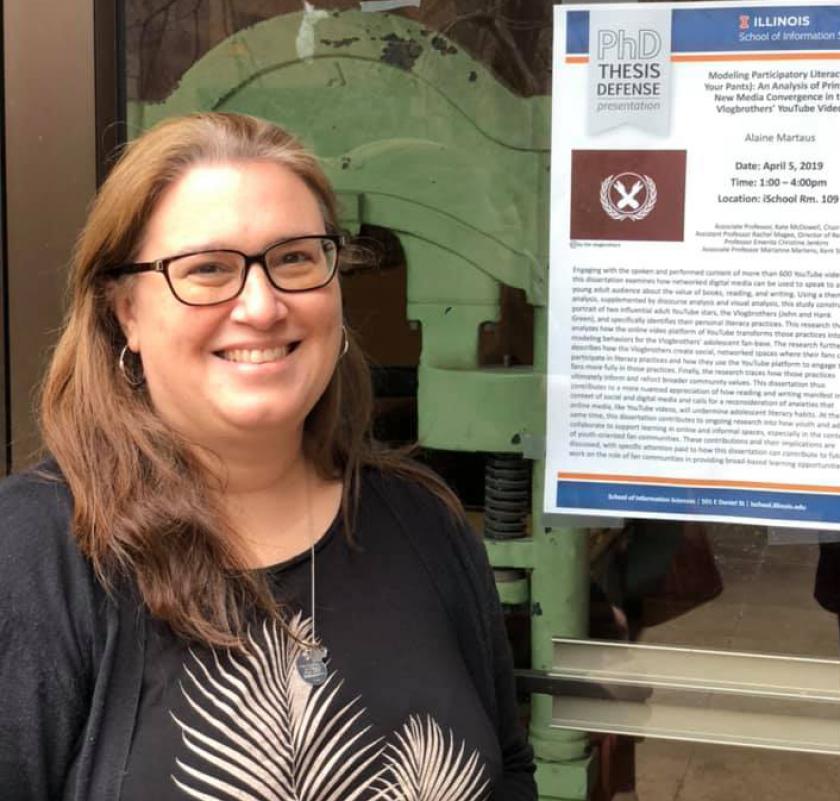 Doctoral candidate Alaine Martaus successfully defended her dissertation, "Modeling Participatory Literacy (In Your Pants): An Analysis of Print and New Media Convergence in the Vlogbrothers' YouTube Videos," on April 5.
Her committee included Associate Professor and Interim Associate Dean for Academic Affairs Kate McDowell (chair); Assistant Professor Rachel M. Magee (director of research); Professor Emerita Christine Jenkins; and Marianne Martens, associate professor in the School of Information at Kent State University.
From the abstract: Engaging with the spoken and performed content of more than 600 YouTube videos, this dissertation examines how networked digital media can be used to speak to a young adult audience about the value of books, reading, and writing. This study constructs a portrait of two influential adult YouTube stars, the Vlogbrothers (John and Hank Green), and specifically identifies their personal literacy practices. This research then analyzes how the online video platform of YouTube transforms those practices into modeling behavior for their adolescent fan-base. The research further describes how the Vlogbrothers create social, networked spaces where their fans can participate in literacy practices and how they use the YouTube platform to engage their fans more fully in those practices. The research also traces how those practices ultimately inform and reflect broader community values. This dissertation thus contributes to a more nuanced appreciation of how reading and writing can manifest in the context of social and digital media and calls for a reconsideration of anxieties that online media, like YouTube videos, will undermine adolescent literacy habits. At the same time, this dissertation contributes to ongoing research into how youth and adults collaborate to support learning in online and informal spaces, especially in the context of youth-oriented fan communities.