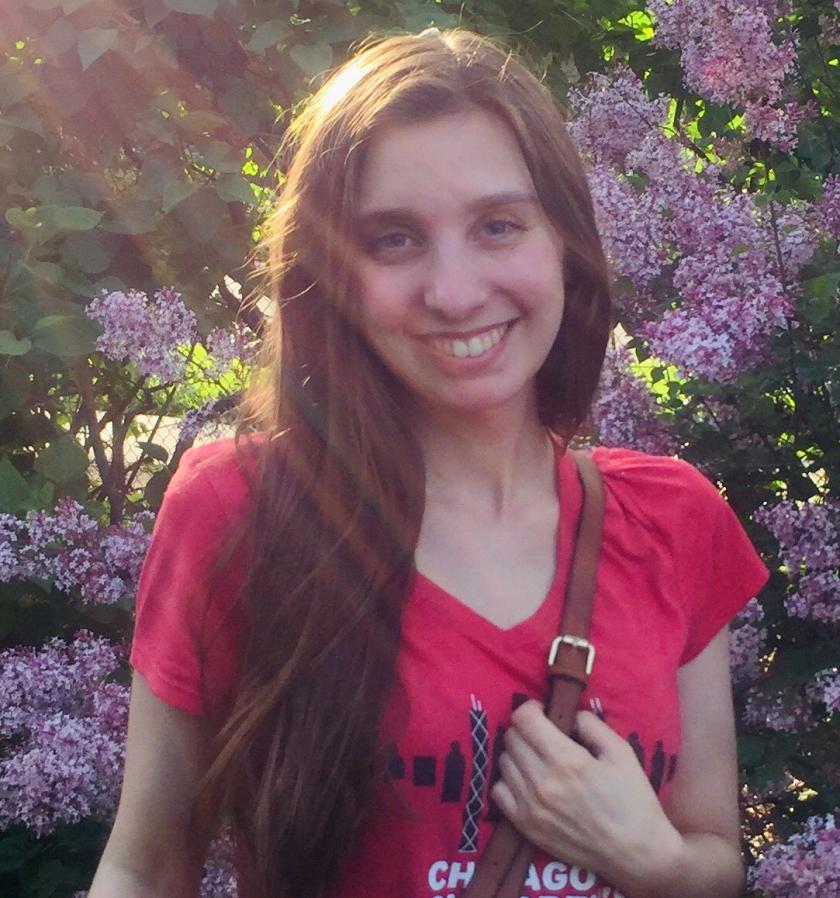 Leep student Laura Fruhauff was on the verge of emailing her advisor to rescind her fall 2019 registration when she received notification from the iSchool that she would be receiving the Helen T. Stewart and Mildred Stewart Scholarship. During her undergraduate studies at Roosevelt University in Chicago, she sometimes worked 80 hours a week to stay in school. According to Fruhauff, "This time around, in graduate school, I cannot do that. In addition to my full-time job, I have caretaker responsibilities to my parents and to my partner that occupy those other hours and funds I had originally designated to school. I cannot impress enough how crucial receiving a scholarship was and is for me and how grateful I am."
Why did you decide to pursue an LIS degree?
I had completed a term of service in an AmeriCorps program at The Field Museum of Natural History and had wanted to stay involved in the museum. I had always been interested in exhibitions, and during my term with AmeriCorps, I informational-interviewed myself into a volunteer position with the exhibitions department—specifically with the museum's exhibition developers. I absolutely felt at home working in the collections management system and was grateful and thrilled to handle and document information on specimens that would potentially be used in upcoming exhibitions. To secure such a job, however, I knew I would need to first acquire an advanced degree. As such, I began toying with the idea of graduate school but had no idea where to start. Museum studies had been recommended, but the programs I would feasibly be able to attend seemed limited. The versatility of an LIS degree appealed to me most. The variety of skills offered through LIS programs offered a wider range of possible careers without limiting me to any specific location.
Why did you choose the iSchool at Illinois?
I chose the iSchool at Illinois for multiple reasons. High recommendations from a trusted undergraduate mentor and from current iSchool students on track for amazing careers were key influences. An important portion of my decision, however, rested on practical necessities and iSchool's incredible and unique accessibility was a deciding factor. No other program of such high quality is as financially accessible as the iSchool, and the online courses do not prevent me from working or caring for family. I was worried at first that distance learning would not provide the best quality of instruction, but the iSchool has been the most ideal program, with courses that have been dynamic, engaging, and demanding. I feel like I am making the very best investment in my future.
What particular LIS topics interest you most?
LIS topics that interest me most include access, particularly access to information for vulnerable and for incarcerated individuals and groups.
What do you do outside of class?
Outside of class, I work at a wonderful youth music nonprofit and spend time with family. The best times are spent with my partner, his son, and our dog.
What career plans or goals do you have?
Starting my studies at the iSchool, I had tunnel vision for museum exhibitions and felt that was the only vein of careers that would truly provide fulfillment. However, the classes I have taken and the students, instructors, and mentors I have met and have learned from have unequivocally broadened my interests. My career plans are far more flexible than they were when I started, and I feel that many LIS and related careers would make me happy to wake up and commute to every day. Things that I never imagined bringing me joy, like reference services, are sticking in my mind as I contemplate my next steps. At the core of anything I hope to do, however, is service to others, and LIS is an incredible field that provides ample service-focused careers.