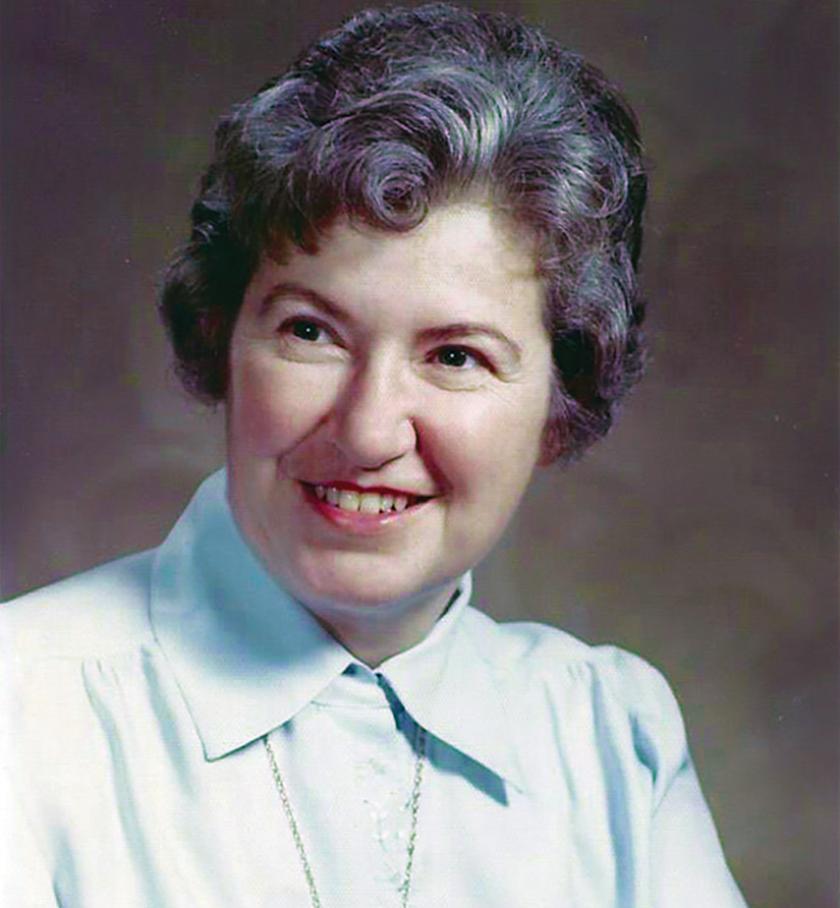 When Lucille Belcher applied to the Graduate School of Library Science (now the iSchool) in the 1960s, she was met with some uncertainty, or at least concern, regarding her ability to complete the program. After all, Belcher was a middle-aged housewife and mother, and at that time, there weren't many women of her age and situation heading back to college.
"Before she could be admitted to the program, she had to interview with the chair of the School, about her educational goals and if she could manage this as a forty-something housewife with a husband and a family," recalled Belcher's daughter, Mary Lu Bretsch. "'This is a very serious business,' he lectured her. Oh, she was quite serious, she assured him."
Belcher's commitment paid off, and after earning her MS in library and information science in 1966, she went on to work as a librarian for the Deland-Weldon School District in Piatt County, Illinois, for almost twenty years.
"We take pride in Mom's perseverance when it came to getting her education," said Belcher's younger daughter, JoAnne Ramirez.
Belcher paused her undergraduate studies during World War II, in order to get married and start a family. Later, when her husband Lowell received two job offers in Illinois—one in Mascoutah and the other in Monticello—they chose Monticello, so she could finish her education at the University of Illinois.
Both sisters remember their mother telling them that she knew she wanted to be a librarian from the first time she went to her local library at the age of four. Like her mother, Bretsch's love of libraries and path toward becoming a librarian started early.
"I used to play 'Library' as a young child. All of the books in my parents' two living room bookcases contained little squares of paper that simulated the book checkout cards with the title of the book at the top and columns for the date due," she said.
Bretsch followed in her mother's footsteps, earning her MS/LIS from the U of I in 1975, then spending most of her career as a librarian for the high schools in Belleville, Illinois. Over the years, she and her mother have both developed and served in their church libraries, Belcher in the Monticello United Methodist Church and Bretsch at her church in Belleville, where she still volunteers.
"I always loved my job as a librarian. There wasn't a day when I didn't look forward to going to work," she said. "Mother was retired then, and she would come and visit my library, where she helped with cataloging, handing out and retrieving periodicals, taking inventory, etc."
A few years ago, the sisters decided to create a scholarship fund at the iSchool to honor their mother's perseverance in earning her LIS degree and acknowledge the role of the School in preparing mother and daughter for rewarding careers as librarians. The Lucille H. Belcher Scholarship supports students from Piatt and central Illinois counties who are interested in school or public librarianship. Ramirez noted that she personally knows the first two scholarship recipients, because they are from Monticello, where she lives.
"My parents created the means to support a scholarship; we're blessed with the fruits of their labor. I believe they both would be proud and humbled to see what their hard work and ideals ultimately achieved," said Ramirez. "Mom would be so happy to help others who share her love of the library turn that into a career."
For more information on making a gift to the iSchool, visit the School's online giving page or contact Eileen Prillaman, assistant dean for advancement, at prillamn@illinois.edu or (217) 333-7344.