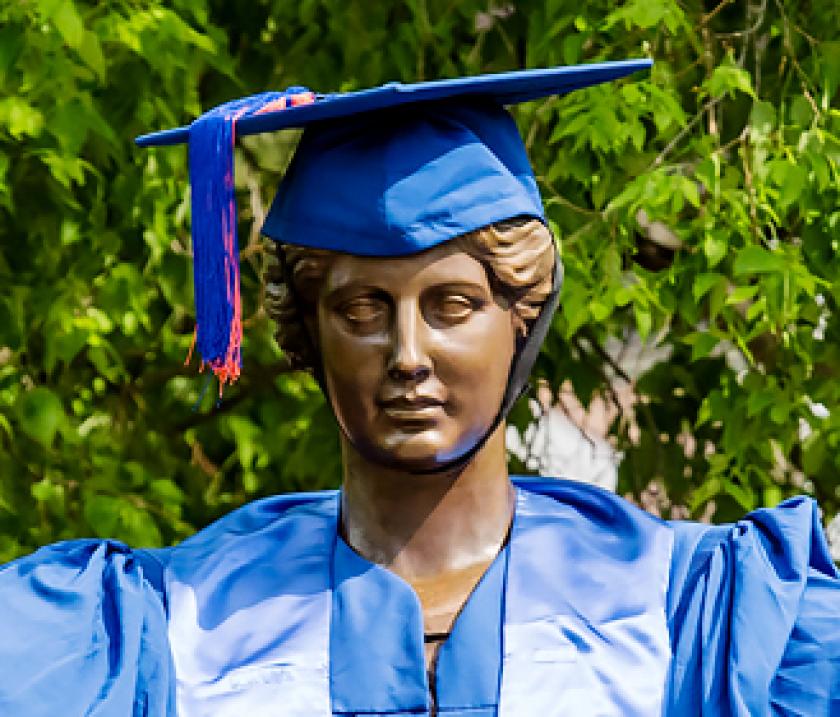 Each year, the School of Information Sciences recognizes a group of outstanding students for their achievement in academics as well as a number of attributes that contribute to professional success. Congratulations to this year's honorees!
Bryce Allen Award for Reference Services
Presented to Emily Zerrenner
Emily Zerrenner exemplifies the spirit of Bryce Allen through her passion and facility for helping patrons with their reference and information needs as well as her outstanding teaching and mentoring. Emily began working for the library during the pandemic lockdown, but despite this challenging and ever-changing environment, Emily's reference interactions were tremendously impressive. She kept a reference journal from the beginning as a place to record information she learned and to keep track of tips and tricks from her mentors. Even in the context of chat and email, Emily's warmth, calm, and empathy shone through, and her chat reference transcripts reflected her ability to relate to patrons and meet them where they are. Now that Emily is also doing in-person reference, her face-to-face and phone interactions are just as remarkable as her text-based ones; whether she is showing a new student how to print or telling a retired professor how to access our resources from off campus, Emily is patient, respectful, and kind.
Anne M. Boyd Award/Beta Phi Mu
Presented to Cheyenne Puetz
Cheyenne Puetz's warm, welcoming personality and desire to go above and beyond to help others sets her apart from other students. She enthusiastically approaches her work with integrity, honesty, and a passion for inclusivity and equity. As an employee at the iSchool's Help Desk, Cheyenne works diligently to solve issues plaguing staff and students. She has been an invaluable member of the Ambassador program this academic year, participating in over six different recruitment and yield events. In addition to working an assistantship, volunteering as an iSchool Ambassador, and being an active member in the Progressive Librarians Guild, Cheyenne has maintained a 4.0 GPA. She also volunteers frequently at the Urbana Free Library, Urbana Neighborhood Connections Center, and the Urbana-Champaign Books to Prisoners program. Cheyenne has accepted a full-time position as the youth services coordinator at the Sparta (WI) Free Library.
Edith Harris Camp Award
Presented to Elizabeth Salvi
Elizabeth Salvi's work in Data Storytelling combined compelling stories of the web accessibility gap with statistical evidence to create an exceptionally well-designed and well-researched final data story about how to make information more accessible. The visual content of her final presentation was creative and engaged the entire class by giving examples of accessible vs. inaccessible content in formats that users with and without issues such as visual impairments could easily understand. Her work was creative in providing an empathy-based approach to helping information professionals understand web accessibility, by simulating the experience for her audience. Elizabeth stands poised to educate her colleagues and practitioners everywhere to help make the internet more accessible in future.
Jane B. and Robert B. Downs Professional Promise Award
Presented to Alex Rosenberger
Alex Rosenberger truly embodies the iSchool's approach of applying sociotechnical thinking, with his work on privacy governance and policy providing concrete examples of how combinations of technology can be used in a highly nuanced setting to address pressing information problems. His studies at the iSchool were a natural stage of a career trajectory that followed three years in information analytics at Carle Health and has now led to a position as a data scientist at the U.S. Department of Defense (DOD). While a master's student, Alex was part of the prestigious Scholarship For Service (SFS) CyberCorps program. During his time at the iSchool, he proactively sought out and pursued multiple opportunities on campus for career development, such as his participation in a career mentorship program run by Out In Tech, an LGBTQ+ technology organization, and his pursuit of a privacy certification (Certified Information Privacy Technologist). He secured a highly competitive DOD internship in AI ethics and governance, which led to the offer of a permanent job.
Entrepreneurial Promise Award
Presented to Ty Miller
Tuvya (Ty) Miller represents entrepreneurial spirit and demonstrates an unusual creativity. He is the founder of his own freelance IT assistance business dating back to 2016 and has been engaged across the School and University. In his two short years in the master's program, he has served as an iSchool Ambassador and president of the Muslim and Jewish Student Alliance, and he was recently elected as a student senator for the Illinois Student Government, just to name a few engagements. Ty is tenacious in his pursuit of academics and professional development, traits that will serve him well in all his professional endeavors.
Faculty Special Award of Merit
Presented to Cayden Boyer
In the two short years that Cayden Boyer has been enrolled as an undergraduate, he has, with gusto and grace, immersed himself in the life of the iSchool and engaged and supported his peers. As a founding member of Psi Eta Mu, an Information Sciences professional fraternity, Cayden and fellow student Jasmine Yuan have a created a space for their peers to explore the discipline and its myriad of related professions. He has served as one of the initial peer tutors in the iSchool's new Academic Support Center and as an iSchool Ambassador. Cayden demonstrated leadership in the classroom and as a peer mentor, sharing his internship experiences with his fellow students and providing insight and feedback on career development. In all his interactions with students, staff, and peers, Cayden brings a warmth and quiet confidence that we know will serve him well in his future professional endeavors.
Herbert Goldhor Award
Presented to Vanessa Dwyer
Vanessa Dwyer and her work in the MS/LIS program exemplify many attributes of the best public librarians. She seeks to understand the community the library serves. She demonstrates a strong to equity in all aspects of librarianship. She consistently pushes beyond the easiest resources or solutions to find ones that are a good fit. Vanessa has built on her work as a library assistant in the North Las Vegas Public Library to ground her course assignments and class discussions with the everyday exigencies and triumphs of library work. Her willingness to give thoughtful, empathetic attention to the people the library serves will ensure her success as public librarian and enrich the lives of the library's patrons.
Peggy Harris Award
Presented to Mimosa Shah
Mimosa Shah exemplifies the spirit of volunteerism and truly embodies core librarianship values of service and a commitment to social justice. Elected by her peers as an MS/LIS student representative to the iSchool's Diversity Committee, Mimosa has been diligent in advocating for student concerns around important issues of diversity, equity, and inclusion (DEI). She has gone above and beyond to contribute insightfully and substantively to committee discussions around policies and initiatives. Beyond the School, Mimosa has worked tirelessly to promote DEI through involvement with the Society of Art Libraries of North America and co-editing the Diversity and Inclusion Committee's blog. Mimosa has also served as co-chair of a series of events on sustainability through the Museum Computer Network that supported libraries, archives, and museums through the pandemic. In addition, Mimosa has served on the American Library Association's Public and Cultural Programs Advisory Committee.
Health Sciences Information Management Award
Presented to Rebecca Kyser
Rebecca Kyser joined the MS/LIS program and quickly made an impact in the area of health informatics while simultaneously working in the medical supply industry during the pandemic. She was key to the development of the World Health Organization/Pan-American Health Organization Anti-Infodemic Virtual Center, working with a multidisciplinary team on a project involving detection, evidence, and response. Her insight into classifying health misinformation according to its factual and emotional dimensions will be key to one of the first papers this team will publish, making a valuable contribution to the new discipline of infodemiology. While contributing to this project and serving as a resource on social media misinformation, she joined the IMLS project Strengthening Public Libraries' Information Literacy Services Through an Understanding of Knowledge Brokers' Assessment of Technical and Scientific Information. She led background reading, contributed to the design of the interview process, identified potential interviewees and board members, and is drafting a paper the team will submit to TrueHealth 2022.
Kathryn Luther & William T Henderson Award
Presented to Katie Peterson
Katie Peterson is a truly outstanding member of the ITD and Help Desk team. She has demonstrated her creativity, compassion, and care consistently throughout her time here. Despite being part of a pandemic cohort, working remotely for her first year, Katie took bonding with and supporting her teammates to heart. She lifts her colleagues up by sharing the best in memes and adorable animal photos when morale is down. She is both clever and unconventional, organizing her colleagues to have events, like our March Madness bracket or writing and producing our latest recruitment video (a homage to The Office). She certainly exemplifies the motto "Consumed in the service of others." She always has a spare minute to respond to our patrons and has a reputation for being a tenacious troubleshooter. We are so proud of her and look forward to seeing how she combines her hard work, intellect, curiosity, and innovative spirit in her professional life. It is certain to be impressive.
Information Systems/Technologies Award
Presented to Gianni Pezzarossi
Significant achievements in information systems can take many forms, and Gianni Pezzarossi has proved exceptional at doing this through serving as a sociotechnical boundary spanner. Whether as a computational systems analyst providing support to researchers at the Grainger College of Engineering or as an MS/LIS student, he works to learn about the social issues people have identified along with the technical solutions they are researching. In so doing, he strives to bring multiple voices into the conversation in ways that build a stronger understanding of the mutually shaping socio-cultural, economic, and political issues that often lay hidden within these technologies. He then works to compile the information with his own deep expertise with information systems and technologies to bring into the conversation actionable sociotechnical knowledge. Gianni uniquely spans the boundaries of information systems innovation and socially relevant research in transformative ways.
iSchool Alumni Association Student Award
Presented to Susan Schober
After two decades of working in music and early childhood education, Susan Schober transitioned to her dream career of working with children and families in a public library setting. In this work, she caught the "library bug" and began pursuing her MS/LIS. A leader in community engagement, Susan brought her enthusiasm for excellent library services into every classroom space. She is unafraid to ask critical questions and openly shared her firsthand professional experience with her classmates. She is creative, an incredibly hard worker, and a dedicated public library employee. Susan has greatly contributed, and will continue to contribute, to both the field and her local community.
Frances B. Jenkins Award
Presented to Amanda He
Amanda He's professional career has been heavily influenced by her experiences as an undergraduate biology student. She has held numerous positions utilizing her STEM background, but her foray into librarianship first began when she was employed as an undergraduate reference intern at Kenyon College. Amanda felt drawn to science communication and addressing barriers to diversity in STEM, which led her to work at the Museum of Science and Industry before returning to academic libraries as a cataloging assistant at Loyola University Chicago. It was this position at Loyola that inspired her to pursue an MS/LIS degree. Amanda was a member of the iSchool Students of Color, worked as an iSchool Ambassador, and maintained a 4.0 GPA, while also working full time as the e-resources associate at Loyola. After graduation, Amanda will start her new position as the first STEM instruction and engagement librarian at New York University.
Alice Lohrer Award for Literature and Library Services for Youth
Presented to Joshua Altshuler and Zoe Nepolello
A gifted researcher with a deep appreciation of the history of librarianship, Joshua Altshuler brings to Youth Services both intellectual curiosity and an indefatigable work ethic. During two years of pandemic disruption, he served a pivotal role in the Center for Children's Books. He helped mark the Center's 75th anniversary by creating a virtual history exhibit and running a lecture series. With partners at National Park Service and the Birmingham Civil Rights Institute, he helped mount a deeply researched web resource on the children's novel The Watsons Go to Birmingham—1963. There was no image or primary source that Josh could not track down, no lead unpursued. In class, Josh was an exemplary student whose final projects were characterized by deep research, an awareness of sociopolitical context, and evident care for today's youth.
Zoe Nepolello is a thoughtful and curious student with a passion for youth literature and library services. In courses, Zoe challenged normalizing depictions of child development by reminding us that young people take different paths to acquiring literacy and identifying as readers. Born of her skepticism of a single path to becoming a reader, Zoe's research project investigated the benefits of frequently rereading the same books, drawing on ethnographic and cognitive science research. Supporting people all ages with their reading and writing, Zoe has taught developmental English college courses and worked for a not-for-profit publishing company. As a graduate assistant in the Social Sciences, Health, and Education Library (SSHEL), Zoe consistently demonstrated her enthusiasm for children's and young adult literature.
Berner Nash Award
Presented to Dianah Twinoburyo Kacunguzi
Dianah Kacunguzi's dissertation on "Knowledge Preservation Practices of Herbalists in Uganda: An Ethnographic Study" closely examines how herbalists in Uganda preserve traditional medical knowledge (TMK) for access by future generations. The research makes important contributions to the studies of intangible cultural heritage and knowledge management. Drawing on six months of fieldwork that enabled her to build rapport, establish relationships, and gain herbalists' trust for the sake of gaining meaningful insight into their practices, she used observation and interviews (largely conducted in Luganda and then translated) to identify the forms of knowledge and methods of preservation. Given the importance of TMK in Uganda (and in much of the rest of the world), this study is significant for the insights it provides into the risks of loss of such knowledge and possible approaches to preservation.

Outstanding Undergraduate Award
Presented to Alistair Nunn
Throughout Alistair Nunn's studies, they have distinguished themselves through their deep, critical, and active engagement with the full range of social, ethical, policy, and technical dimensions of information. In class projects, they have grappled with the ethical implications of facial recognition in law enforcement and employed data storytelling to critique blockchain technologies and NFTs. Outside of the classroom, Alistair was notably proactive in pursuing opportunities for research with numerous faculty. One key example is their participation in the National Center for Supercomputing Applications' Students Pushing Innovation (SPIN) summer program in 2021, working with a research group on a natural language processing project. Alistair's patience, insightfulness, and computational talents are great foundations for a future leader in the information field. Alistair has accepted a full-time position with Accenture, and we are excited to see what they do in their career.
Hazel C. Rediger Award
Presented to Will White
The Rediger award recognizes a student who embodies "a spirit of enthusiastic intellectual questioning," which certainly describes Will White. He is passionate about understanding the role of mis- and disinformation in our daily lives and, in particular, in the lives of college students. Will combines this passion with a commitment to equity and social justice, and in his professional work, he seeks to develop educational programs that help students recognize and critique misleading information and understand how misinformation harms already marginalized groups.
Joseph Rediger Librarian as Humanist Award
Presented to Christina Sallis
A remarkably curious and self-directed researcher, Christina Sallis is a clear leader within her MS/LIS cohort. Her rich communicative and collaborative style, combined with her thirst for scholarly knowledge, has enriched classroom discussions. Christina asks searching questions, connects theory to practice, and seeks to build on others' knowledge, broadly construed. She stands out in her ability to synthesize and explain complex ideas within humanities scholarship, a skill that has positioned her to enter ongoing conversations of scholarly importance. Simultaneously, her prior background in outdoor experiential education enables her to apply these ideas to on-the-ground practice in public and school libraries. In short, she represents the best of humanities scholarship within an iSchool context.
Selma K. Richardson Award in Children's Literature
Presented to Abbie Mills
Abbie Mills came to the iSchool with a background as a professional photographer and was also working as a nanny at the time. Her passion for working with children is evident. She completed her student teaching this spring for the School Librarian Licensure program and will be working as the school librarian for Hillcrest School in Indonesia beginning this summer. Abbie is a continuous source of warmth, positivity, and good kid friendly fun. I cannot think of a more perfect path for her and we are all excited to see her spread her joy beyond the U.S.
Social Justice Award
Presented to Sarah Appedu
As a first-generation student with a strong motivation to address inequality and injustice, Sarah Appedu has used her time as a graduate student to further her understanding of root causes of these issues and the multiple forms within which they occur in our profession. She has engaged with different faculty and student groups to facilitate social justice movement work, bringing this actionable knowledge into LIS practice. During her time at the iSchool, she played an active role in developing and running the AI Infodemic program, took a leadership role in the Progressive Librarians Guild, and volunteered with local organizations such as Urbana-Champaign Books to Prisoners. Throughout, she has put into practice her creative passion for safe yet challenging spaces in which people come together for co-learning, growth, and activism on real-world problems to advance more just communities.
Yingbo Zhou Memorial Fund Award
Presented to David Poon
Throughout his MS/IM studies, David Poon has consistently demonstrated excellence and high standards. His instructors found him to be strikingly engaged and enthusiastic in class activities. David demonstrated strong leadership skills in group projects, playing a major role in their success—a task made considerably more difficult in the context of the pandemic when all collaborative work had to be accomplished online. Outside of class, David has contributed significantly to Asian and Asian-American community life on campus, most notably through his deep and active involvement in the University's chapter of the Chi Sigma Tau Fraternity. This Asian interest fraternity provides support, mentorship, and leadership skill development for its members, something that David has played a critical role in fostering through his service as the chapter's vice president.