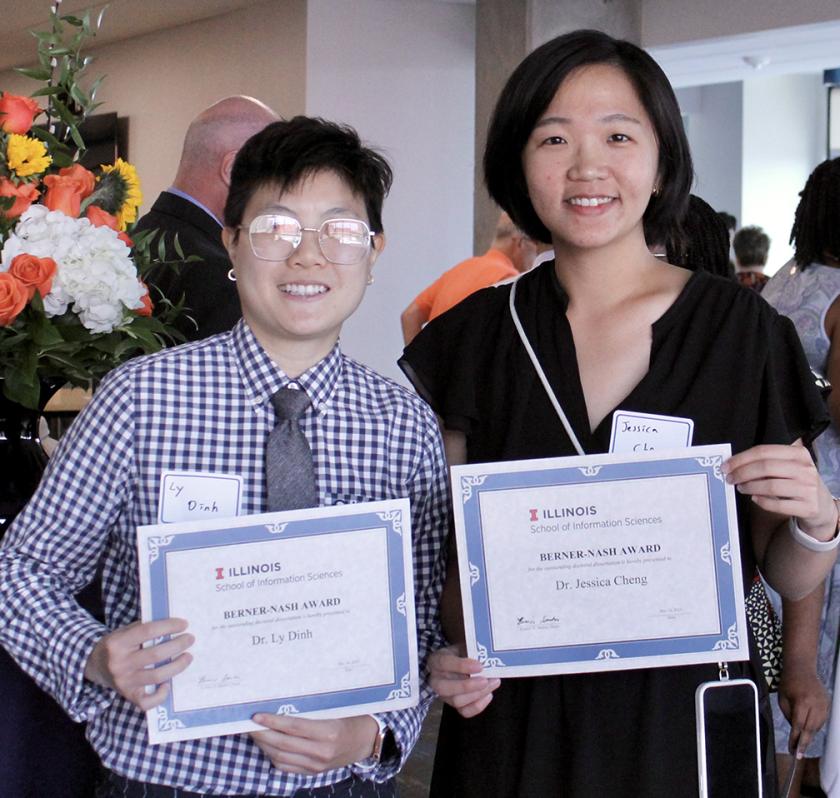 Each year, the School of Information Sciences recognizes a group of outstanding students for their achievement in academics as well as a number of attributes that contribute to professional success. Congratulations to this year's honorees!
Bryce Allen Award
Presented to Caleb Britton
As a graduate assistant in the Teaching, Learning, and Academic Support unit of the Main Library, Caleb Britton demonstrated intellectual curiosity and persistence in helping patrons get answers to their questions. His gifts for reference and teaching are not just limited to our patrons, for he is an outstanding mentor and teacher to the first-year GAs, or even new staff members, when he works with them at the desk. Everyone who has been mentored by or worked with Caleb has told me how well he teaches and coaches people through answering questions. Caleb sought out opportunities to further his skills by working as a graduate hourly employee in the Acquisitions & Cataloging Services (ACS) Department, where he primarily assists users with e-resource access problems. Caleb embodies the spirit of Bryce Allen's commitment to reference, continuous learning, and collaboration.
Anne M. Boyd Award/Beta Phi Mu
Presented to Margot Cuddihy
Margot Cuddihy has maintained a 4.0 GPA while working her graduate assistantship at the Music and Performing Arts Library for the past two years. She has held a number of professional positions during her time as a graduate student: reference assistant at the Illinois Fire Service Institute Library, research assistant at SSHEL, and junior fellow at the Library of Congress. She is on the executive board for the American Library Association and Special Libraries Association student chapters. Through her work with prospective and admitted students as an Ambassador, Margot has demonstrated warmth and compassion. She has participated in 14 different recruitment and yield events for LIS students, some of which she has organized and hosted in collaboration with other LIS graduate hourly Ambassadors. Margot also created an interactive scavenger hunt highlighting various places around UIUC for admitted LIS students to participate in while visiting campus.
Edith Harris Camp
Presented to Kate Dinsmore
Kate Dinsmore came to the iSchool after serving as a summer reading intern and seasonal youth services advisor at Arlington Heights Memorial Library. She has served as president of the Queer Library Association on campus, where they have discussed issues faced by LGBTQIA+ patrons and explored ways that librarians and archivists can provide better service. Her weekly professional journal reflections in the Community Engagement course took on unique forms of communication through combinations of text and visual arts to advance reflective practices in creative ways. Her active inquiry in our community of practice takes on forms that advance trust and friendship within class conversations even as we take on challenging conversations about LIS professional practices. In so doing, she also opens up spaces for us to explore active and potential liberating practices within the profession. This was brought together in a collaborative summative reflection podcast with some of her teammates that together strongly represent well the legacy of Edith Harris Camp.
Jane B. and Robert B. Downs Award
Presented to Savannah Adams-Clark
Savannah Adams-Clark has demonstrated that she will be a leader in our profession through her professional maturity, varied accomplishments and commitment to excellence in our field. She was selected in her first year of the MSLIS program as the Champaign County Archives Apprentice for 2021-2022 and excelled in the role. She is president of the student chapter of the Society of American Archivists and recently was awarded the Outstanding Graduate Student Worker award from the University Library. Savannah not only has a solid foundational training in preservation and archives but also has great ideas and the ability to execute them and go above and beyond in her work.
Entrepreneurial Promise Award
Presented to Mary Lawrence
As a practicum student at the Spurlock Museum, Mary Lawrence was an indispensable member of the team. She displayed an affinity for both independent and group work settings as well as a firm understanding of museum collections management principles and practices. Mary was an innovative problem solver. Her questions were thoughtful, and she applied the answers in practical ways. She would suggest improvements to project workflows and was exceedingly organized. Mary went above and beyond in completing all her projects in a meaningful and professional manner while maintaining a positive attitude, and she was quick and eager to learn new skills and take on new challenges. So much so, that she was hired by the Registration Section when her practicum ended. In both her practicum and as a paid employee she has proven herself to be passionate, knowledgeable, and hard working.
Faculty Special Award of Merit
Presented to Yu-Wei Lai
Yu-Wei Lai has a strong determination to translate his studies in data sciences and human-computer interaction to support human crowd intelligence. He has connected his prior training in behavioral economics with studies in information behavior, data sciences, and human-computer interaction to design a series of innovative studies related to crowd intelligence. He has shown outstanding scholarly performance, constant curiosity, and extraordinary perseverance in the challenging research activities. He always pays attention to detail and conducts research activities with great patience and integrity. He spent more than one year to continuously refine his studies resulting in research design of high rigor and originality. He is able to work toward excellence without immediate measurable outcomes. Yu-Wei is also very humble, positive, and cooperative to work with other students in my team.
Herbert Goldhor Award for Public Librarianship
Presented to Chloe Foulk
Chloe Foulk is the type of library professional who brightens each space she occupies, leaving things better than she found them. She is a vocal advocate for the needs of all families. A creative and critical thinker, Chloe expertly applies the ideas studied in the classroom to meaningful community contexts. She has leveraged her community engagement and programming ideas to secure a position as a children's librarian well before her graduation. I greatly look forward to her continued contributions to the youth services field.
Peggy Harris Award
Presented to Bea Verin and Aradhya Seth
Bea Verin has truly helped to make the iSchool and the University of Illinois a better place during her time on campus through her volunteer and student organizing roles. She has served as a Student Alumni Ambassador, iSchool Ambassador, and Illinois Student Admissions Representative, in addition to her involvement in organizations such as the Gies Disruption Lab, Kappa Delta Sorority, and Traveling Illini. For Homecoming in 2021, as a part of the Alumni Alliance, she hosted distinguished alumna Safiya Noble, whose work we were reading in class at the time. Her ability to connect her volunteer work and her studies is just one embodiment of the ways in which she bridged the iSchool and other parts of campus, as well as the Illini family, past, present, and future.
Aradhya Seth has taken on a leadership role among the Ambassadors and participated in over 15 recruitment and yield events for the iSchool. Aradhya approaches working with prospective and admitted students with compassion and understanding, as he too is an international student and can easily relate to the stress and anxiety felt by attending grad school outside your home country. Aradhya is involved in on-campus organizations including Amnesty UIUC, the Illini Union Board, Graduate Employee Organization, Indian Grad Student Organization, Illini Chess Club, and Illini Billiards Association. Along with his passion for participation, Aradhya has maintained a 4.0 GPA while taking rigorous MSIM courses such as data storytelling, data warehousing and business intelligence, and data visualization.
Health Sciences Information Management Award
Presented to Rachel Riffe
Rachel Riffe's decision to pursue a career in biomedical librarianship was fueled by her love of learning about life science topics and being diagnosed with a rare disease. Conducting her own literature searches, she discovered how much she enjoyed digging through journal articles and observing what impact information professionals can have in the biomedical sphere. Between her internship and practicum experience with Forge Biologics, Rachel worked with account data and created quarterly, monthly, and YTD commercial data visualizations. She also focused on plain-language resource development for families impacted by Krabbe Disease. This included assisting with a website redesign and assessing reader accessibility of print and A/V materials. She also helped create a patient advocacy intranet. Through her work with Forge Biologics, Rachel was inspired to enroll in iSchool electives focusing on information consulting, scholarly communication, and administration and management of information centers.
Kathryn Luther and William T Henderson Award
Presented to Zhaneille Green
Zhaneille Green is a wonderful example of someone "consumed in the service of others." She made active use of the breadth of her lived experiences as part of classroom conversations. These included her experiences as a young person growing up in rural Jamaica where lack of local access to the Internet or a local library shaped her interest in digital equity and information. Before coming to our graduate program, she spent time within AmeriCorps as both team member and teacher introducing her further to the disparities and lack of equal opportunities for children that exist in so many places. In bringing her demonstrated record of service to the community into conversation with the lived experiences of others in her iSchool classes, each of our experiences were advanced in a more holistic understanding of the multiple social and technical layers that mutually shape our sociotechnical systems. Beyond the classroom, Zhaneille has continued to demonstrate a record of service to the community in her professional activities as a graduate assistant and within her fellowship.
Information Systems/Technologies Award
Presented to Nikita Agarwal
Nikita Agarwal has been taking independent study with me [Jessie Chin] on a project to develop voice-based everyday coach (a mobile app) for the individuals with disabilities. She demonstrates extraordinary leadership, scholarly performance, and passion to lead a team of three students for carrying out this complex project. She was able to translate what she has learned in the program and propose creative solutions to a series of challenging tasks. It is not easy to design and implement a sociotechnical solution from scratch. Her academic excellence in information systems/technologies definitely shines through.
iSchool Alumni Association Student Award
Presented to Sheridan Cazarez
Sheridan Cazarez immediately became deeply involved in the life of the iSchool while also serving as early literacy/reading program specialist at the Long Beach Public Library. Sheridan and his colleague generously shared details of their inspirational bilingual programming, Cuentos, Cantos Y Cambio, with iSchool students in the Social Justice in the Information Professions class. The work is notable for creating culturally safe spaces for intergenerational dialogue, for the holistic approach it takes, and for the institutional change that flowed from its success in disrupting deficit narratives used to discourage attempts to provide this programming. Sheridan truly 'caught the spirit' of the library and information science profession, and will remain a steadfast advocate, not merely for what our profession has symbolized in the past, but also as someone who will continually inspire us to strive for the necessary changes that will bring equity and justice to the heart of all we do as library and information professionals.
Frances B. Jenkins Award
Presented to Kendall Neumann
Kendall Neumann served as a graduate assistant in the Physical Sciences and Engineering Division (PSED) of the University Library, where she has dedicated herself to developing her professional skills in the pursuit of a career in science librarianship. She has been a vital person within the IDEA Lab in keeping operations running smoothly and in continually expanding our scope and role to our patrons within the University and beyond. She has taken the lead in keeping our website up to date and has diligently ensured that information presented to the public is accurate and inviting. The Savvy Researcher workshop series recently expanded its scope to include sessions taught by librarians and graduate assistants in the Grainger Engineering Library. Of the 13 new titles added, five are part of a new series on podcasting taught by Kendall. She has also shared her insight and experiences in podcasting with students at Uni High.
Alice Lohrer Award for Literature and Library Services for Youth
Presented to Caroline MacFarlane
A voracious reader and deep, careful thinker, Caroline MacFarlane is an unquestioned leader within her cohort. She brought to her graduate studies and brings to the profession a focused and critical reading of children's literature, academic scholarship, and longstanding practices within youth services librarianship. Her analysis of the Newbery Medal at its 100th anniversary was so sharp that I encouraged her to seek publication. Like M. Alice Lohrer, the mid-century professor for whom this honor is named, Caroline is a scholar, and she's poised to make her mark in the field.
Louise C. Meckstroth Award
Presented to Rachel Kaplan
Rachel Kaplan's work with general and special education students has been exemplary. She has developed and taught a variety of information literacy, literature, and STEM-related lessons in her field work, in addition to collaborating with teachers, supporting management of the library, and engaging with students. Rachel quickly gained the respect of her cooperating teacher-librarians who have remarked on her strong work ethic, creativity, dedication to reflective teaching, and ability to relate to a diverse population of students. Rachel quickly immersed herself in her placements, integrating easily with library staff and the school community. Her solid communication skills allow her to effectively function in both large and small group settings and in one-on-one coaching. Rachel is naturally collaborative and shares her ideas and feedback in an open and constructive manner, often emerging as a team leader. She is already a skilled presenter and facilitator, bringing her passion and enthusiasm to her students. We have no doubt that Rachel will continue to inspire and engage students and colleagues.
Berner Nash Award
Presented to Jessica Yi-Yun Cheng and Ly Dinh
If we see the world through different lenses, and structure and classify information in different, apparently conflicting ways, can we still make sense of it, i.e., combine and integrate data in ways so that we can understand each other's perspective? In her dissertation, Jessica Cheng answers this question in the affirmative. By employing a logic-based approach to taxonomy alignment and integration, she demonstrates that diverging taxonomic views and the use of different vocabularies can be reconciled into a coherent whole in which the original perspectives are preserved, while at the same time revealing agreement and differences in those perspectives. She applies these techniques to a diverse set of use cases ranging from political geography to biological taxonomy and biodiversity applications. Her work thus addresses central issues of data interoperability and integration in the information sciences and significantly advances our understanding of biases in taxonomies, metadata, and ontologies, and knowledge organization more generally.
Ly Dinh's dissertation advances current knowledge and methods in the field of network analysis through interdisciplinary and mixed-method examinations of formal and informal structures in social, organizational, and crisis response collaboration networks. Ly leverages theories from cognitive sociology, communication, and graph theory to inform her modeling and analysis of relational dynamics in multiple real-world contexts. Examples of her contributions to the field include the expansion of structural balance theory and the operationalization of this theory to also work for signed and directed networks and providing a basic explanation of how networks emerge when individuals or groups aim to maintain cognitive consistency in their relationships with others. Ly also demonstrated the impact of network science methods in the crisis informatics research space by proposing and evaluating a human-in-the-loop approach to extracting collaboration networks from crisis-related situational reports and social media data.
Outstanding Undergraduate Student Award
Presented to Morgan Cosillo
Morgan Cosillo has been a fantastic research partner in a project on optical character recognition (OCR) post correction methods for the past year and a half. This work is part of an overreaching project to digitize historical scientific literature. Morgan's work has been vital in this process—by using machine learning methods, she has been able to halve the OCR error rates from our extracted text, which is especially impressive since the text contains many specialized words and formulas. Still more impressive, Morgan essentially taught herself the Transformer-based models, as this is not the background of her faculty mentor [Jill Naiman]. She is now able to run her models on both Cloud platforms and on NCSA's cluster, HAL, which demonstrates her remarkable growth in coding. Additionally, her research methods (utilizing academic literature, academic writing, etc.) are top notch. Her work is set to be the foundation of a paper that illustrates how necessary her research is to the overall project's goals.
Hazel C. Rediger Award
Presented to Andrew Stranahan
Andrew Stranahan has been a vibrant community member throughout his time at UIUC. He is extremely thoughtful and works hard to find answers and pursue knowledge about privacy, ethics, (anti-)discrimination, and data governance. He also works for IDEALS and demonstrates commitment to transparency, knowledge access, and public service via libraries. Having had him as student in class and in an independent study, I [Madelyn Sanfilippo] welcomed him to the data governance reading group as the only master's student among a group of PhD students. I can say confidently that he embodies the spirit of intellectual curiosity and commitment to an informed public, via libraries and transparent, open information resources, that this award upholds.
Joseph Rediger Librarian as Humanist Award
Presented to Kevin Sebastian
At the iSchool, Kevin Sebastian conducted impressive original research for several courses using humanist methods. He produced a project for the History of the Book course that engaged empty space as paratext. For an independent study, Kevin combined cognitive science approaches to poetry reading with postcolonial theory to explore the importance of Asian American poetry for negotiating immigrant identities and family memories. As a teaching and learning librarian at the University of Nevada, Las Vegas, Kevin is dedicated to helping students from marginalized communities feel welcome learning in online environments. His current research explores the digital reading habits of students and their engagement with online educational content on Canvas. Additionally, Kevin is investigating how gender identity influences students' engagement with digital information. Another of his projects explores the tensions between his intersectional identities as a queer, immigrant, and brown citizen, while navigating the institutional whiteness of librarianship.
Selma K. Richardson Award in Children's Literature
Presented to Spring Jones
Spring Jones is a skilled researcher and writer and an enthusiastic reader of children's literature. Her work in the courses History of Children's Literature and Literacy, Reading, and Readers shows her kindness and enthusiasm for children's books and her appreciation for diverse authors and traditions. Spring has a knack for explaining complex ideas in accessible language, no doubt honed through teaching at the Pikes Peak Children's Museum in Colorado Springs, where she runs the Stories and STEAM program, which combines story time with art and science projects. Possessing a unique range of skills, Spring exhibits intellectual rigor, curiosity, and attention to the needs of diverse readers, combined with kindness and approachability in working with young people and their families. She plans to use these skills with youth in K12 librarianship.
Social Justice Award
Presented to Xochitl Quiroz
Xochitl Quiroz directs class discussion of literature around issues of social justice and diversity, equity, and inclusion. She is knowledgeable about a wide variety of cultural forms produced by artists and authors from marginalized communities, including Indigenous film, picturebooks, artwork, and web resources, which she shares with her peers. Her discussion posts and class comments are truly valuable. Outside of class, Xochitl supports social justice in academic libraries through her work at Ricker Library of Art and Architecture, where she has supported the #FromMargintoCenter initiative by creating LibGuides and promoting Indigenous and Latinx library resources. Xochitl has helped run zine workshops for NOMAS (the student architecture organization for students of color) and for a course on Latino Social Movements in Latina/o studies. In the future, she hopes to support students from marginalized communities by teaching information literacy as they enter college.
Yingbo Zhou Memorial Fund Award
Presented to Wanpeng Liu
Wanpeng Liu explores ideas through technical deployments of databases and software and impressively manages to bring a cheerful lighthearted perspective to everything he does. He worked on multiple research projects during three short semesters at the iSchool. During his first semester, Wanpeng interned on a social media data analytics project for the World Health Organization at the iSchool's Center for Health Informatics. In spring 2022, he dug further into research through an Information Quality Lab project, "Using graph databases and network analysis to detect financial bias in research." While interning for the summer in software engineering at Yahoo!, Wanpeng maintained connections with the research team, both a German Master's student and his MSIM and MSLIS peers. Even after moving to Yahoo! full time, Wanpeng has been a source of support, particularly for his Chinese peers. This award recognizes Wanpeng's high standards, passion for life, and positive impact on the iSchool-Chinese LIS community.