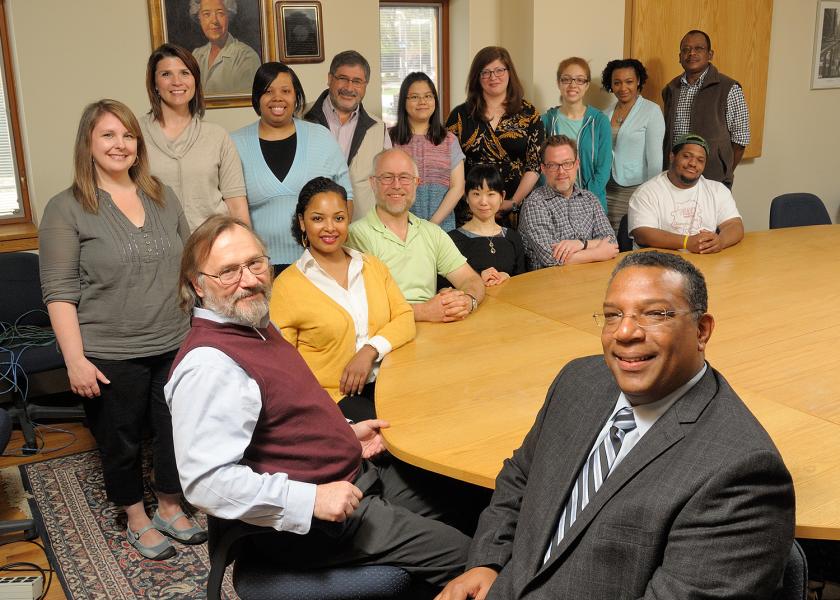 Illinois citizens will soon have increased access to the latest digital tools and economic development opportunities. The University of Illinois Extension has awarded $300,000 to the Center for Digital Inclusion at the Graduate School of Library and Information Science as part of a new campus extension and outreach initiative. The project was one of six collaborative projects led by interdisciplinary faculty and staff from across the Urbana campus selected to further Extension's education and outreach mission.
The Illinois Digital Innovation Leadership Program will increase opportunities for entrepreneurship, economic development, and innovation through the expansion of digital manufacturing, digital media production, and data analytics. Additionally, the project will engage Illinois residents with mobile digital design and innovation labs, or "digitech hubs," which will serve as high-tech inventor workshops equipped with tools for everything from audio production to 3D printing.
These hubs, sometimes known as "makerspaces," will provide an exploratory community design space for advanced digital design and innovation. For example, community members could learn to make podcasts, experiment with soldering, create small robots, learn how to 3D design and print, or work with advanced microcomputers. The expansion of digitech hubs is a new way for Extension to engage with the public and to expand the reach of world-class research at Illinois.
Jon Gant, director of the Center for Digital Inclusion (CDI) and research associate professor at GSLIS, is the principal investigator of the grant. An interdisciplinary team of accomplished Illinois researchers will serve as grant partners.
"Enabling this kind of innovation and creativity is key to twenty-first century technological and economic development," said Gant. "We're committed to expanding economic development and digital inclusion opportunities across Illinois by helping to build institutional capacity with Extension and communities across the state."
The Illinois Digital Innovation Leadership program brings together faculty from engineering, fine and applied arts, business, labor and employment relations, media, and library and information science to collaborate with Extension educators. Participants from GSLIS include Catherine Blake, associate professor and associate director of the Center for Informatics Research in Science and Scholarship (CIRSS); Brant Houston, GSLIS-affiliated faculty member; Professor Michael Twidale; Senior Research Scientist Martin Wolske; and doctoral students Jarai Carter, Jeff Ginger, and Kirstin Phelps.
While the mobile labs rotate among Extension sites, Digital Innovation Leadership staff will also work with 4-H clubs, public libraries, and public schools to develop permanent community-based and -supported studios, creating a network that will build statewide capacity in digital design, manufacturing, and entrepreneurship.
The awards are part of the University of Illinois Extension and Outreach Initiative, a special partnership between Extension, the dean of the College of Agricultural, Consumer, and Environmental Sciences (ACES), and the Office of the Provost. Six awards were selected from a pool of seventy-one proposals from sixteen campus units. The Extension and Outreach Initiative is aimed at establishing new collaborations between Extension and departments and units across campus.