Martin Wolske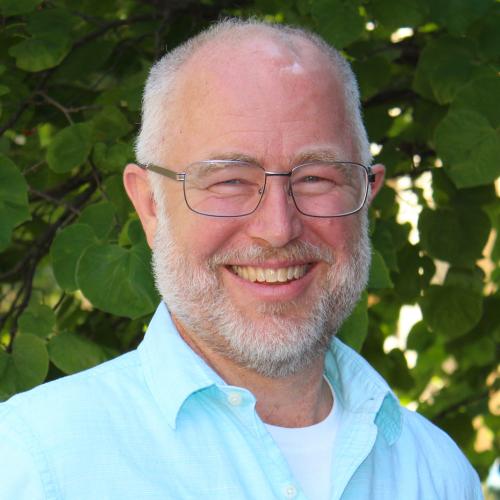 Teaching Assistant Professor
PhD, Behavioral Neuroscience and Biopsychology, Rutgers
Research focus
Community informatics, community engagement, critical and culturally sustaining pedagogies for the information sciences, mutual shaping of social + technical information systems, social learning spaces for design thinking and rapid prototyping.
Biography
Martin Wolske is a teaching assistant professor in the School of Information Sciences. His teaching and research seek to foster a rapid shift from a 'thing-orientation' to a 'person-orientation' using problem-posing education and participatory research and co-design approaches, with a special emphasis on community technology platforms and spaces advancing local social justice goals. Since coming to the School in 1995 to work on issues of digital access and equity, he has served a range of boundary spanning roles facilitating community inquiry, shepherding community informatics projects, developing innovative technical resources, and advocating system change. Key roles have included serving as interim director of the Center for Digital Inclusion and director of Prairienet Community Network, and as principal investigator or co-principal on a number of grants related to digital inclusion and digital literacy that have received funding through the Department of Commerce and Economic Opportunity, the American Library Association, and the Institute of Museum and Library Services. He is a member of the editorial board of the Journal of Community Informatics and is the recipient of numerous community awards for service; Library Journal 's 2011 Teacher of the Year award; and the 2013 University of Illinois Campus Award for Excellence in Public Engagement.
Courses currently teaching
Office hours
Wednesdays from 11:00 a.m. - 1:00 p.m. via Zoom
Publications & Papers
Wolske, M. (2019). Networked, Information, and Systems as Generative Words: A Freirean critical pedagogy template. 17TH Community Informatics Research Network Conference, Whose Agenda: Action, Research, & Politics. Wednesday, 6 Nov - Friday, 8 Nov 2019, Monash University, Prato Centre, Italy. http://hdl.handle.net/2142/106990
Wolske, M. & Rhinesmith, C. (2016) "Critical Questions for Community Informatics in Practice," Journal of Community Informatics, 12(3). http://ci-journal.net/index.php/ciej/article/view/1325
Wolske, M. (2016) "A Radical Reconsideration of Digital Literacy." Information for Social Change, 36, 41-62. http://libr.org/isc/wp-content/uploads/2013/02/ISC36.pdf
Wolske, M., Rhinesmith, C., and Kumar, B. (2014) "Community Informatics Studio: Designing Experiential Learning to Support Teaching, Research, and Practice." Journal of Education in Library and Information Science, 55(2).
Wolske, M., Gibbs, D., Kehoe, A., Jones, V., and Irish, S. (2013) "Impact of Applying Evidence-Based Design to Public Computing Centers," Journal of Community Informatics, 9(1). http://www.ci-journal.net/index.php/ciej/article/view/811/964
Wolske, M., Williams, N.S., Noble, S.U., Johnson, E.O., and Duple, R.Y. (2010) "Effective ICT Use for Social Inclusion," iConference 2010 Proceedings, 312-316. http://hdl.handle.net/2142/14952
Wolske, M. and Bievenue, L. (2010) "Innovation Diffusion and Broadband Deployment in East St. Louis, Illinois, USA," Proceedings of the CIRN 2010 Community Informatics Conference: 'Vision and Reality in Community Informatics'. https://www.ideals.illinois.edu/handle/2142/17398
Montague, R.A., Larkee, B. & Wolske, M. (2009), "Service Learning from Three Perspectives: Administrative, Faculty, and Student" in Service Learning: Linking Library Education and Practice, eds. L. Roy, K. Jensen & A.H. Meyers, American Library Association, Chicago.
Presentations
"Exploring the Future of Public Libraries, Community, and Innovation," March, 2016, Tilburg Public Library, Tilburg, The Netherlands [Invited Presentation]
"Momentum for Change: Strategies for achieving digital equity," 2016 Nonprofit Technology Conference, March 23-25, 2016, San Jose, CA. [Invited Plenary]
"Toward a CIRN Statement on Ethics, Diversity, and Inclusion," CIRN 2015 Community Informatics Conference. [World Café Workshop leaders: Martin Wolske, Anne Gilliland, Kelvin White and Colin Rhinesmith]
"Championing Social Justice in LIS Technology Education: A Critical Interpretive Sociotechnical Framework," ALISE 2015 Annual Conference. [Co-presentaton with Colin Rhinesmith]
"Demystifying Technology: Community inquiry for social change and transformative action," October, 2014, CHALLENGES AND SOLUTIONS: 11th Prato CIRN Conference October 13-15 2014, Monash Centre, Prato Italy. [Keynote] http://hdl.handle.net/2142/55314
"Demystifying Technology: Community Inquiry for Social Change and Transformative Action," October, 2014, Emerging Scholars Conference, Meadville Lombard Theological School [Keynote]
"Information and Marginality: Ethical Issues." Engagement Scholarship Consortium. Edmonton, Alberta. October 2014. [Workshop leaders: Ivette Bayo Urban, Danielle Allard, Anne Gilliland, Tracy Dace, Martin Wolske]
"Information and Marginality: Ethical Issues." iConference. Berlin, Germany. March 2014. [Workshop leaders: Ivette Bayo Urban, Nadine Changfoot, Ricardo Gomez, Martin Wolske]
"Supporting ALL Learners in School-Wide Computing: A Cross-Case Qualitative Analysis," Partnership for Progress on the Digital Divide Preconference, Washington State Conference Center, May 22, 2014.
"Out of the Library and into the Community: Academic Librarians and Community Engagement." ALA 2013 Annual Conference, June 27-July 2, 2013.
"Technology Education and Engaged Scholarship: The Professional, Personal, and Political." National Outreach Scholarship Conference, September 30 - October 3, 2012.
"Diffusion vs. Effective Use: Initial Findings on the Impact of a New One Laptop per Child Internship Program for Distribution of XO Laptops in Sao Tome and Principe, Africa," Proceedings of the 3rd International IDIA Development Informatics Conference. [Co-presentation with James Neves, Sarah Jackman, and Paul Adams]